A woman who was captured on video declaring "I'm white and I'm hot" while harassing two black women in a North Carolina apartment complex parking lot is facing a criminal charge, but police say they can't arrest her — because they can't find her.
Susan Westwood lost her job at Charter Communications last week after videos went viral that showed her making racist remarks in an apparent drunken rant aimed at Leisa Garris and her sister, Chele Garris.
The sisters were waiting for AAA in the parking lot of Leisa's Charlotte apartment building on Oct. 19 when Westwood approached them.
"Hi, how are you? I'm hot. I'm beautiful. I'm 51. What are we going to talk about tonight? Being Hot? Being beautiful? Being white? Being, my new weave. Do you, do you live here?" she said.
"Is your boyfriend here? Is your baby daddy here?" Westwood asked. "Nobody cares. I'm white. I'm hot. I'm white and I'm hot."
She later threatened to take out a concealed weapon.
Leisa Garris called police twice, and Westwood called the police once that night, according to the Charlotte-Mecklenburg Police Department.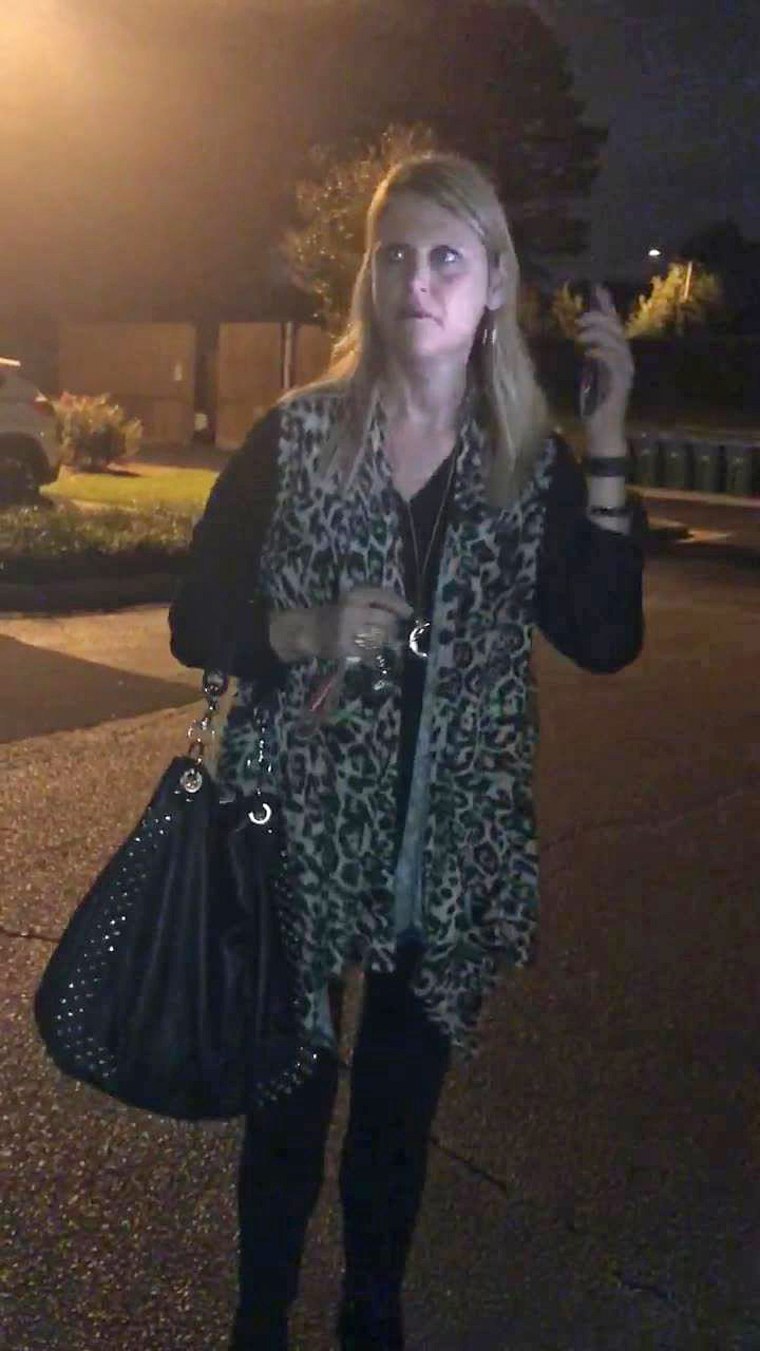 Westwood was charged Tuesday with misuse of the 911 system, which is a misdemeanor. She is also facing four criminal summons, police said.
But when police attempted to serve Westwood the arrest warrant, "they were unable to locate her," a police statement released Wednesday said.
On Friday, police still hadn't found Westwood and they don't think she's been home, Charlotte-Mecklenburg Police Lt. Brad Koch told NBC News.
"All of her neighbors are fortunately nosy neighbors and I'm sure will call us the second she shows back up," he said. Police are asking anyone who might know where Westwood is to call 911.
Police also released edited versions of Garris' calls to police, as well as Westwood's.
During Westwood's call, she told a dispatcher that the women were trying to break into apartments and begging for money.
"They are actually people that I've never seen here before, but they are African American," she said, later adding: "This is very strange to me cause it's this part of town."
When the dispatcher informed Westwood that police had already been called to that location by a woman whose car broke down, Westwood responded, "If you want to know my personal opinion, there's no car broken down. There's somebody trying to cause problems. Nobody breaks their car down in the best part of society."
"They just don't belong here. … Get them out of here," Westwood demanded. "I'll tell you what, I'll pay $2,500 to get them out of here."
In the edited versions of Garris' two calls with dispatchers released by police, Garris asked the first dispatcher she spoke with why she is "yelling" at her "when this lady was bumping and hitting me."
If the dispatcher yelled at Garris, it's not heard in the recording, but she defended herself by saying she responded that way "because you weren't listening to my questions."
The dispatcher proceeded to ask Garris if she knows the woman, what she is wearing and whether she is "white, black, Asian or Hispanic."
"She's Caucasian and we are African Americans," Garris answered.
The dispatcher told Garris that police would be dispatched as soon as possible, but Garris ended up calling back.
"I'm still waiting for police. The lady keeps coming out here and harassing me still, and I don't know what to do at this point," she told a different dispatcher.
Parts of both of Garris' calls can also be heard in the videos her sister recorded. During the second call, Garris appeared to be on a balcony as Westwood screamed at her from below. "You're not going to sell drugs here," Westwood yelled, among other things.
Police said when officers arrived that night, they were able to speak with Garris, but Westwood was nowhere to be found.