Investigators in Alaska are "very confident" that human remains found over the weekend are those of a family of four who went missing last year, but they are still waiting for confirmation from a medical examiner, police said Monday.
Kenai police Lt. David Ross said at a news conference that remains discovered Saturday were in a small "depression" off a trail about a half-mile from the home of Brandon Jividen, 38, Rebecca Adams, 23, and Adams' daughters, Michelle Hundley, 6, and Jaracca Hundley, 3, who vanished on May 27.
Clothes found with the remains match articles of clothing that went missing from the family's home, and the remains of a dog are similar in size to the family's dog, who also vanished with the family, Ross said.
And a handgun found near the bodies has the same serial number that investigators found on a handgun box in the family's house, Ross said.
Ross said police in Kenai, which is about 100 miles southwest of Anchorage, are waiting for the medical examiner's office to be sure that the bodies are those of the family, but "based on the consistency, we're very confident."
The last time anyone heard from the family was when Adams called her sister, who reported that she sounded "distressed" but wouldn't say what was wrong and rushed off the phone.
Ross said the case has "definitely had an impact" on the city of just more than 7,000. "Certainly, we would have loved to resolve this for the family and the community sooner," he said.
Ross said it doesn't appear that the remains were ever transferred, but he couldn't offer any other information because the investigation is ongoing. "We don't have all the answers," he said.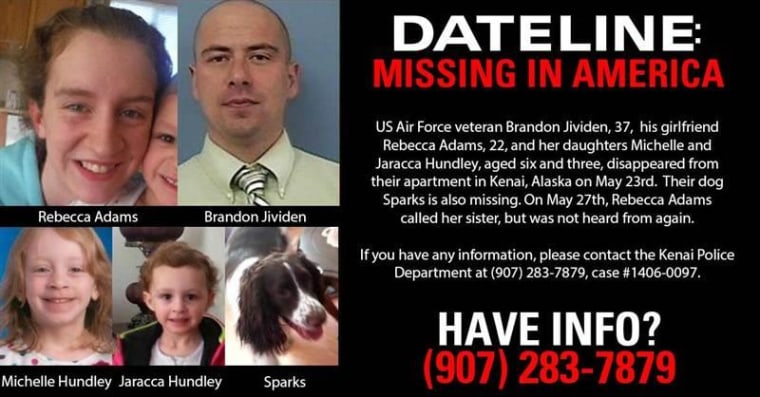 IN-DEPTH
SOCIAL
— Elisha Fieldstadt