Late last month, as officials in Cambridge, Massachusetts, scrambled to defend the city against the coronavirus, Patrol Officer Bob Reardon got an assignment that signaled how suddenly his job had changed.
Someone complained about a football game.
There was no violence, no loud noise, no threats — just a group of men playing pickup in violation of a recently enacted prohibition against large gatherings.
Reardon pulled up in his cruiser and without getting too close told the men to scatter. They were respectful, and left without a fuss, he said. But the confrontation left an impression on the 30-year-old officer.
"I never thought that on a beautiful Sunday afternoon, I'd be sent to a public park to tell people to stop playing a sport," Reardon recalled thinking. "It's a new world."
Enforcing social distancing is one of the many ways the coronavirus pandemic has unexpectedly transformed American policing over the past few weeks, compelling officers to drop their routines and find new ways to protect the public and themselves.
They're relaxing traffic enforcement and leaving medical calls to fire and ambulance services. They're taking nonemergency reports by phone and substituting arrests for tickets and summonses. They're avoiding going into homes and buildings. They're staggering shifts and holding outdoor roll calls. They're breaking up otherwise ordinary gatherings and ordering people out after curfew to go home.
"In certain ways, there's been a 180-degree change from the way we were operating," William Brooks, the police chief in Norwood, Massachusetts, said. "Where we used to be proactive, we've had to completely change that and go in the other direction and hold back."
That doesn't mean officers aren't responding to serious crimes and emergency calls; authorities say that will never change. But the other adjustments are necessary, they say, to prevent outbreaks among their ranks, which could quickly overwhelm an agency and lead to dangerous staffing shortages.
Full coverage of the coronavirus outbreak
In the New York City Police Department, more than 1,400 members have tested positive for COVID-19, the disease caused by the coronavirus; four civilian employees and one detective have died and 6,100 officers have called out sick. In Detroit, 91 police department employees, including Chief James Craig, have tested positive; a captain and two civilian workers have died and another 525 officers have been quarantined.
"That would wipe me out," said Mike Chitwood, the sheriff in Volusia County, Florida, where he has suspended staff meetings and training, and discouraged "nonessential contact" with the public. "I have almost 500 sworn members. So if there were that number of people in quarantine here, there would be no sheriff's office."
Outside of New York and Detroit, hundreds of officers have tested positive and thousands more have been exposed to the virus and are unable to work, according to the National Police Foundation.
Many law enforcement officials have complained that it is too difficult to get officers tested for the coronavirus, and that it takes too long to get results.
Dozens of departments also say they are unable to obtain enough personal protective equipment, or PPE, for their officers, the foundation has found.
That is one of law enforcement's biggest worries, even in agencies that don't have shortages, because the coronavirus is still spreading, and the need among police — not to mention doctors, nurses and paramedics — is rising.
Do you have a story to share about law enforcement and the coronavirus? Contact us
"I'm personally concerned that any minute now we'll get a CDC recommendation that everyone should be wearing masks," said Art Acevedo, Houston's police chief and president of the Major Cities Chiefs Association, referring to the Centers for Disease Control and Prevention. "Where are they going to come from?"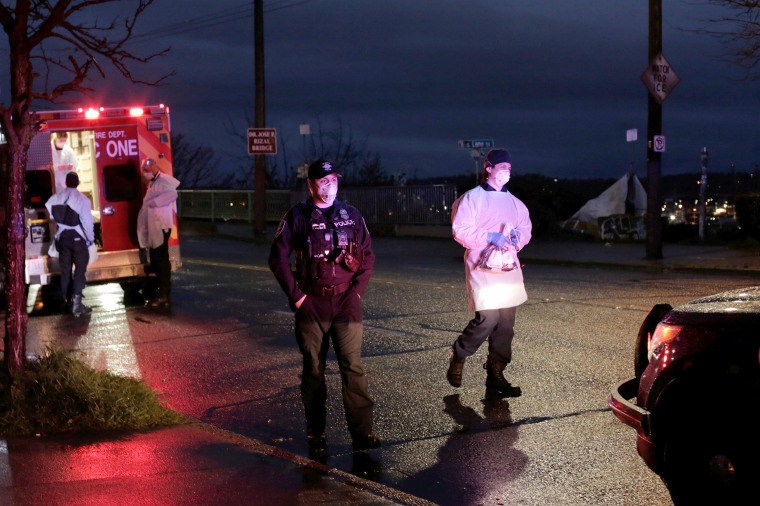 President Donald Trump on Friday announced new CDC recommendations urging Americans to cover their faces with cloth masks in public. On Thursday, Trump invoked the Defense Production Act to impel American manufacturers to speed up production of masks and other equipment needed to fight the coronavirus.
The PPE shortage has exposed a painful lack of planning by local and federal agencies, law enforcement officials say. Police agencies, largely unprepared for such a long-lasting and volatile public health disaster, have been forced to improvise, officials say.
"We didn't wrap our minds around the potential impact on our workforce, the potentially devastating impact," said NYPD Sgt. Paul Grattan, a fellow at the National Police Foundation — stressing that he was speaking about police generally and not on behalf of his department. "I'm certain there are agencies with no plan of any kind for this kind of thing, and among those that did it was on the back of the bookshelf. And it was difficult to have a plan for something that is so unique and unpredictable like this pandemic."
Jennifer Tejada, the police chief in Emeryville, California, near Oakland, said that when it became apparent a few weeks ago that the pandemic was coming, she realized she would have to come up with a plan on her own.
She split her 41-officer force in two, putting half on 12-hour shifts for 14 days while the other half stayed home, ensuring they would not be exposed to the coronavirus before beginning their own 14-day stint. She closed police buildings to the public and had the buildings and all police cars sanitized by a cleaning service. She told her officers not to come into contact with people unnecessarily, as in routine traffic stops, not to go into people's homes if it wasn't an emergency. She prohibited them from responding to medical calls unless someone's life was in danger.
So far, all her officers are healthy. But Tejada said she has struggled to protect them. As part of a regular screening procedure, she sought out no-touch thermometers, but they were out of stock at stores and on backorder with local manufacturers. She ended up putting her request on Facebook. A distant relative saw the message and gave her two.
And she has been unable to get tests for any officers who may have been exposed to the coronavirus.
"As first responders, we practice how to respond to emergency disaster situations. But in this situation, nobody has practiced what to do," Tejada said. "There is nothing to fall back on. There's no strategy. So it's every department for itself to figure out how to make this work."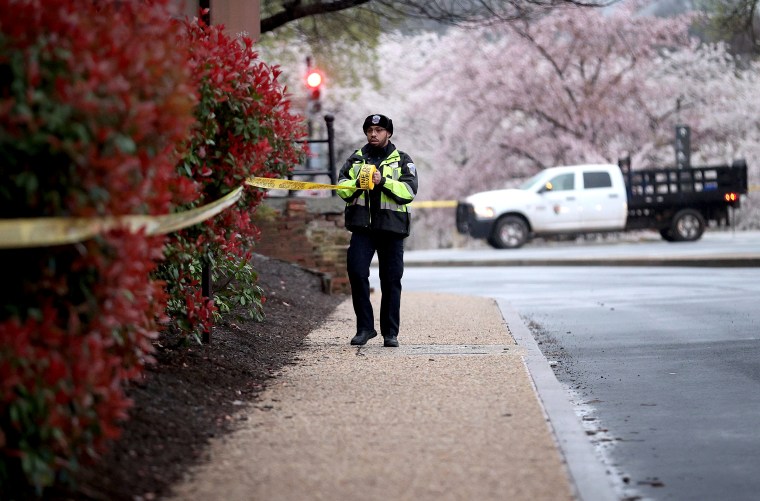 In Little Rock, Arkansas, Police Chief Keith Humphrey said even the most resilient officers can't help but feel anxiety over contracting the coronavirus.
"The officers have not lost their passion for the job. The officers care. But they are concerned," Humphrey said. "They may not be concerned for themselves but if they expose their families — if they're walking around with the virus inside of them without knowing."
Download the NBC News app for full coverage of the coronavirus outbreak
Emeryville police Officer Nicolas Drexler, who just finished a 14-day stint and is now staying home for two weeks, said that while he tried to maintain social distance while conducting patrols, it was not always possible.
"There's a little bit more risk but that's part of the job, and we accept that," he said.
Reardon, the Cambridge officer, sees it the same way.
"You're seeing so many people get sick and hearing so many stories, NYPD members passing away, and it's something we know is real and could happen to you," he said. "You just don't know. But you have to do the job the best you can."