Austin police on Tuesday identified a 17-year-old boy who was killed by a package bomb a day earlier — as authorities said national resources from the FBI and ATF are being brought in on the case of a string of explosions that are believed linked.
Two people have been killed in the package bombs in Austin and two others have been injured, including a 75-year-old Hispanic woman who remains in critical condition with life-threatening injuries, police said.
The 17-year-old killed in an explosion Monday was identified as Draylen Mason, Austin Police Chief Brian Manley said. His mother was also wounded and is in stable condition, he said.
"From everything I've heard about Draylen, he was an outstanding young man who was going places with his life," Manley said. "And it's an absolute tragedy that he is no longer with us."
"We have lost two lives in this community and we have an additional two that have been forever changed," he said.
Rewards totaling $65,000 are now being offered for anyone who provides information leading to an arrest: $50,000 from law enforcement agencies added Tuesday and $15,000 previously offered by the governor, Manley said.
The packages were left on porches or in front yards overnight and have had no markings indicating they were shipped by the U.S. Postal Service or other services, Manley said.
He said that so the police department has received 265 calls about suspicious packages in recent days, but no additional bombs have been found.
"Our message is, if you have a package that has been placed on your doorstep, in your yard, on your driveway that you were not expecting, that does not appear to have come from an official shipping source, then please call us and let us come and clear that package," Manley said.
The first person killed by a package bomb was Stephan House, 39, on March 2. At the time police believed it may have been a retaliatory act in a case of mistaken identity because police had recently raided a similar-looking house with similar-looking vehicles as part of a drug investigation, Manley said.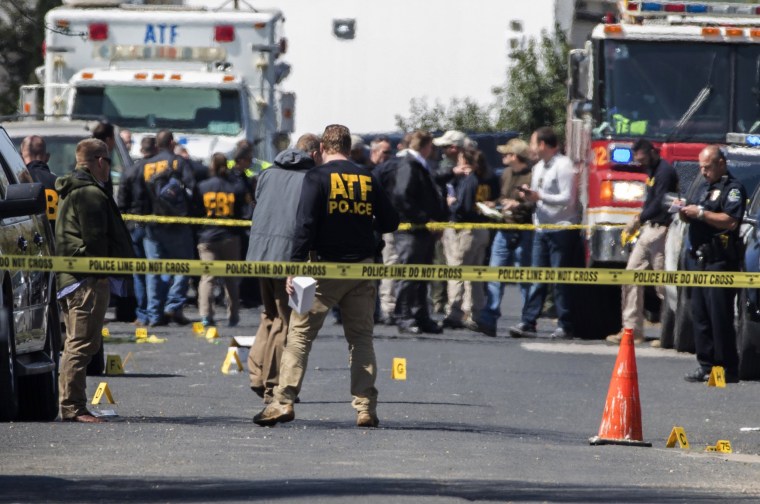 Investigators are looking into the backgrounds of the victims of the bombings to see if there is any connection, but already believe the three incidents are linked, Manley said.
FBI Special Agent in Charge Chris Combs of the San Antonio Division said that many of the agency's national resources, including criminal profilers and bomb technicians, have been brought into the area to assist.
"The full resources of the FBI are being brought to bear to help on this," he said.
AFT Special Agent Jeff Boshek said that a national response team comprised of around 30 specialists has been brought in to assist with the investigation.
All the victims of the bombings have been people of color, Manley said, and investigators are not ruling out terrorism or a hate crime as possible motivations. "We're not saying that we believe terrorism or hate is in play, but we absolutely have to consider that because we don't want to limit what we are investigating, what we are considering," he said.
Two of the bombs exploded after they were picked up, and another one exploded after being brought inside a residence and while being opened, Manley said.
Austin's mayor, Steve Adler, said in an interview that "I'm absolutely worried" when asked about the possibility of more explosions.
"I believe we're going to find an answer to this. But obviously I'm, I'm concerned that we might not or might not quickly enough," he said.
Although the city is hosting the massively popular South by Southwest event this week, Adler said "at this point, we have the resources to be able to handle this."