An officer-involved shooting in Newburgh, New York, that left a man dead and an officer injured sparked a riot in the city as people took to the streets to protest the death.
The man, who has not been identified, was shot and killed by a Newburgh police officer Friday night just after 5 p.m.
The Orange County District Attorney's Office said in a press release that officers wanted to question the man in connection to a shooting on Thursday when a struggle ensued. The man then pulled out a handgun and fired at the officers, District Attorney David Hoovler said.
"A review of body-worn cameras and street cameras shows that when officers approached the man, he displayed a silver handgun and began fighting with officers, striking one of the officers in the head with a handgun," the press release states. "During the encounter the man discharged the pistol and City of Newburgh police officers fired their weapons."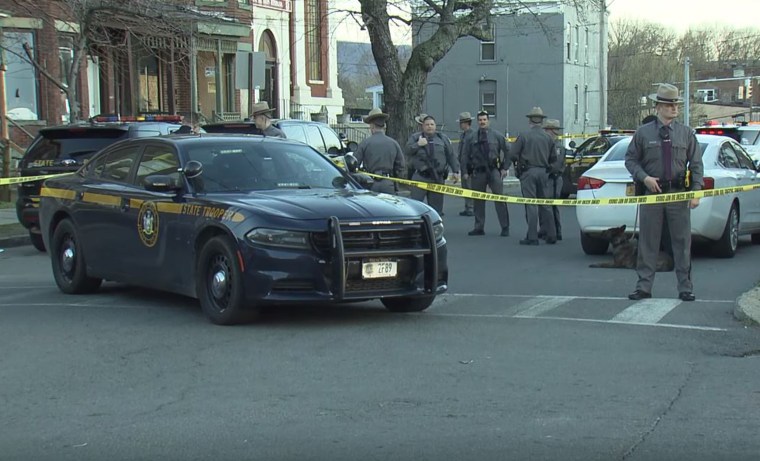 The man died at a hospital in Newburgh, about 60 miles north of Manhattan. An officer was hospitalized with a gunshot wound and injuries to his head, according to Hoovler.
The prosecutor's office and the police department released images from a body-worn camera that shows the man holding what appears to be a gun as three officers surround him. At least one officer has his weapon drawn.
Hoovler said he normally does not release body-camera images this early in the investigation, but did so "to ensure public confidence in the integrity of the investigation."
The shooting sparked a riot and a fire in the city Friday night, according to the Times Herald-Record. The fire was extinguished around 2 a.m. Saturday.
Hoovler said there will be two investigations conducted into the shooting; one before a grand jury and another by the District Attorney's Office.