A former Mesa, Arizona, police officer who was acquitted two years ago in the fatal shooting of an unarmed man seen on video pleading "please do not shoot me" was temporarily rehired by his department last year so he could apply for an accidental disability pension.
Philip Mitchell Brailsford, 28, is now retired from the force with a tax-free pension worth $31,000 a year for life — and his attorney confirmed Friday that the settlement was a result of him suffering from post-traumatic stress disorder due to the shooting involving Daniel Shaver of Texas.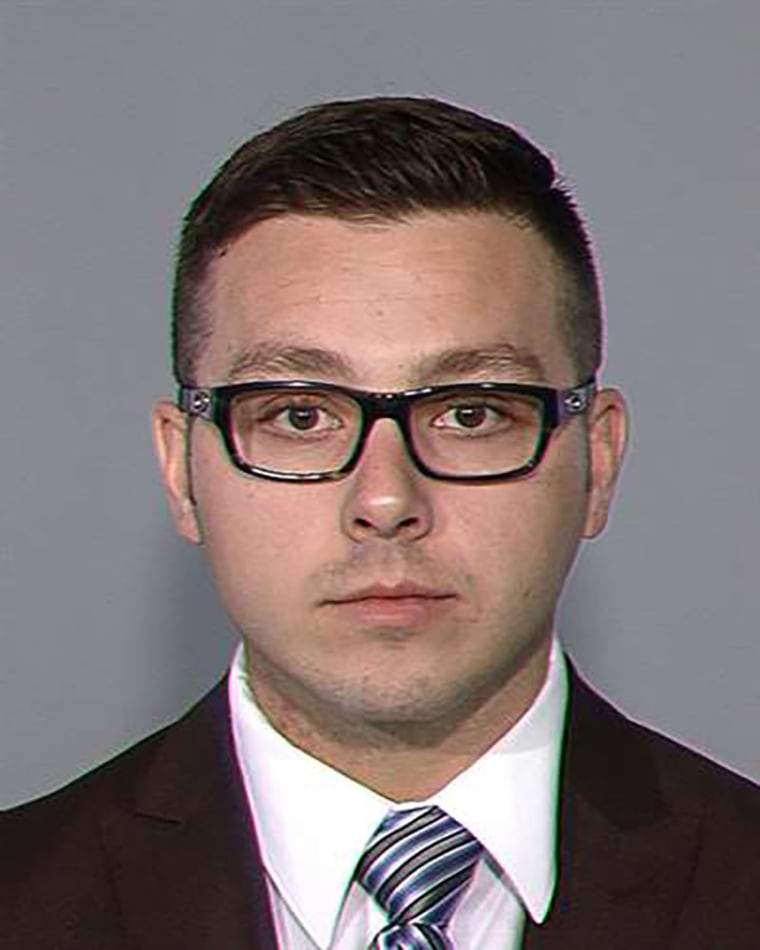 Shaver was seen on police bodycam video crawling on the floor of a Mesa hotel and sobbing for his life before he was shot — a case that drew national scrutiny over the use of deadly force.
"Any individual going through what he went through would be traumatized and suffer emotional distress, and as a result, it was best to medically retire," Brailsford's attorney, Michael Piccarreta, said.
He added that Brailsford sought to negotiate the deal in lieu of a due process hearing to get his job back.
Piccarreta also believes that if his client wanted to go down the path of a hearing, "they would have found no justification to fire him."
Brailsford's pension settlement came to light this week after NBC affiliate KPNX and other local news outlets obtained documents detailing its authorization last November by the Mesa Police Department Pension Board.
Brailsford had attended a meeting of the pension board in October, during which board members said they reviewed his independent medical evaluations and that a doctor found that his condition "totally and permanently prevents him from performing a reasonable range of duties within his job classification." They also thanked him for his service to the city.
Brailsford was involved in the fatal shooting of Shaver on Jan. 18, 2016, and was fired two months later. His trial began in late 2017, lasting six weeks before he was acquitted of a second-degree murder charge. He was temporarily rehired by Mesa police last August as part of the settlement that allowed him to file for accidental disability retirement benefits.
The settlement also says Mesa will set aside up to $3 million for Brailsford to defend himself and pay lawsuit settlements related to the case, and that the city will give potential employers a "neutral reference" for him. He is ineligible to be hired again by Mesa.
In a statement provided by city spokesman Steven Wright, Brailsford initially requested an appeal of his firing the day after it was announced, but that process was put on hold until his criminal case was resolved.
"During the time that Mr. Brailsford was making his application for medical retirement, he was not paid and was not assigned any police officer duties. The one-year time frame to apply for an accidental disability pension began for Mr. Brailsford once the trial concluded," the statement said.
Since there was no resolution to Brailsford appealing his firing, Piccarreta added, he was "never really terminated" and his acquittal at trial showed there "was never a factual termination because the shooting was justified."
At the heart of the prosecution's case was shaky bodycam video showing the moment police opened fire.
Shaver, 26, a pest-control worker, was in Mesa on business when he showed acquaintances in his hotel room an air rifle used to exterminate birds. At one point, officials said, he waved the air rifle outside of his fifth-floor window — prompting a witness to notify the hotel front desk, which led to police being called. Police said he had been drinking at the time.
When officers got there, they ordered Shaver out of his room and to lie face-down in a hallway and refrain from making sudden movements — or risk being shot.
"Please do not shoot me," Shaver begged before he was ordered to crawl toward officers. As he inched forward, he reached toward the waistband of his shorts.
That action led Brailsford to fire his rifle, he said, because he believed Shaver was grabbing for a handgun.
While no gun was found on Shaver's body, two pellet rifles related to his pest-control job were discovered in his room.
The detective investigating the shooting agreed Shaver's movement was similar to reaching for a pistol, but also said it looked as though Shaver was pulling up his loose-fitting basketball shorts that had fallen down as he was ordered to crawl.
The investigator noted he did not see anything that would have prevented officers from simply handcuffing Shaver as he was on the floor.
The shooting has led Shaver's family to file a $75 million wrongful-death lawsuit in federal court and the Department of Justice last year to begin investigating what happened, according to KPNX. An attorney for the family did not immediately respond to a request for comment about the latest developments in the case.
A spokesman for the state's Public Safety Personnel Retirement System, which reviews whether pension applications are processed correctly and that decisions made by local boards follow guidelines, said that "there is nothing for our agency to review" as long as state law is followed.
Eugene O'Donnell, a former police officer and professor at John Jay College of Criminal Justice in New York, said the city of Mesa, in deciding to temporarily rehire Brailsford so he could apply for a pension, is in a difficult position because of public perception that the Shaver case was a "bad shooting."
"With all deals, the good, the bad and the ugly is buried in the deal," O'Donnell said. "For Mesa, they probably just want to move on from this issue because it's really turned people against police, who see it as a justifiable shooting."
"The police have been tarnished by the events and they're facing a lack of enthusiasm," he added, "which is a crucial ingredient for doing their job."