A police officer was killed and another was in critical condition when their helicopter clipped a building and crashed near a group of apartment blocks in Houston, authorities said Saturday.
The aircraft avoided the densely populated Biscayne apartment buildings in the Greenspoint area of the city as residents slept, the Houston Police Department tweeted.
But it clipped part of a clubhouse building and came down in the Imperial Valley area, the department said, adding that no residents were injured or evacuated.
The pilot and his tactical flight officer were later taken to a hospital in critical condition, Houston police said.
The tactical flight officer later died from his injuries, leaving behind a wife and two children. He was identified Saturday afternoon as Officer Jason Knox, 35. The department said he had been on the force for nearly eight years and was an air and marine division officer for more than a year.
Chief Art Acevedo described him as a decent, caring and loving person. Mayor Sylvester Turner tweeted that Knox was the son of city councilman Mike Knox.
The pilot was identified as Senior Police Officer Chase Cormier, 35, who joined the department in 2006. "Please continue to keep the pilot in today's crash in your prayers," the department tweeted.
Wearing a face mask, Acevedo told a news conference that it was a "miracle" that the helicopter had not crashed into residential buildings.
"When you have incidents like this you have to find the silver-lining," he said, adding that they did not yet know what caused the crash.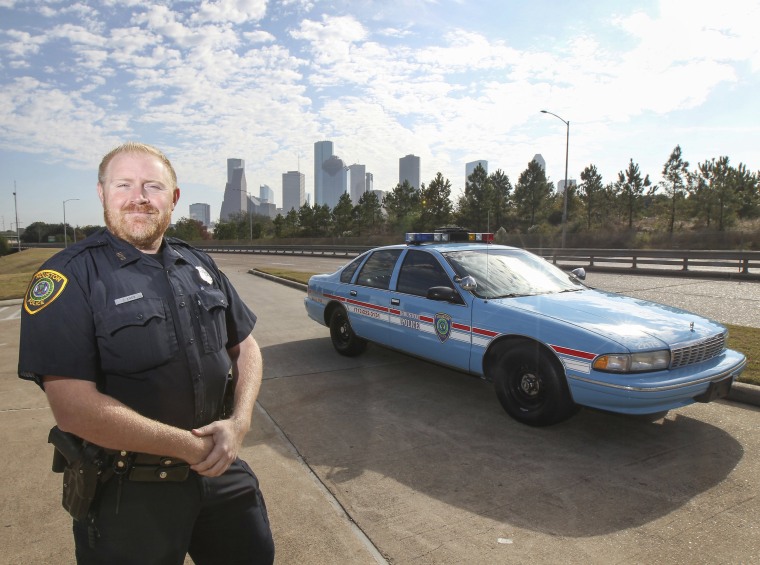 The pilot and tactical flight officer were on a routine work call out when they crashed just before 2 a.m., Acevedo said. Both were trapped in the "mangled wreckage" and later freed by the fire department and transferred to the Memorial Hermann Hospital, he added.
The pilot remains in a "critical condition" and was "very banged up" Acevedo said.
Turner joined Acevedo at a second news conference, telling reporters "this is a sad morning."
"I want to ask the city of Houston to continue to lift up, number one, both families, but especially lift up the family of the police officer who has died this morning," Turner, also masked, said.
Acevedo told reporters that police had responded to a later separate incident in the area where shots had been fired.
"The shots fired occurred after the aircraft went down, we don't have any information that it was shot at or that any hostile activity took place," he said, dismissing that the two incidents were connected.
"That was a separate incident."
Houston police urged the public to avoid the area and said investigations would be conducted into the cause of the crash.
The Associated Press contributed to this report.