Surveillance video from inside a Cincinnati bank building where a gunman opened fire seemingly at random shows unarmed security guards shielding people and getting them to safety, actions the city's police chief called "heroic."
"As I saw that footage, I was extremely impressed with their heroic actions to shield innocent people and try to get them to safety," Police Chief Eliot K. Isaac said. "They should be commended."
Suspected gunman Omar Enrique Santa Perez, 29, is seen in bank video footage walking through the lobby of the Fifth Third Bank building in Fountain Square Thursday morning "firing shots at anyone he sees," Isaac said.
Still unknown is a motive in the rampage, which began at around 9:06 a.m. and lasted around 4 ½ minutes from the time the first shot was fired until four police officers shot through plate-glass windows to fatally wound the suspect.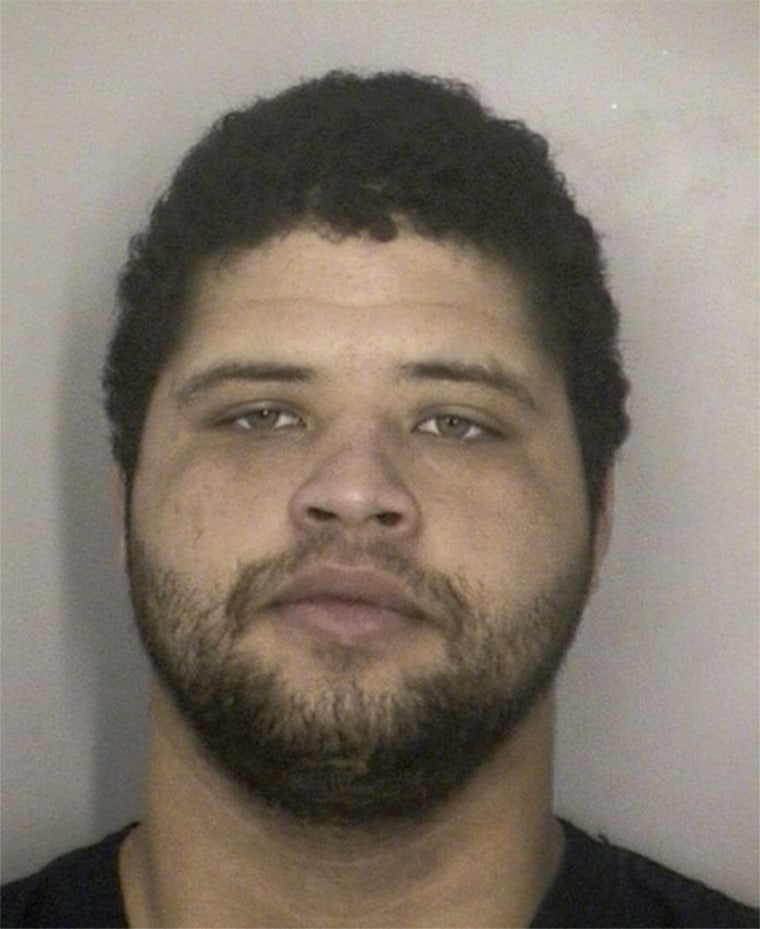 Perez, dressed in a white dress shirt, is seen in edited video shown Friday running in front of the windows and collapsing face-first on the ground after being shot.
Police body camera video played Friday showed officers taking cover behind a corner of the building on some stairs and firing through the glass.
Isaac said Perez was armed with a Taurus 9 mm handgun that investigators believe he legally purchased from a local gun store on Aug. 2. He also had a briefcase with around 250 rounds of extra ammunition.
The gun experienced a misfeed and jammed at one point, but Isaac said it was unclear when that occurred. From the video, it appeared that he reloaded the weapon at one point, the police chief said. Perez fired 35 rounds during the shooting spree, Isaac said.
"The heroism of these officers is truly remarkable," Cincinnati Mayor John Cranley said.
"With hundreds of rounds of ammo, if he had gotten on the elevator, if he had gone up to a floor, if he'd been there a little bit earlier, or longer — many, many more people would have been killed," he said.
Police initially said it appeared the gunman entered through a loading dock, but on Friday they said that was incorrect and that he entered through a normal entrance. Two people who were shot fled to the loading dock, he said.
Perez drove to the area in his own vehicle and parked it on Court Street. Before entering the bank building, Perez entered several other businesses, but it was unclear what his reason was for doing that, Isaac said.
Perez shot five people in all, police said. One of the victims was pronounced dead at the scene, and two others were transported to a hospital, where they later died, officials said.
Two other people were also shot and wounded. They were in serious and fair condition Friday, said officials at the University of Cincinnati Medical Center.
Those killed have been identified as Pruthvi Raj Kandepi, 25; Richard Newcomer, 64; and Luis Felipe Calderón, 48.
Perez has lived in the Cincinnati area since 2015 and has no local criminal history, Isaac said, adding he has a "brief" misdemeanor criminal history in South Carolina and Palm Beach, Florida.
Police searched his home in North Bend, Ohio, and there was "nothing that obviously stood out as to motive," the police chief said, adding that the investigation is continuing and the police department is getting federal assistance in the probe.
"What we found out about Mr. Perez, we have not been able to determine what his actual motive was," Isaac said. Perez was not a current or former employee at the bank, police said.
Perez sued NBC Universal, the parent company of NBC News, and TD Ameritrade, alleging the companies conspired to eavesdrop on him, including on personal devices, in 2017. He represented himself, according to court records. The lawsuit was dismissed by a judge in June, records show.
Perez also sued CNBC in June, claiming CNBC and Ameritrade "maintained electronic watch on communication devices owned by" Perez. A judge recommended the case be dismissed with prejudice in June, according to court records. The judge said in the document that the complaint was "rambling, difficult to decipher, and borders on the delusional."
In portions of two 911 calls played by police on Friday, one person told the dispatcher that she thought there was a shooter and she ran to a bathroom to hide with the door locked.
Cranley, the mayor, became emotional as he described watching the full, unedited video, saying that he saw a receptionist "who literally was in the middle of gunfire," and the look of fear on her face and relief after the shooting was over and police arrived.
"The police saved lives, and we owe them all a huge debt of gratitude for what happened," he said. "It was horrible enough, but trust me — it would have been a lot worse if those officers hadn't rushed in when they did."