A woman opened fire at YouTube's California headquarters Tuesday afternoon before turning the gun on herself, authorities said. Three other people were shot, one of whom was in critical condition.
San Bruno police identified the woman Tuesday night as Nasim Najafi Aghdam, 38, of San Diego. Law enforcement sources said she used a 9mm handgun. Police said Tuesday night they have not found any evidence the shooter knew the victims but continue to investigate a motive.
Aghdam claimed on her social media accounts that YouTube was discriminating against her videos, many of which focused on animal rights and veganism, mixed with bizarre musical parodies.
Law enforcement officials said the woman approached an outdoor patio and dining area near lunchtime and opened fire. Sources had initially said that the motive did not appear related to terrorism.
But San Bruno police said Tuesday night that a motive is still under investigation, and "at this time there is no evidence that the shooter knew the victims of this shooting or that individuals were specifically targeted."
Zach Voorhies, a YouTube software engineer, said in an interview on MSNBC's "Hardball" that he heard yelling and that "when I arrived near the courtyard, I heard somebody yelling, 'Do you want to shoot me?'"
"I looked to my left, which was his left, and I saw somebody lying on their back on the concrete with what appeared to be a gunshot wound through the stomach," Voorhies said.
Zuckerberg San Francisco General Hospital said it received three patients with gunshot wounds: a 36-year-old man who was in critical condition, a 32-year-old woman who was in serious condition and a 27-year-old woman who was in fair condition. A fourth person was treated at Kaiser Permanente South San Francisco Medical Center for a broken ankle, the hospital said.
"Once again, we are confronted with the specter of a mass-casualty situation here in the city and county of San Francisco," Andre Campbell, a trauma surgeon at Zuckerberg, told reporters. "This is unfortunate, and it continues. You'd think that after we've seen Las Vegas, Parkland, the Pulse nightclub shooting that we would see an end to this, but we have not."
San Bruno Police Chief Ed Barberini said the shooter was believed to have killed herself.
"It was very chaotic, as you can imagine," he said.
Earlier, YouTube employees tweeted that they had evacuated the building in San Bruno, south of San Francisco, or were in hiding.
Barberini said San Bruno police began receiving multiple 911 calls of an "active shooter" at 12:46 p.m. (3:46 p.m. ET) and were on the scene within two minutes. The federal Bureau of Alcohol, Tobacco, Firearms and Explosives and the FBI said they also responded to the scene.
"I can tell you there is no immediate threat to the community," Barberini said later.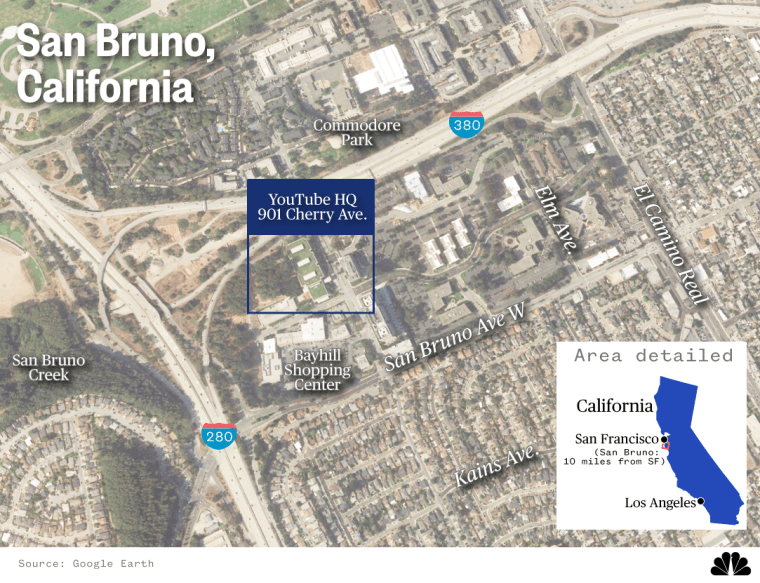 Ricardo Luis Horna, 29, a development specialist for YouTube, said he saw his colleagues running and falling down a hill as security officers told everyone to evacuate.
"There was chaos in the parking lot," Horna said in an interview. "People were running to their cars."
Marco Tartaglia, who works at Walmart eCommerce headquarters near the complex on Cherry Street, told NBC Bay Area that he heard about 15 shots "from the direction of the YouTube building, from what sounded like inside."
"We heard the shots first, and that immediately drew us over to the window to see what the heck's going on, and next thing you know, you see people streaming out, just running, dozens of them, just running out the front exit," Tartaglia said.
YouTube executives said they were shocked. "Today, it feels like the entire community of YouTube, and all of the employees, were victims of this crime," said Chris Dale, YouTube's head of communications.
Sundar Pichai, chief executive of Google LLC, YouTube's parent company, said in a brief statement on Twitter: "There are no words to describe the tragedy that occurred today."
Other prominent technology company executives, including Tim Cook, chief executive of Apple Inc., and Jeff Bezos, chief executive of Amazon.com Inc., quickly expressed their sympathies.
President Donald Trump was briefed on the incident, he said on Twitter.
CORRECTION (April 3, 2018, 7:36 p.m. ET): An earlier version of this article misidentified the job site of Marco Tartaglia. He works at Walmart eCommerce headquarters, not at a Walmart store.