A female student suspected of shooting a classmate at a West Texas high school Thursday morning has died, authorities said. The shooting prompted a lockdown at the school.
The armed suspect, a 14-year-old freshman, died of an apparent self-inflicted gunshot, and the victim was taken to a hospital, Brewster County Sheriff Ronny Dodson told reporters. The victim's condition was unclear, but her injuries did not appear to be life threatening, according to the sheriff.
"She seems to be OK, nobody else was injured from the school, as far as the students," he told reporters.
In addition, Dodson said, an officer was shot in an accidental discharge between federal agents responding to the scene at Alpine High School in the small town of Alpine, about 200 miles southeast of El Paso. The officer was taken to the hospital.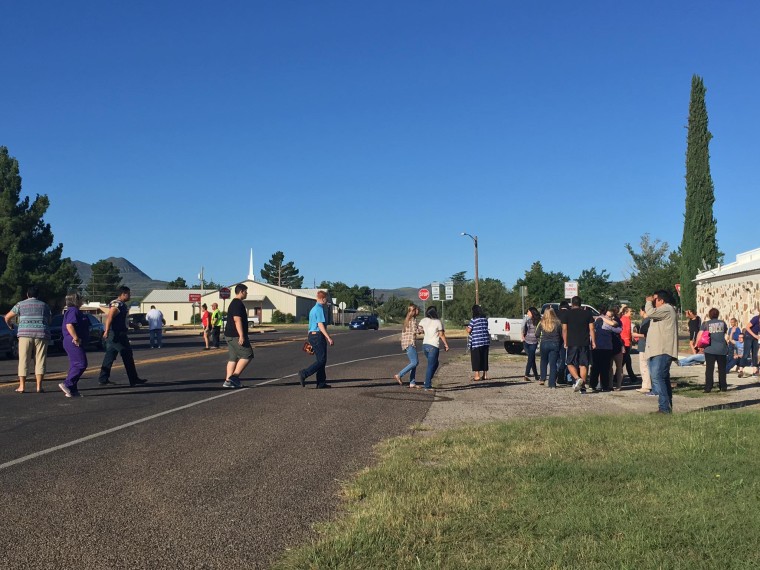 The shooter and the victim have not been identified.
Police arrived at the high school and found a girl with a gunshot wound and believed she was a victim, but it was later determined that she was the shooter, Dodson said. A semiautomatic weapon and ammunition were recovered from the scene.
Students described the chaos as gunfire erupted around 9 a.m. local time at the school, which returned from summer break two weeks ago.
William Butler, a 17-year-old senior, said he was in his pre-calculus class when he heard a friend screaming for people to run.
Another teacher barged into the room and told all the students to go to the corner and hide. They turned off the lights and locked the door, and the school went into lockdown, Butler told NBC News.
About five to 10 minutes later, he said, he heard a gunshot outside the classroom.
"It was scary, I didn't really know what was going to happen," Butler added. "The cops knocked on the door a little bit later and started to escort everyone out. When the police escorted us out of the classroom, there was a trail of blood going from the hallway I was going in towards the band hall."
He said one student was shot there. He was escorted to a safe location with other students, and "they are all shaken up."
Keyshla Vargas said that she and her classmates were evacuated to a nearby church after police stormed inside the school.
She was at her second-period engineering class when the flurry of activity broke out.
A teacher was running down the hallway, and an announcement came over the intercom that there was a lockdown. The students ran into a closet and powered down their cellphones.
There, the 10 teens and the teacher squeezed into the tiny space, uncertain of what would happen.
"Our teacher said to be quiet, that this was not a drill," she said. "We heard yelling and then we heard gunshots."
Vargas said another student took her hands and they started praying. "It was terrifying," she added.