Traffic searches by highway patrols in Colorado and Washington dropped by nearly half after the two states legalized marijuana in 2012. That also reduced the racial disparities in the stops, according to a new analysis of police data, but not by much. Blacks and Hispanics are still searched at higher rates than whites.
Highway stops have long been a tool in the war on drugs, and remain a charged issue amid a furious national debate about police treatment of minorities. Last week, protests erupted over the acquittal of a Minnesota police officer who shot to death Philando Castile after pulling him over for a broken tail light.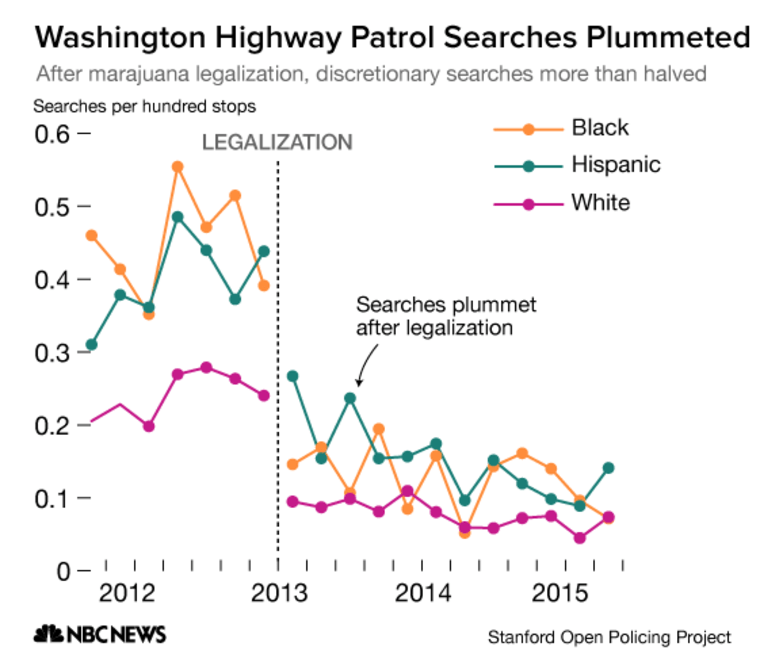 The overuse of traffic stops can damage the public trust in police, particularly when searches disproportionately involve black and Hispanic drivers.
"Searches where you don't find something are really negative towards a community," said Jack McDevitt, director of Northeastern University's Institute on Race and Justice in Boston. "Have a police officer search your car is really like, 'Why are they doing this to me?' And you get more pissed off. If you're trying to do relationship building, it's not a good thing to do a lot of searches."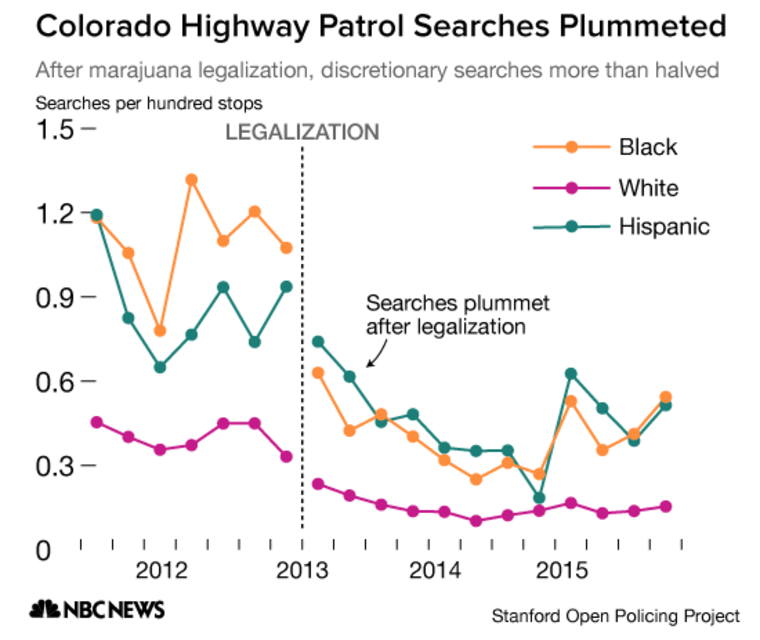 The analysis comes from data crunched by the Stanford Open Policing Project, a team of researchers and statisticians that collected more than 60 million records of traffic stops and searches by highway patrol officers in 22 states. By sharing the data, the group aims to promote a deeper understanding of the patterns and motivations behind the most common interaction Americans have with police.
The data compiled by the Stanford group is limited in that it is not uniform across states. Each of the country's law enforcement agencies track traffic stops differently, and some don't release the data publicly. In the end, the group compiled data from 20 states that was deep enough to allow a rigorous analysis. Colorado and Washington were compared against 12 of these states to arrive at the conclusion that marijuana legalization likely had an effect on search rates.
In both states, marijuana legalization eliminated one of the major justifications used by police officers to stop motorists, cutting searches by more than 40 percent after legalization. In Colorado, the change occurred gradually, with searches dropping initially by 30 percent, and then flatting out to a more than 50-percent drop within a year.
In Washington, there was a drop of more than 50 percent in searches within three months of legalization. The search rate remained low thereafter. The 12 states in the Stanford study that did not pass marijuana decriminalization legislation during the period did not experience significant drops.
The biggest finding ─ and one that mirrors the results of investigations in individual states and jurisdictions ─ is that minorities are still stopped and searched at higher rates than white drivers. The threshold before a search is performed is also lower for minority drivers than it is for whites, according to the researchers at Stanford behind the Open Policing Project.
Those differences remained in Colorado and Washington even after searchers dropped following pot legalization.
Jack Glaser, a professor of public policy at the University of California, Berkeley, said that although the disparities persisted, the overall drop in searches means that fewer minorities would be unfairly targeted.
"As long as police officers (like the rest of us) hold implicit or explicit stereotypes associating minorities with crime, they will perceive minorities as more suspicious," Glaser wrote in an email.
In both states, the analysis excludes searches incident to an arrest. Those searches are not a good barometer for the searches officers conduct after making a stop at their own discretion, the researchers said.