The mother of Eric Garner stood outside of the New York Police Department's headquarters in the rain on Monday to remind supporters that the fight for justice in her son's death isn't over.
"Eric is crying from heaven 'cause he sees his mother and his family out here still trying to fight for justice for him," Gwen Carr told several people standing in the rain with signs that read #FireNYPD Daniel Pantaleo, the police officer involved in his death.
"It's been five years — five years we've been on the front lines trying to get justice, and they're still trying to sweep it under the rug," she said.
The family has been largely kept in the dark by the NYPD due to a police secrecy law that has clouded transparency in the case.
They were initially denied access to Pantaleo's disciplinary records and were unable to see evidence from the grand jury investigation into the case, due to a state civil rights law — Section 50-a — that bars access to police officers' personnel records.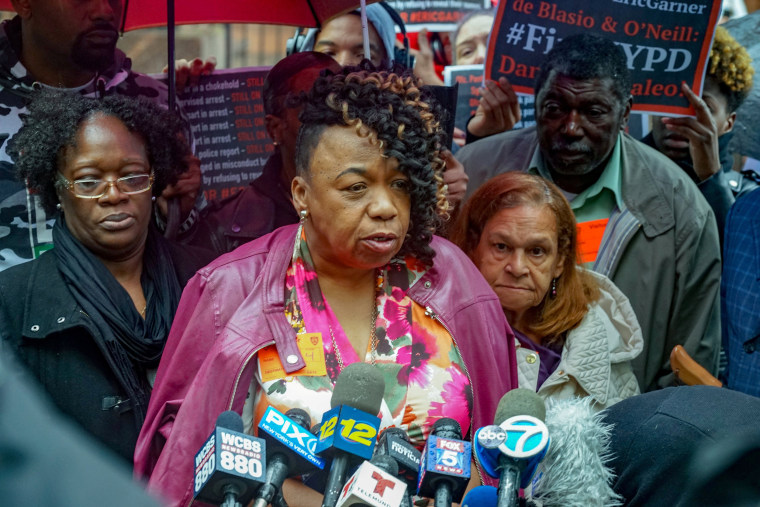 Section 50-a is considered a harmful roadblock in the quest for building trust and maintaining safety between police and their communities, according to several organizations that are fighting for its repeal.
Enacted in 1976 under New York's Freedom of Information Laws, the law's purpose was to "protect police officers from harassing cross-examination by defense counsel in criminal prosecutions based on unproven or irrelevant material contained in their personnel files."
Yet recent administrations have used broader interpretations of the law, effectively eliminating access to those files unless dictated by court order. In 2018, BuzzFeed News released secret internal files of more than 300 active New York City police officers who had committed offenses that would merit firing.
The law makes police misconduct in New York state more secretive than in any other state in the country, according to a report by the New York State Committee on Open Government.
It's taken five years and multiple investigations for disciplinary proceedings to be brought against Pantaleo, who has been on administrative duty since Garner's death on July 17, 2014.
Pantaleo has been charged by the Civilian Complaint Review Board or CCRB, an independent police oversight group, with reckless use of a chokehold and intentional restriction of breathing. The hearing will determine whether Pantaleo will face firing or any other disciplinary actions.
But because of Section 50-a, if he is not fired, it would take a court order for the Garner family to find out if he will be disciplined at all.
The Pantaleo disciplinary trial is expected to last two weeks, according to The New York Times.
Garner was killed during an encounter with police on Staten Island over the alleged sale of untaxed loose cigarettes.
Video of Pantaleo wrapping his arm around Garner's neck while other officers tried to place him under arrest spread across the internet. His last words, "I can't breathe," became a rallying cry at protests against police brutality across the United States.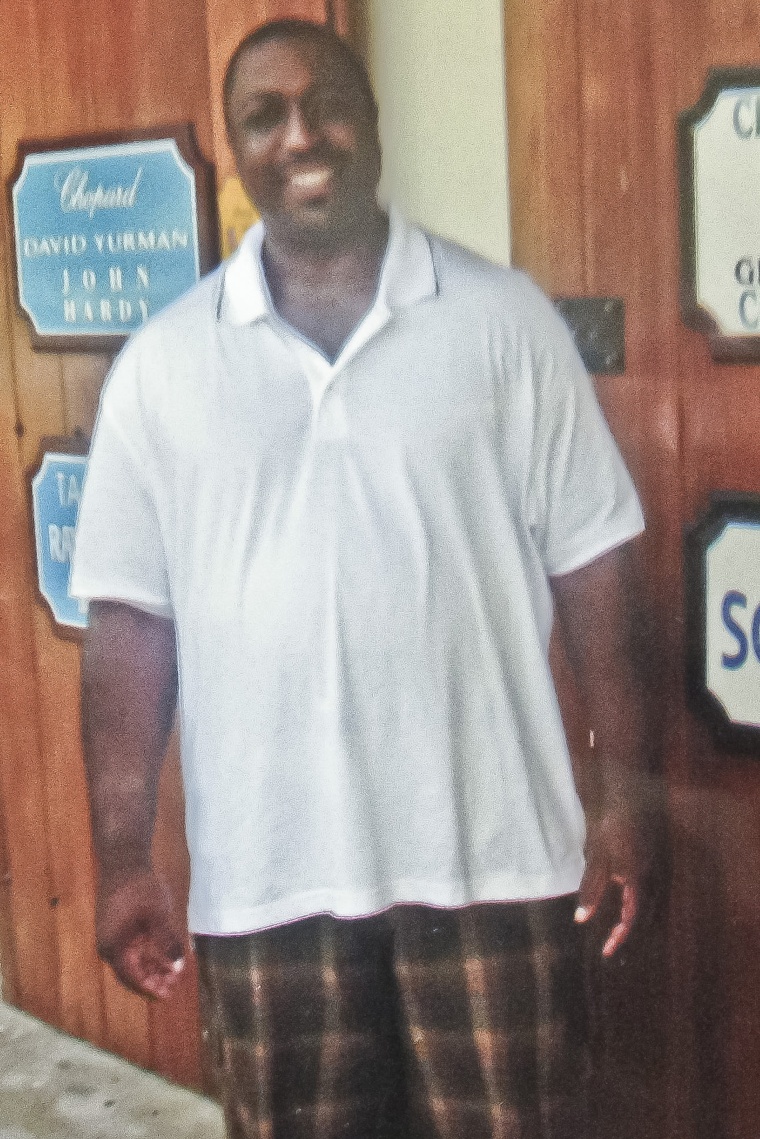 New York City Mayor Bill de Blasio and NYPD Commissioner James O'Neill have vowed to demand for changes in the state law. When reached for comment, the NYPD referred NBC News to a February op-ed O'Neill published in the New York Daily News where he said the department "doesn't fear scrutiny," adding that transparency has gotten better.
"In the vast majority of discipline cases, a reformed 50-a would allow for the disclosure of disciplinary cases after they have been adjudicated — providing the public greater transparency than before," O'Neill said.
The city's Police Benevolent Association president Patrick Lynch said in December 2018 that "advocates are intentionally misleading lawmakers about the nature of Civil Rights Law 50-a."
"Far from being the 'most regressive' law of its kind in the nation, it is on par with 23 states plus the District of Columbia that protect these records from public disclosure under most circumstances," he added.
Officials' hand-wringing on the law has continuously impeded the process for the Garner family.
"How many times have you read about Garner's family trying — without any success — to gain access to the records involving that incident? It doesn't make sense," said Robert J. Freeman, executive director of the New York State Committee on Open Government, which oversees and advises on the state's Freedom of Information law.
"Strangely and ironically, public employees who have the most power and authority over people's lives are the least accountable due to the confidentiality and limitation imposed by section 50-a, the civil rights law."
The Garner family's fight for information is just one example of the lack of transparency and accountability in police-involved deaths in New York City.
The family of Deborah Danner, a Bronx woman with a mental illness who was fatally shot in October 2016, may never know if Sgt. Hugh Barry will be disciplined for the shooting. Barry was criminally acquitted for the shooting in February 2018 and is on desk duty until a disciplinary hearing is completed.
The father of Saheed Vassell, a black man with bipolar disorder who was shot and killed by police in the Crown Heights neighborhood in Brooklyn in April 2018, has been demanding justice for the past year.
The NYPD did not release the names of the four officers involved in the case, but their names were later leaked to the press, according to the Daily News. In April, the state's special investigations and prosecution unit declined to press criminal charges.
"This is the tactics of the NYPD to just [let] the families suffer for years and years and years," Eric Vassell told reporters at a press conference in October. "I've seen them do that. They do all types of things to cause us to break down. It's a game that they keep on playing with us over and over, wanting us to believe they'll do good."
It's unclear if Pantaleo will be penalized but history shows that punishments for fatal chokeholds by NYPD officers have been extremely rare.
An NYPD officer hasn't been fired for a fatal chokehold since Francis Livoti, who was convicted of violating the federal civil rights of Bronx man Anthony Baez in 1994, the Associated Press reported.
From 2009 to 2014, the CCRB reviewed 1,022 chokehold complaints; of the 462 cases that were investigated fully, only nine were substantiated by the board, according to data that was released just days after Garner's death. Of those nine instances, only one of the officers was disciplined, according to The New York Times.
Garner's family was paid a $5.9 million settlement by the city in July 2015 after a Staten Island grand jury declined to indict Pantaleo on criminal charges in December 2014. Meanwhile, the Justice Department has until July to decide whether to bring federal civil rights charges against Pantaleo.
The DOJ declined comment on the status of the case.
For New York City's Legal Aid Society, the nonindictment of Pantaleo in December 2014 served as a springboard to take legal action and begin efforts to repeal New York's police secrecy law.
Specifically, the organization, which represented Garner in criminal cases before his death, petitioned the state's Supreme Court to release Pantaleo's misconduct records.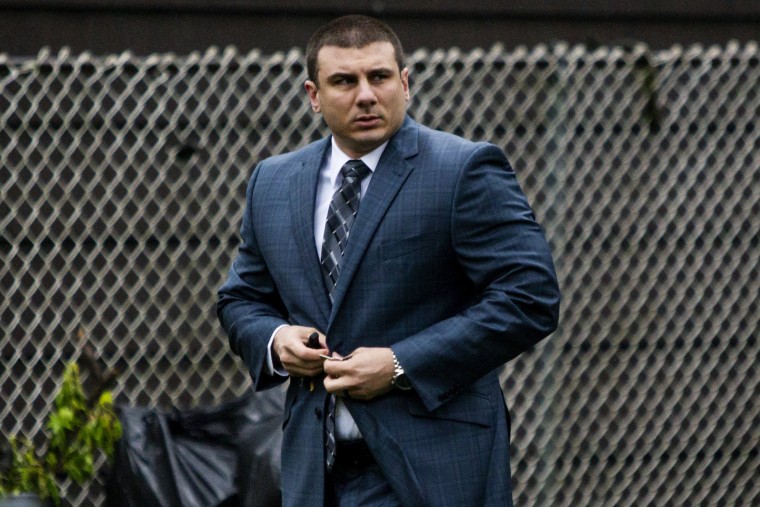 The Legal Aid Society is the largest public defender organization in the country. In April, the group and dozens of other organizations called on New York Gov. Andrew Cuomo to enact the NY Safer Act, which includes the full repeal of section 50-a.
The legislative package has the support of other legal organizations and police reform groups such as the New York City Civil Liberties Union, Communities United for Police Reform and the New York City Anti-Violence Project. Cuomo has previously said that it's up to the city to decide whether to release these records.
"The lack of transparency around these killings when they are committed by police officers really undoes all of the feelings of safety by the public that are necessary for people to move about their daily lives in a healthy way," said Cynthia Conti-Cook, a staff attorney for New York City's Legal Aid Society.
"So when the community of Saheed Vassell or the community of Eric Garner cannot be sure that the officer who killed someone on a sidewalk in plain public view will be held accountable, taken off the street, have the weapons removed and will be submitted to some accountability process — if that kind of assurance cannot be given to the public — it leads to a widespread feeling of public mistrust."
Family members of loved ones who were killed by police officers including Valerie Bell, the mother of Sean Bell, who was killed in 2006, and Victor Dempsey, the brother of Delrawn Small, who was killed in 2016, are demanding that the police department be held accountable.
"My son, Sean Bell, was killed by the NYPD in a hail of 50 bullets on his wedding night, yet none of the officers involved were ever held accountable," said Valerie Bell, in a statement of support for the NY Safer Act. "Families who have lost their loved ones to police violence deserve real transparency and accountability."
These long fights for justice can take a toll on its foot soldiers. Garner's daughter, Erica, became one of the fiercest voices for police accountability in the wake of her father's death, often sparring with de Blasio on what she saw as his laissez-faire attitude in addressing the case.
But in December 2017, Erica Garner died after a heart attack without ever knowing whether or not Pantaleo would be held accountable. Through her activism, she demanded change so that communities could heal.
"I have studied this snapshot in time and learned that my father will never get justice," Erica Garner wrote for HuffPost in 2015. "I only see blood. If we're going to move forward, we need transparency. Police and elected officials cannot seriously hope to repair relationships with the community without it."
CORRECTION (May 19, 2019, 10:15 a.m. ET): An earlier version of this story misstated Police Officer Daniel Pantaleo's actions. He placed Eric Garner in a chokehold, which lead to Garner's death; he did not shoot Garner.