Approximately three out of every four millennials in the U.S. have some form of debt, according to an NBC News/GenForward survey released Wednesday, and they're putting off major milestones because they can't pay up.
A quarter of millennials — those 18 to 34 years old — are over $30,000 in debt, including 11 percent who are over $100,000 in debt. Only 22 percent of millennials are debt free.
As a result, saving has taken a backseat, which has affected the pace at which millennials live their lives and left most unprepared for a financial emergency. Credit cards, meanwhile, are playing an even bigger role than student loans.
Credit card debt is the most prevalent type among the group, while just two in 10 millennials say they have a mortgage or home loan.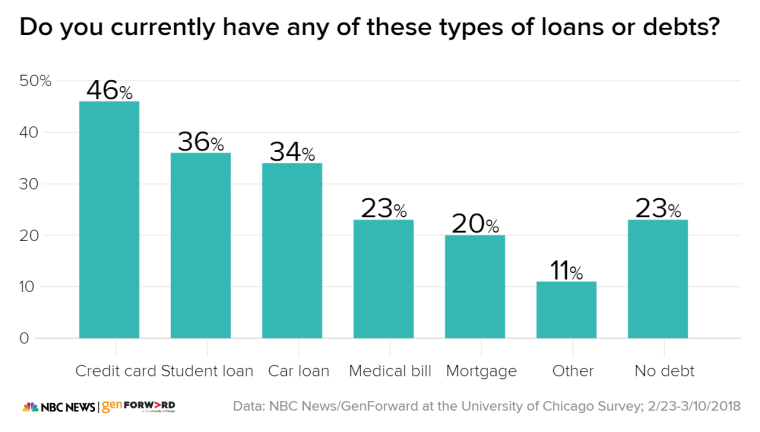 Millennials with college degrees are more likely to have credit card debt (56 percent) than those without college degrees (40 percent). But they are also more likely to make more money — 56 percent of millennials with college degrees make over $50,000 a year compared with 31 percent of millennials without college degrees.
Forty-nine percent of African-American millennials have student loan debt — more than any other racial subgroup.
Sixty-two percent of millennials owe more in debt, overall, than they have in a personal savings account. Only about a quarter (24 percent) have more money in their savings account than they owe in debt.
Three in 10 millennials have less than $1,000 in their personal savings, and only 1 percent have over $100,000 saved. A quarter, 24 percent, have no personal savings.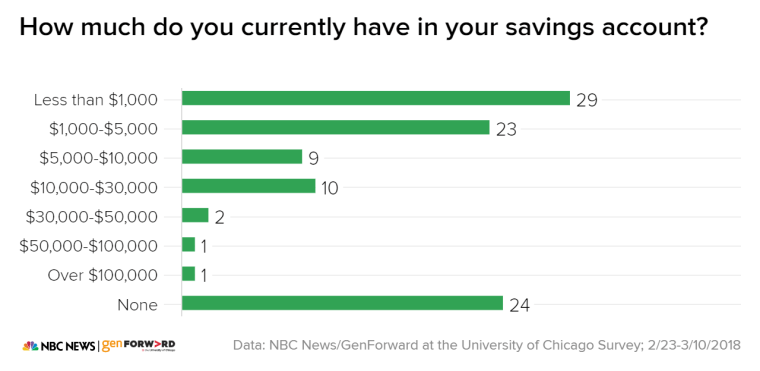 Two-thirds of millennials, or 67 percent, said they would have difficulty paying an unexpected bill of $1,000 right away. African-America and Latino millennials would have a harder time coming up with the money than other racial subgroups, according to the survey.

Majorities of millennials across every racial subgroup would have a difficult time paying $1,000 right away, but African-American millennials (72 percent) and Latino millennials (74 percent) would have a harder time paying that bill than Asian-American millennials (65 percent) and white millennials (64 percent).
Nearly half of all millennial parents (48 percent) say they would have a lot of trouble covering an unexpected $1,000 bill compared to 39 percent of those without kids.
According to the survey, a majority of millennials have hit pause on major life events because of what they owe. Debt has caused a third of all millennials, or 34 percent, to hold off on buying a home and 31 percent to delay saving for retirement. It has also affected millennials' family structure. Fourteen percent of millennials have delayed getting married due to debt, and 16 percent have delayed having children.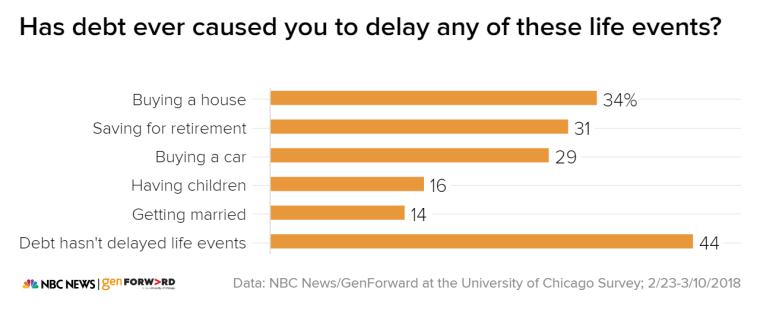 Even with a lot of debt relative to savings, millennials overall remain optimistic about the future. A majority (58 percent) are optimistic about things like finding and keeping a good job, paying off student loan debt, and being able to afford the lifestyle they want.
The NBC News/GenForward at the University of Chicago Survey was conducted Feb. 23 — March 10, 2018 among a nationally representative sample of 1,895 adults ages 18-34, recruited and administered by NORC at the University of Chicago. The overall margin of sampling error is +/- 3.77 percentage points. For full results and methodology, click here.