Tears of relief began to fall from Vicki Schieber's eyes early on Thursday morning when she heard on the radio that Pope Francis had declared the death penalty unacceptable in all cases.
As a Catholic, it's something she's worked to end in the United States since her daughter Shannon was raped and murdered in her Philadelphia apartment 20 years ago. Schieber has forgiven her daughter's murderer, but now Francis's declaration had helped her mission to put an end to the death penalty take a giant step forward.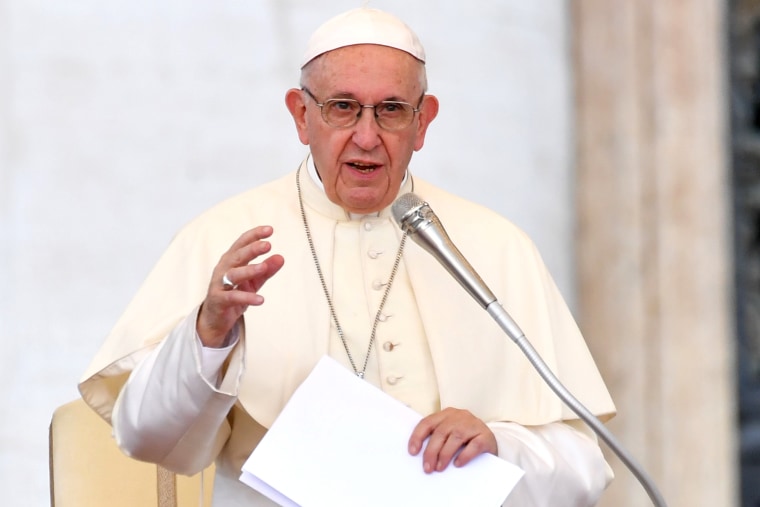 "I promised my daughter — I talk to her a lot — I said, 'Listen, I'm working hard down here to end the death penalty, but I need you to pull some strings up there for mom,'" Schieber told NBC News. "And I guess she did."
A push in state legislatures in recent years has earned particular steam among conservative lawmakers, and the nod from Pope Francis may make it more difficult for conservative Catholic politicians to allow the practice to continue.
In Washington state, Sen. Mike Miloscia, a devout Catholic and Republican, worked with members of his party and Democrats earlier this year to try to abolish the death penalty in his state. Gov. Jay Inslee, a Democrat who placed a moratorium on executions, supported the measure with his former Republican opponent, but the bill died after passing through the Senate.
To Miloscia, this only means he needs to redouble his efforts.
"It's a big moment," he said. "The Catholic Church has been moving in this direction for the last 30 years to be truly pro-life across the board and be clear about our teachings to protect all human life from conception to natural death — and that includes abolishing the death penalty."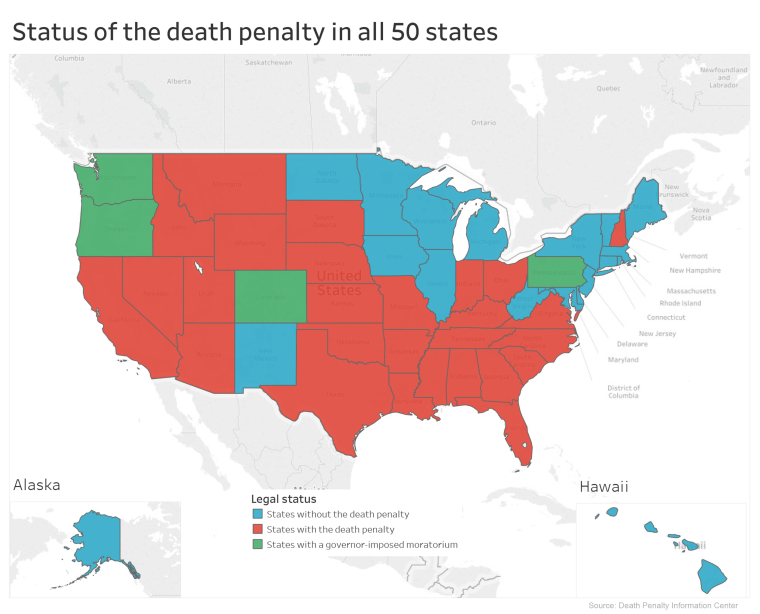 Support for the death penalty remains relatively high in the United States, but it has seen diminishing returns among Americans in recent years. According to a June report from the Pew Research Center, 78 percent of U.S. adults supported the death penalty for persons convicted of murder in 1996, but in 2018 that support dropped to 54 percent. Meanwhile, opposition to its use grew more than 20 points during the same period.
In recent years, Republican lawmakers have introduced bills to end the death penalty in New Hampshire, Nebraska, Utah, Missouri, Ohio, Wyoming, South Dakota, Kentucky, Kansas and Washington state. It's a growing movement that has earned the attention of those who have long advocated against the punishment.
"The conservative movement is beginning to really understand all the issues," said Schieber. "They are a wonderful team to be involved with."
"I don't see [God] telling me to put people to death. That's not the faith I've come to know and, the pope as the spokesperson for that faith, has happily validated that."
It's that team that almost passed legislation that would have ended the death penalty in New Hampshire with bipartisan support. Both the House and Senate passed it, but New Hampshire Gov. Chris Sununu killed the legislation when he vetoed the bill in late June.
State Sen. Kevin Avard, who is not Catholic but was raised in a Catholic family, pointed out that his bill to put a stop to executions in New Hampshire had 13 co-sponsors who came to the same conclusion for different reasons. Many cited their religious faith, some did not find death row to be fiscally feasible and others did not think the government should have that much power or feared putting an innocent man to death.
"When that many people from that many different viewpoints came together amid the political hostility of late, it's really refreshing to see that we can agree," Avard said. "And we do. It's hazardous to ignore that."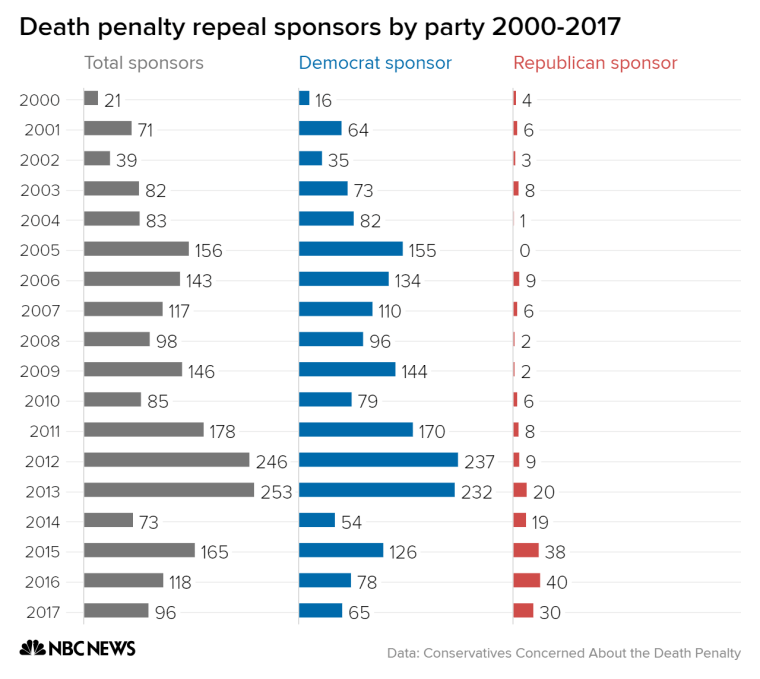 And for an increasing number of Catholics in politics, it's also hazardous to continue to support executions. That's why Colby Coash, a former Nebraska senator, was able to convince his fellow lawmakers to abolish the death penalty in 2015. Voters overturned that legislation in a November 2016 ballot imitative.
Coash said his faith turned him from once being a supporter of the death penalty to one of its strongest opponents.
"Through my faith, I don't see [God] telling me to put people to death," he said. "That's not the faith I've come to know and the pope as the spokesperson for that faith has happily validated that."
But not all view the pope's declaration as enough to change the laws of their state. Nebraska Gov. Pete Ricketts, a devout Catholic, said he would not change the laws of Nebraska.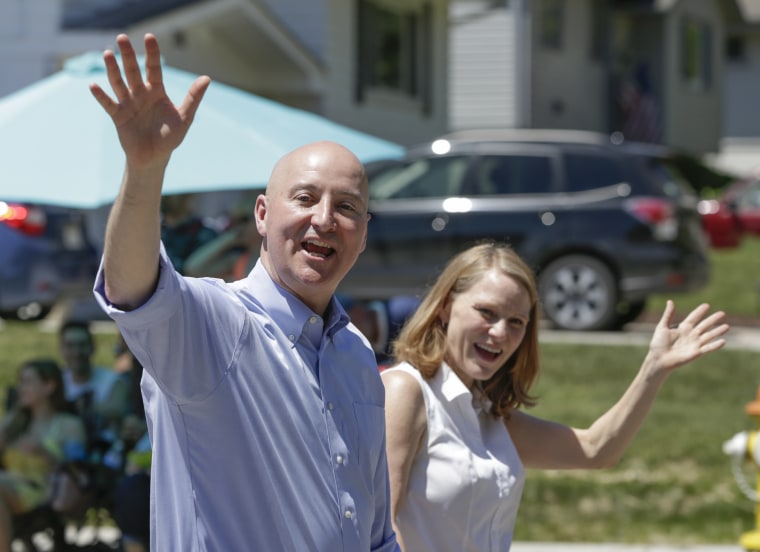 "While I respect the pope's perspective, capital punishment remains the will of the people and the law of the state of Nebraska," the governor said in a statement acquired by the New York Times. "It is an important tool to protect our corrections officers and public safety. The state continues to carry out the sentences ordered by the court."
In April 2016, the Omaha World Herald reported that Ricketts, a businessman and part-owner of the Chicago Cubs, had invested $300,000 to groups working to reinstate the death penalty after the state legislature voted to repeal the practice.
Now, in just over a week, the state is scheduled to execute convicted murderer Carey Dean Moore. It would be Nebraska's first execution in 21 years.
But Ricketts is not the only Catholic governor in a state that maintains the practice of the death penalty.
Texas Gov. Greg Abbott and Idaho Gov. Butch Otter, both Catholic Republicans, lead states that allow executions, but neither responded to multiple requests for comment on how their views might be affected by the pope's declaration.
Nine offenders sit on death row in Idaho, where three people have been executed since the state reinstated the death penalty in 1977. Two were executed under Otter's administration.
Meanwhile, in Texas, 225 people face the state's death chamber. Abbott has overseen eight executions this year, and the state has put more than 550 people to death since 1977.
Back in Nebraska, Coash said he didn't think that it would bring about immediate change, but future conservative lawmakers won't be able to take advantage of the Catholic Church's onetime flexible language.
"In the long term it's going to be good for the cause," Coash said. "I think it helps the church leadership with their message and it doesn't allow politicians to use a nuance as a shield. In the long term, it will help future conservative lawmakers who will want to take a stand."