Police responded to a sudden brawl at a Milwaukee Popeyes that was caught on video by a shocked customer and led to the employees involved losing their jobs.
The video, filmed by Rich Fourte on Wednesday night, shows several employees yelling at one another before a female employee jumps from behind the counter and appears to hit another employee. Within seconds, at least half a dozen employees have their arms tangled as they swat away.
The group moves through the restaurant, knocking over stools and into chairs as they continue to fight before someone yells, "Hey, break that s--- up." The employees, some of whom are wearing jackets with their aprons peaking out from underneath, stop fighting but continue yelling as the video ends.
A statement from Popeyes said the franchise owner fired the employees involved in the melee, "and is reviewing additional actions to prevent this from happening again."
"This behavior is clearly against our expectations and standards," the statement said.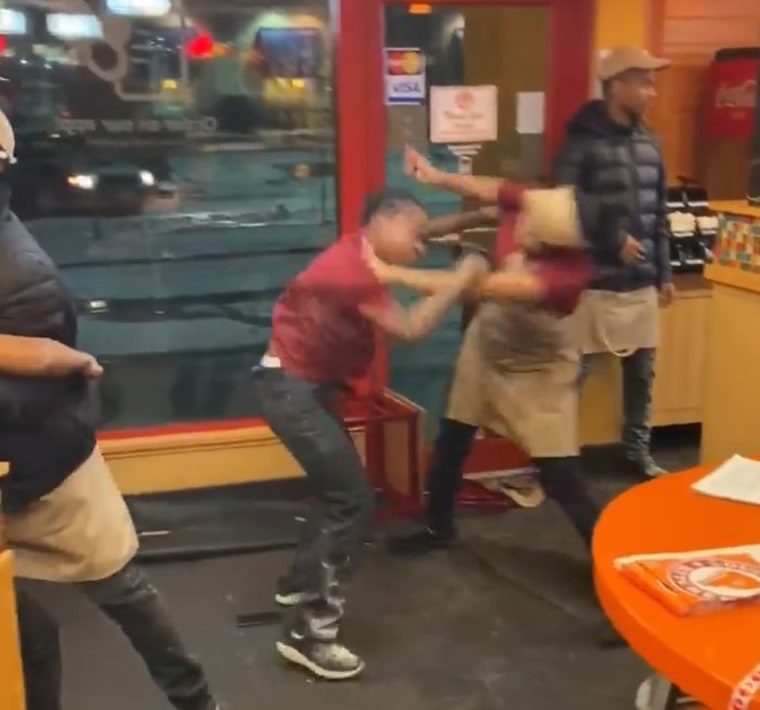 Fourte told NBC News that he started filming after another fight between employees was broken up.
"As that fight was settling down, there was another fight that broke out, and once I saw that, that's when I decided to take my phone out," Fourte said.
He said he couldn't discern why the employees were fighting, but when he walked in five were sitting at tables and more than a dozen were behind the camera, and he noted "Damn, there's a lot of employees here tonight."
While Fourte wrote on Facebook that he was there to get the famed chicken sandwich "to see what the hype was about," he doesn't believe the fight had anything to do with the menu item.
Fourte said he had been to that Popeyes in the past, but "this isn't something that I've ever seen before." He said most of those involved in the fight appeared to be high schoolers.
"It's a sad situation," he added.
Milwaukee Police officers responded to the restaurant after a report that a weapon was involved in the incident. The department said no weapons were found, and no one on scene claimed to be a victim in the brawl.