A man on a date was killed by a drunken driver who was going over 100 mph when her Porsche hit a curb and struck him on a Houston sidewalk, according to a lawsuit filed by the victim's parents.
Joseph McMullin, 33, and a woman were walking on Westheimer Road near Waugh Drive on April 19, the suit says. It was their first date, and the pair decided to walk to a doughnut shop to get something to eat, according to his parents, Christopher and Lynn McMullin, who filed the suit Wednesday in Harris County District Court.
Kristina Chambers, 32, was driving a blue Porsche 911 Carrera when she allegedly "left the roadway, careened the sidewalk and violently collided" with McMullin, only stopping when she hit a pole in the parking lot, the suit says.
McMullin was pronounced dead at the scene, according to a statement from Houston police. Chambers and her two passengers were taken to hospitals. The woman McMullin was on a first date with was not hurt, according to reports. 
At the time of the crash, Chambers' blood alcohol content level was almost four times the legal limit of 0.08%, the suit says. Houston police have not confirmed that, saying only that "further investigation determined Chambers showed signs of intoxication."
She was booked into the Harris County Jail on Monday on a charge of intoxication manslaughter after she was discharged from the hospital. She appeared in court Wednesday and posted $50,000 bond, records show.
Chambers is due back in court on May 31.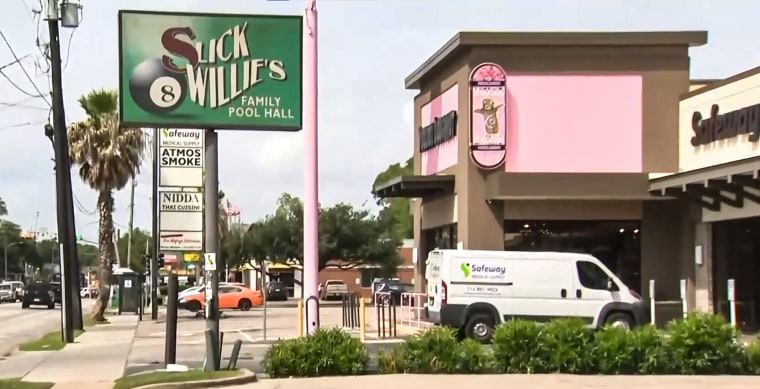 In an interview Friday with NBC News, Chambers' attorney, Mark Thiessen, called McMullin's death "a tragedy" and said poor road conditions were the reason his client lost control of her vehicle. He also said he had questions about Chambers' blood alcohol content level.
"Not every tragedy is a crime, and Kristina is entitled a fair jury trial once we've investigated all the evidence," he added.
Details on the man and the woman in the car with Chambers and their conditions were unknown Friday.
McMullin's parents, who are seeking $1 million in damages, could not be reached for comment.
Attempts to reach Briana Iturrino, the woman on the date with McMullin, were unsuccessful.
She told NBC affiliate KPRC that she and McMullin went to karaoke.
"He was so sweet," smiling throughout the entire date, Iturrino said.
They were leaving the doughnut shop when she said she saw the Porsche's headlights.
"I saw a car coming and I could tell it was moving really fast. I knew she wouldn't make the curve," Iturrino told the news station.
She added that McMullin "didn't deserve to go like that. He didn't deserve to go now at all."