A protest in Portland, Oregon, against President-elect Donald Trump boiled over into what police described as a "riot" overnight Thursday after some demonstrators armed with bats smashed stores and cars, and others lit fires.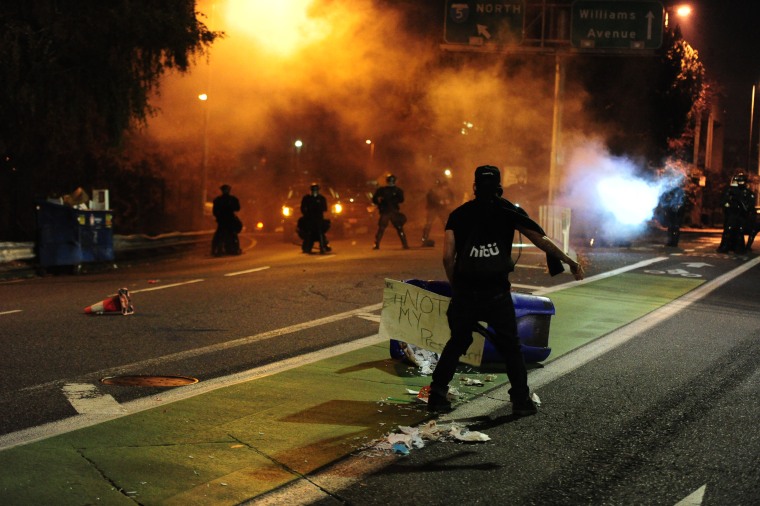 Police arrested 26 people and responded with pepper spray and rubber bullets, labeling the 1,500-strong demonstration an "unlawful assembly" and a "riot" — a class-C felony.
According to Portland police, many in the crowd were trying to stop those responsible from vandalizing property and spray-painting messages such as "Dump Trump" and "F--- Trump."
PHOTOS: Scenes of Fury as Portland Protests Turn Violent
Video showed large crowds chanting "peaceful protest" and making the peace sign.
Trump initially tweeted saying that the "professional protesters" had been "incited by the media" and called the situation "very unfair!" He followed that up with a more conciliatory message early Friday that "the small groups of protesters last night have passion for our great country."
Those who were vandalizing property were dubbed "anarchists" by police, who urged peaceful protesters to leave the area.
Video posted to social media appeared to show a small group of people armed with baseball bats smashing shop windows.
Dave Northfield, a reporter on the ground with NBC affiliate KGW, said that 19 cars had been smashed at a Toyota dealership, one with a cinder block.
Portland police said there had been "extensive criminal damage" and the Oregon Department of Transportation closed portions of interstates 5 and 84 as the protest swept nearby streets.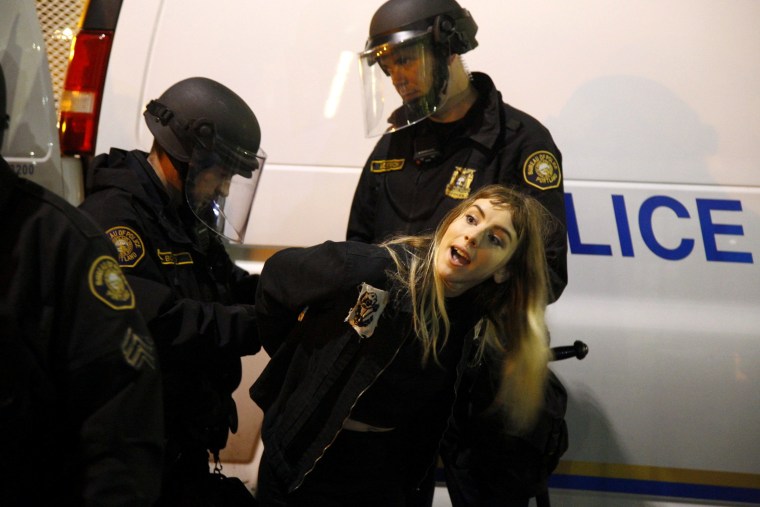 The demonstration marked the second night of protests across the country since Trump's election victory early Wednesday.
In Oakland, California, a demonstration on Thursday night that began with about 30 demonstrators grew to 1,000 in the city's downtown.
At least 11 people were arrested and seven given citations, police said, for charges ranging from assault on officers to vandalism to failure to disperse.
The impromptu march blocked traffic and some people walked onto a freeway, police added. Protesters threw bottles and Molotov cocktails at officers, although no one was reported injured.
Meanwhile, hundreds of protesters descended on downtown Los Angeles on Thursday — a smaller crowd from the night before — with about 185 people arrested or detained early Friday for mostly blocking streets and minors violating curfews, police told NBC News. Officers themselves blocked entrances to freeways and there were no reported injuries.
People have also taken to the streets in New York, San Francisco, Chicago, Denver and elsewhere, rallying around the slogan "not my president."