Leaders of Oregon's largest city continued their pleas for nonviolence — while warning police will be out in full force — during Saturday's planned demonstration in downtown Portland, where far-right activists and anti-fascist supporters could clash yet again.
Portland Mayor Ted Wheeler, joined by a multiracial coalition of civil rights organizations, faith leaders and community groups, said during a gathering Wednesday that anyone "using the guise of free speech to commit acts of violence" is not welcome in the city.
"You want to be hateful, stay home," added Jo Ann Hardesty, who this year became the first black woman on the Portland City Council. "Do not get on a plane, on a bus and come to Portland. We don't want you here. We never wanted you here. If you come, we will expose you to the light of day."
The weekend rally is organized by the Proud Boys, whose founder has described it as a "fraternal organization" for young "Western chauvinist" men, and is expected to attract demonstrators from around the country. They say the purpose of their "End Domestic Terrorism" event is to oppose anti-facists, collectively called antifa and known for wearing masks and all-black clothing. Organizers want antifa to be declared a domestic terrorist organization.
Organizer Joe Biggs told The Associated Press that those coming to Portland have been told not to bring weapons or start fights, but they will defend themselves if attacked.
The Southern Poverty Law Center, which advocates against bigotry, has designated the Proud Boys as a hate group, and some of its members were involved in a violent street fight in New York City last fall with antifa.
Portland Police Chief Danielle Outlaw said Wednesday that hundreds of hours have been spent planning the bureau's response for Saturday, and that the city is working with local, state and federal law enforcement to "make sure people are kept safe." All of the city's 1,000 officers will be called in.
Wheeler has also said police will mobilize quickly if violence flares.
The expectation of aggression is not unwarranted in Portland, where far-right protests have rocked the city since Donald Trump became president and two people were fatally stabbed on a train in 2017 by a suspected white nationalist accused of shouting anti-Muslim hate speech.
At the heart of the protests have been far-right activists who say the Constitution protects their speech. Wheeler, however, has condemned their protests and said they "peddle a message of hatred and bigotry."
Police have seemed overwhelmed by the cultural forces at war in their streets.
At a rally in June, masked antifa members beat up a conservative blogger named Andy Ngo. Video of the 30-second attack grabbed national attention and further turned the focus on Portland as a new battleground in a divisive America.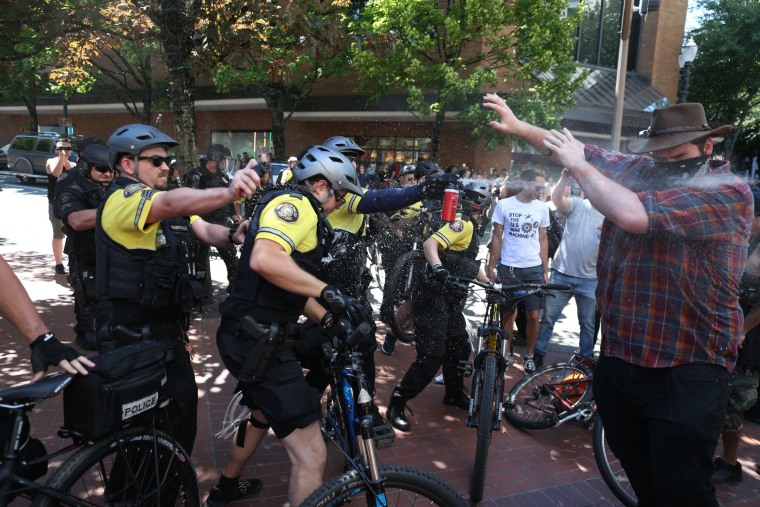 Republican Sens. Ted Cruz, of Texas, and Bill Cassidy, of Louisiana, introduced a congressional resolution calling for anti-fascists to be declared domestic terrorists, and Trump echoed that theme in a tweet last month.
Police have noted the violence in June was limited to a small area of downtown Portland despite there being three different demonstrations lasting more than five hours, with hundreds of people constantly on the move. They also made two arrests last week in a May Day assault on an antifa member that became a rallying cry for the city's far-left.
During Wednesday's event sponsored by the city, hecklers attempted to interrupt the speeches of people denouncing hate.
City officials hoping for relative calm must also contend with antifa, whose members have issued an online call to their followers to turn out to "defend Portland from a far-Right attack."
Portland's Rose City Antifa, the nation's oldest active anti-fascist group, says violence against right-wing demonstrators is "exactly what should happen when the far-right attempts to invade our town."
Members of antifa have also been at odds with police after it was revealed a Portland police lieutenant and the leader of the far-right group Patriot Prayer shared friendly text messages. Wheeler ordered an independent investigation into the potential existence of bias in the actions of the police leading up to and during demonstrations involving the far-right and anti-fascists.
Randy Blazak, an Oregon hate groups expert, said he worries the extreme response from a small group of counter-protesters is starting to backfire. Many in the city oppose the right-wing rallies but also dislike the violent response of antifa, which provides social media fodder for the far-right.
"The opposition is playing right into the alt-right's hands by engaging with them this way," he told the AP.
Wheeler has said he may ask Gov. Kate Brown to call up the Oregon National Guard.
Experts who track right-wing militias and hate groups warn that the mix of people heading to Portland also came together for the deadly Unite the Right rally in 2017 in Charlottesville, Virginia.
Other affiliated groups expected to converge on Portland include members of the American Guard, the Three Percenters, the Oathkeepers and the Daily Stormers. American Guard is a white nationalist group, according to the Southern Poverty Law Center, while the Three Percenters and the Oathkeepers are extremist anti-government militias. The Daily Stormers are neo-Nazis, according to the center.
An armed Trump supporter who was briefly detained outside of a community space for immigrants in El Paso, Texas, last week following the deadly mass shooting there was among those making their way to Portland as well.
"There's no winning for the cops in a situation like this. There just isn't," said Heidi Beirich, director of the Intelligence Project at the Southern Poverty Law Center. "This is hard-core stuff, and I don't think you can be too cautious."