Portland, Oregon's police department is without its top cop as city officials dig into whether Police Chief Larry O'Dea lied about accidentally shooting a friend on a hunting trip last month.
In the latest twist Tuesday, Portland Mayor Charlie Hales placed O'Dea on paid administrative leave as new details emerged alleging that the veteran officer may have orchestrated a cover up instead of coming clean.
"We need our Police Bureau operating at its best, and our officers can't do that when there's turmoil and confusion surrounding their leader,'' Hales said in a statement.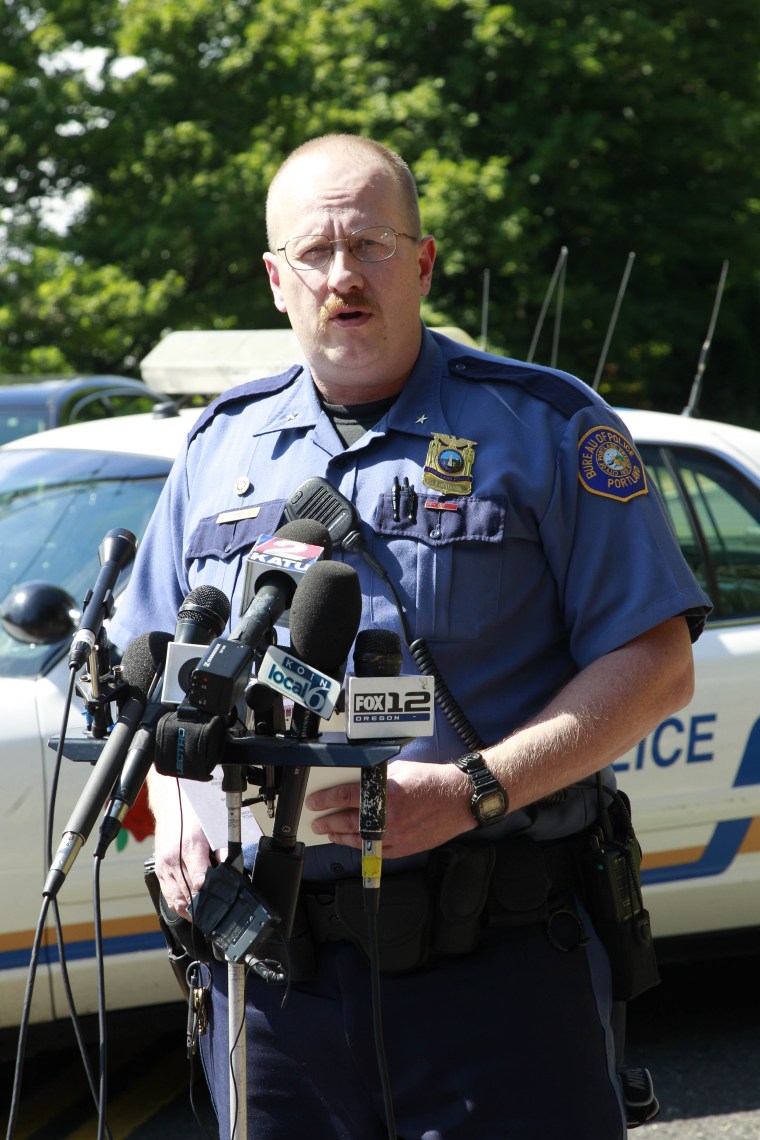 "I am awaiting the outcome of internal and external investigations before commenting about the incident, and urge all Portlanders to do the same," the mayor added.
O'Dea, 53, was on vacation in Harney County, eastern Oregon, on April 21 when he accidentally discharged his .22 caliber rifle, striking a 54-year-old friend in the lower back, according to local authorities.
The Harney County Sheriff's Office was alerted to the shooting, but the initial report categorized it as "self-inflicted."
Harney County Sheriff Dave Ward said in a statement Monday that while he was notified about the incident, he only learned O'Dea was involved on May 16 — about three and a half weeks later. In addition, "further information was gathered which contradicted" it was a self-inflicted injury, Ward added.
The sheriff told The Oregonian newspaper that he learned of the discrepancy last week after interviewing the gunshot victim, who had been treated at a Boise, Idaho, hospital and released. He has not been identified.
The shooting was forwarded to state police and the state Department of Justice to investigate.
A statement released by Portland police on Friday said O'Dea did inform Hales and the department's professional standards division captain about what occurred. The chief said at the time that he was "very thankful that my friend is OK and I'm tremendously upset this happened."
A spokeswoman for the mayor also said O'Dea told Hales that he was involved in the shooting, but it was four days after the incident, according to NBC affiliate KGW.
Ward raised questions about why it appeared neither O'Dea nor Hales, who also serves as Portland's police commissioner, corrected with his department that O'Dea was involved and that the shooting was not self-inflicted.
Joining O'Dea, other retried Portland officers were at the hunting trip, according to reports. Details of what led to the shooting have not been publicly shared.
O'Dea joined the Portland Police Bureau in 1986, and was selected as chief of the 1,150-member force in January 2015. He replaced retiring Police Chief Mike Reese, who reportedly had a rocky relationship with Hales.
O'Dea is not allowed to publicly talk about the incident while the city and state continue their investigations.
"The investigation will be forthcoming and you'll see the rest of the story," O'Dea told KGW on Tuesday, just before he was placed on administrative leave.
The mayor tapped Assistant Chief Donna Henderson to take over the bureau in O'Dea's absence.
The president of the Portland Police Association, Officer Daryl Turner, had called for O'Dea to "step aside" during the probe.
He added that the police chief — and not just the bureau's rank-and-file — must adhere to "transparency and trust."
"This incident has compromised the integrity of the Police Bureau," Turner said in a statement.