Juniper Simonis has been supporting the Black Lives Matter movement in Portland, Oregon, since the killing of George Floyd in May.
In a show of solidarity, Simonis, 35, a trans woman who works as a quantitative ecologist and who uses gender-neutral pronouns, visited demonstrations near their home in southeast Portland. But on July 10, Simonis was outside the Edith Green-Wendell Wyatt Federal Building in downtown Portland with their service dog, Wallace, when Simonis was detained by federal law enforcement officers. Simonis said the officers failed to identify themselves.
Moments before being arrested, Simonis said agents deployed pepper spray. Simonis said the force of the spray, fired from less than 10 feet away, bruised their face. During the arrest, Simonis added that one of the officers squeezed Wallace so hard the dog defecated.
"It's scary how bad they are at their jobs because of the weapons that they have at their disposal," Simonis told NBC News.
Simonis was held for more than eight hours. Federal agents dragged Simonis inside the Edith Green-Wendell Wyatt Federal Building, then later transported them by car to the federal courthouse nearby, where Simonis was ultimately transferred into U.S. Marshals' custody. Simonis asked numerous times to make a phone call and for legal representation, but said officers provided neither, and didn't provide answers about what was happening. Simonis was released early the following morning with two citations: "failure to comply with a lawful order of police officer, and assaulting/resisting/impeding certain officers or employees."
The Department of Homeland Security (DHS) did not respond to a request for comment about Simonis' arrest.
Simonis' experience isn't an isolated one. Protesters in Portland have been seen in social media videos, verified by NBC News' Social Newsgathering team, being snatched and hauled away by federal agents. Sometimes they have been driven away by unmarked rental cars.
NBC News was able to determine that these agents were associated with DHS based on the federal agency's patch on the right arm of agents' uniforms. The presence of these officials has increased in Portland since July 4 following the federal government's claims that increased protests, violence and vandalism had triggered the need for more law enforcement.
U.S. District Judge Michael Simon issued a temporary restraining order barring federal agents from threatening arrest, or using force, against journalists or legal observers in Portland on Thursday evening in response to suits filed by the American Civil Liberties Union. "Plaintiffs' declarations describe situations including that they were identifiable as press, were not engaging in unlawful activity or protesting, were not standing near protesters, and yet were subject to violence by federal agents," the judge wrote in the order. "Contrary to the Federal Defendants' arguments, this evidence does not support that the force used on Plaintiffs were "unintended consequences" of crowd control."
The situation in Portland has been tense. Early Thursday morning, social media videos captured the city's mayor, Ted Wheeler, being tear-gassed after speaking to protesters about the presence of federal agents in the city.
Other cities may soon see a similar presence of federal agents. President Donald Trump told reporters on Wednesday that he would be sending "hundreds" of federal law enforcement officers to Chicago and would soon send law enforcement to other U.S. cities, including Albuquerque, New Mexico.
Acting DHS Secretary Chad Wolf on Tuesday said federal agents had made 43 arrests since July 4 in Portland. On July 17 he tweeted photos of Border Patrol Tactical Unit agents in Portland, claiming they "have defended our institutions of justice against violent anarchists for 48 straight days." These tweets now appear to have been removed from Wolf's verified Twitter account. NBC News was able to obtain screenshots before their removal.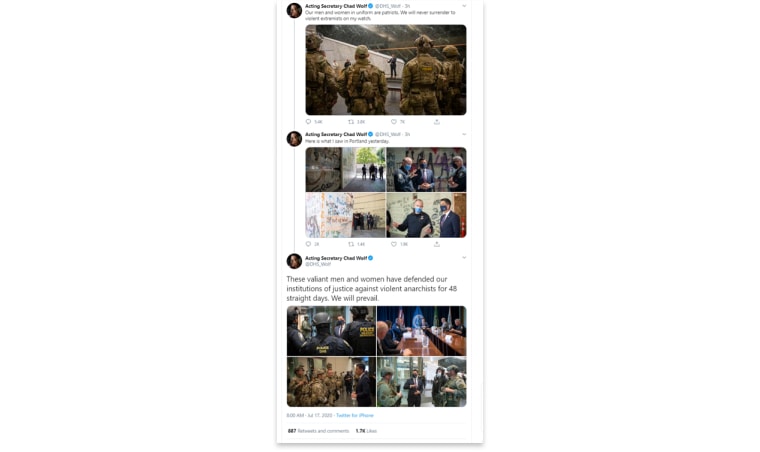 Trump had praised the work of federal agents in Portland at a news conference Monday. "We're going to have more federal law enforcement, that I can tell you. In Portland, they've done a fantastic job," Trump said.
Although the president may be pleased, others are not. On July 16, the ACLU's interim executive director in Oregon, Jann Carson, said that the grabbing of people by agents and putting them into unmarked vehicles is typically referred to as kidnapping.
"The actions of the militarized federal officers are flat-out unconstitutional and will not go unanswered," Carson said in a statement.
While there's been heavy criticism of the use of federal agents in Portland, Wolf defended the department's actions in a Tuesday press conference.
"The law is clear on what our authority entails. Specifically, federal statute states that the secretary of homeland security, and I'm quoting, 'shall protect buildings, grounds and property that are owned, occupied and secured by the federal government,'" Wolf said. "The law goes on to state that the department can conduct investigations, again I'm quoting, 'on and off property in question, on offenses that may have been committed against property owned and occupied by the federal government or persons on that property.'"
Judge Simon's temporary restraining order came in response to a lawsuit filed by the ACLU Oregon chapter against DHS and the U.S. Marshals Service. The ACLU had announced on July 17 that it sought to block federal law enforcement from dispersing, arresting or using physical force against journalists or legal observers in Portland.
"This order is a victory for the rule of law,"Carson said in a statement Thursday night. "Federal agents from Trump's Departments of Homeland Security and Justice are terrorizing the community, threatening lives, and relentlessly attacking journalists and legal observers documenting protests."
On July 18, Customs and Border Protection, an agency part of DHS, said it does not comment on pending litigation.
On July 22 the ACLU also announced the filing of another lawsuit on behalf of volunteer medics who are suing DHS, the Marshals Service and the city of Portland, claiming that they targeted and attacked them during the Portland protests. The Portland mayor's office declined to comment on the lawsuit, and the U.S. Marshal's Service said they are aware of the lawsuit, but don't comment on pending litigation. DHS did not respond to a request for comment by press time.
In recent days the stories of other protesters have also come to light.
Conner O'Shea, a 30-year-old Portland resident, who has been visiting protest sites for the past two weeks, said he was chased down by federal agents on July 15 near Chapman Square. Prior to this encounter, O'Shea said he and a friend were attending a peaceful demonstration and had decided to walk home at around 2 in the morning.
That's when the night took a terrifying turn.
After walking a few blocks from the main demonstration, O'Shea said an unmarked van pulled up to him and his friend, and several agents dressed in camouflage jumped out and started chasing them.
"They don't say anything. They just start charging at us. We all start running in different directions. I almost got hit by a car," O'Shea said.
"What's going through my head," O'Shea said, "I'm going to get taken away by these people. I may never see anybody again. ... Am I going to die?"
O'Shea, who evaded detention by hiding, said the encounter with federal agents was one of scariest experiences of his life. He added that what he and other Portland residents have gone through, being chased down by federal agents, has been strange and horrifying.
"I just hope people in other cities can kind of see this, as this feels like the staging area for Trump setting up a police state," O'Shea said. "That's what this feels like."