The TV show "Portlandia" sarcastically suggests that Portland, Oregon, is where young people go to retire.
For proof, look no further than Jessica DeVries, 32, and Claudia Martinez, 33, who spend much of their spare time knitting and crocheting sweaters, hats and scarves. It's a hobby that seems to defy their demographic.
"We happen to have a granny thing going on here," DeVries said with a laugh.
This time of year, however, their sweaters, hats and scarves aren't used to dress people. Rather, their handmade clothes end up on statues found throughout downtown Portland.
A statue of a man holding an umbrella is adorned with a blue and white sweater.
A deer statue is modeling four cozy leg warmers.
And the bear statues get hats with custom-fit ear holes.
It's called yarn bombing — a gentler form of graffiti using fibers instead of spray paint. Artists cover trees, streetlights and statues with colorful handmade creations.
Yarn bombing is often a covert, guerrilla affair, with displays' popping up unexpectedly and artists' hiding their identities. But in Portland, the displays were actually commissioned by the Portland Business Alliance for the second straight year.
"We think it's a great celebration of everything whimsical and fun about Portland," said Lisa Frisch, director of downtown retail programs for the Portland Business Alliance.
The artists install their "ugly sweaters" and other creations in broad daylight for all to see. DeVries, Martinez and two other friends gathered on Black Friday, in the cold rain, to dress several more sculptures — an effort that will continue throughout the holiday season.
They don't just want to clothe statues. The project is also bringing awareness to an annual clothing drive benefiting Transition Projects, an organization that helps people move from homelessness to housing.
People are also encouraged to take pictures featuring ugly sweaters and post them on social media with the hashtag #UglySweaterPDX.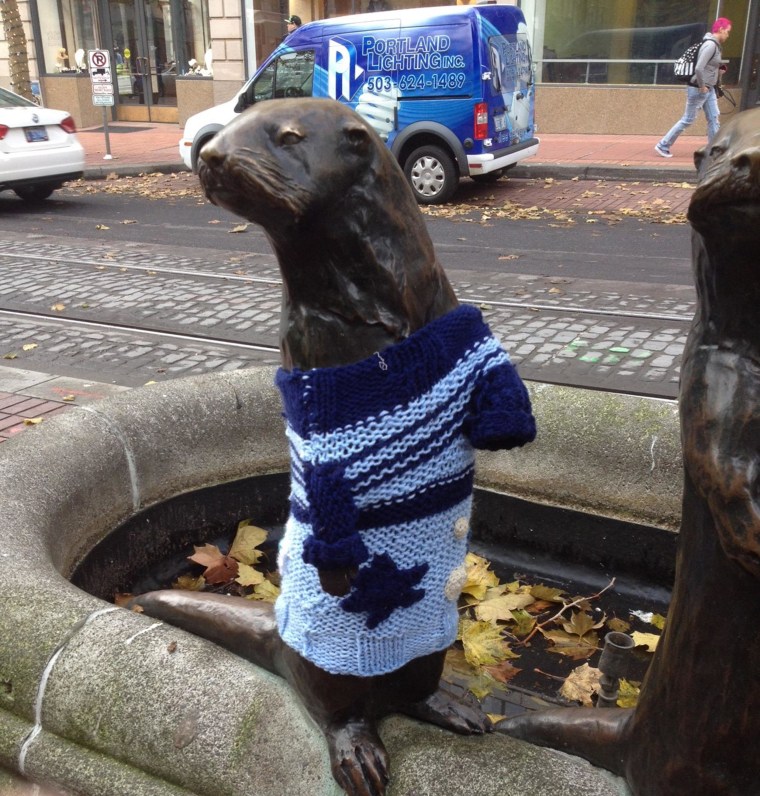 IN-DEPTH
SOCIAL