Just two days day after the Obama administration proposed to cut millions of dollars in funding to clean up the infamous Hanford nuclear site in Washington state, the Energy Department said Thursday that one of the location's oldest storage tanks may have sprung another leak.
The Energy Department's contractor overseeing operations at Hanford — which houses millions of gallons of radioactive waste and is considered one of the most contaminated sites in the United States and possibly on Earth — notified its Office of River Protection of the possible leak Wednesday, the Energy Department confirmed Thursday.
"Preliminary data" indicated "a change of condition" at the oldest so-called double-shell tank at the site near Yakima in eastern Washington — specifically, the discovery of an unidentified "dried material" in the area that hadn't been there when it was last visually inspected in September 2012, the department said in a one-paragraph statement posted on the Hanford website (pdf).
There's no indication that the material — which covers about 7 feet by 21 inches — has leaked into the outside environment, according to the Energy Department, but it has ordered the contractor "to do another video inspection" of the entire area.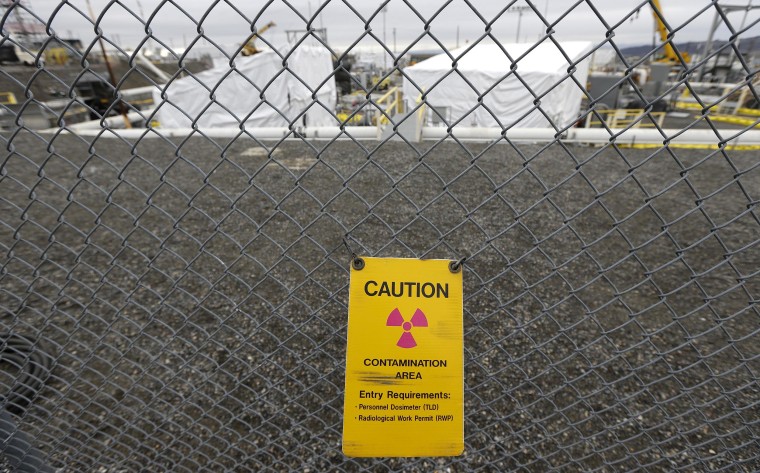 The unidentified material was found outside a riser — a support beam providing external access to the damaged tanks — only 50 to 60 feet from another riser where a confirmed leak was reported in late 2012, officials said.
In February 2013, the Energy Department acknowledged that the extent of leaks at Hanford had been underreported, telling officials that six of the site's 177 tanks were, in fact, leaking.
The head of the contracting company took early retirement without explanation three months later.
Lawmakers from both parties expressed concern after the Obama administration asked Congress on Tuesday to cut $67 million from the Hanford cleanup budget for fiscal year 2015.
Sen. Patty Murray, D-Wash., scolded officials of the White House Office of Management and Budget at a Senate hearing Wednesday, telling them she thought she had made it clear that "I expect the federal government to meet its milestones at defense environmental cleanup sites."