Authorities said there was no second breach Monday at a toxic wastewater reservoir, allowing work to resume to prevent its total collapse in central Florida.
A drone initially spotted the potential leak at 2 a.m. ET as engineers and crew work around the clock to pump wastewater into Tampa Bay from Piney Point Reservoir, about 40 miles south of Tampa, officials said.
Crews found that fears of a second leak were unsubstantiated and determined the site was safe to continue work, Florida's Department of Environmental Protection said in a release Monday evening.
"The department continues to monitor the one identified area where there is concentrated seepage," the release said. "The water from this seepage remains contained onsite in the site's lined stormwater management."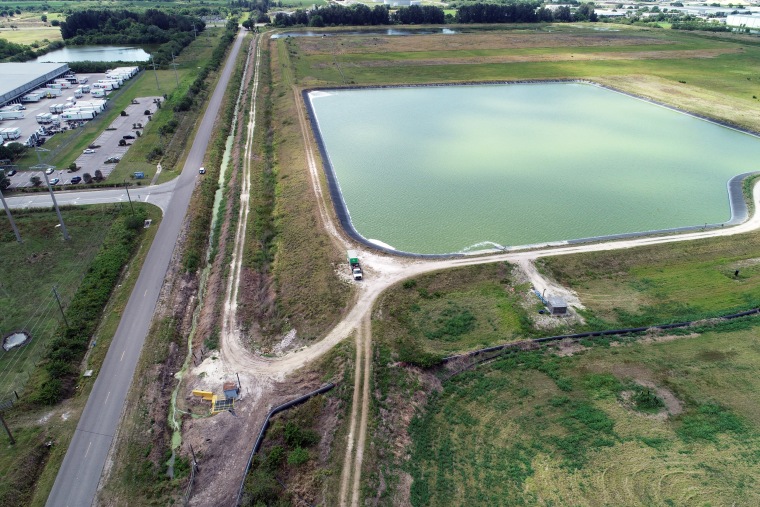 The possibility of a second leak found by the drone caused a temporary evacuation of engineers working at the site, Manatee County Public Safety Director Jacob Saur told reporters shortly after noon.
"Seepage rates remained steady overnight" at Piney Point, Saur said, adding that engineers "are back out at the site now, and they're reassessing that."
Rep. Vern Buchanan, R-Fla., said that he appreciated the work being done to pump water out of harm's way but that he is still worried about a possible collapse.
"I know they're making some progress," Buchanan said. "To see the water spewing out, it looked pretty contaminated to me, so I'm very ... concerned about this."
The reservoir holds a mix of saltwater, fresh water, wastewater and fertilizer runoff, and Gov. Ron DeSantis told Floridians on Sunday that crews are working around the clock to prevent a collapse and a possible "catastrophic flood."
A breach at the old phosphate plant reservoir could gush out 300 million gallons in a 20-foot-high wall of water, Manatee County officials have said.
Stretches of U.S. Highway 41 have been closed off, and residents of 316 homes have been evacuated. A jail a mile from the 77-acre pond has been evacuated.
Engineers were moving water out at a rate of about 35 million gallons a day in the morning, interim Manatee County Administrator Scott Hopes said. And with additional pumps being used Monday, it's hoped the rate could exceed 75 million gallons a day by the evening.
"You can see how, within probably 48 hours, if all those flows continue, we will be at a situation where we will no longer have that risk of that full breach, which would send that 20-foot wall of water across," Hopes said.
Buchanan, who grew up near Detroit, said the had threat revived bad childhood memories of the pollution he'd see in Lake Erie.
"When I see [contaminated] water flowing into Tampa Bay, frankly It makes me sick about it," Buchanan said.
Lake Erie "was so polluted you couldn't swim in it. If you caught a fish, you couldn't eat it," he said. "I don't want to go back to those dark days. I'm not saying we are here. I think we are making some progress."