This is how serious 2016 has been: A year after it picked an emoji as its Word of the Year for 2015, Oxford Dictionaries on Wednesday said 2016 was best characterized by a word that questions the concept of facts themselves: post-truth.
The dictionary publisher defined post-truth as "relating to or denoting circumstances in which objective facts are less influential in shaping public opinion than appeals to emotion and personal belief."
It's essentially a refinement of truthiness, Stephen Colbert's 2005 coinage, which was the American Dialect Society's Word of the Year 11 years ago: "the quality of preferring concepts or facts one wishes to be true, rather than concepts or facts known to be true."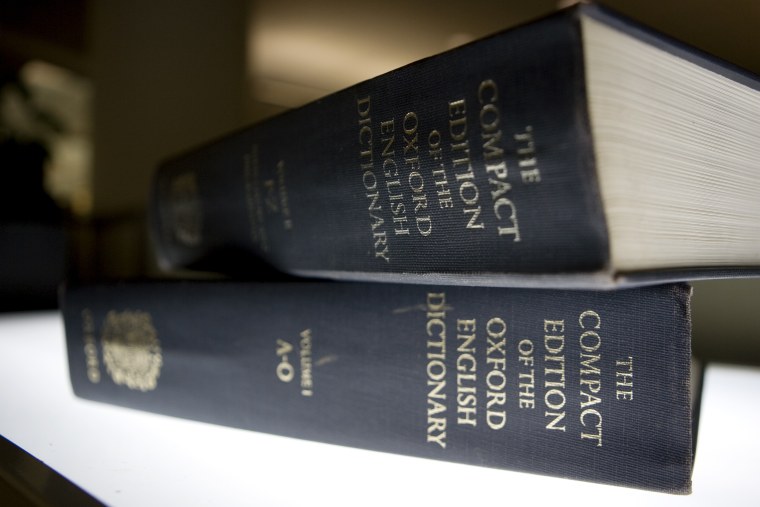 Oxford Dictionaries said it recorded a spike in the use of post-truth this year "in the context of the EU referendum in the United Kingdom and the presidential election in the United States."
The selection is a sharp departure from the usually lighthearted picks the publisher has made in the past. Just last year, it selected the emoji representing "crying with laughter"; in 2014, it was vape. Previous selections include GIF, refudiate and unfriend.
"It's not surprising that our choice reflects a year dominated by highly charged political and social discourse," Casper Grathwohl, Oxford Dictionaries' president, said in an essay on the company's website, which cited "the rise of social media as a news source and a growing distrust of facts offered up by the establishment."
The publisher said in a video explaining its selection that post-truth will likely have a long shelf life, because it describes "a general characteristic of our age."
Post-truth was chosen over nine other finalists (definitions by Oxford Dictionaries):
adulting, n. [mass noun] informal: the practice of behaving in a way characteristic of a responsible adult, especially the accomplishment of mundane but necessary tasks.
alt-right, n. (U.S.): an ideological grouping associated with extreme conservative or reactionary viewpoints, characterized by a rejection of mainstream politics and by the use of online media to disseminate deliberately controversial content.
Brexiteer, n. (British) informal: a person who is in favor of the United Kingdom withdrawing from the European Union.
chatbot, n.: a computer program designed to simulate conversation with human users, especially over the Internet.
coulrophobia, n. [mass noun] rare: extreme or irrational fear of clowns.
glass cliff, n.: used with reference to a situation in which a woman or member of a minority group ascends to a leadership position in challenging circumstances where the risk of failure is high.
hygge, n. [mass noun]: a quality of coziness and comfortable conviviality that engenders a feeling of contentment or well-being (regarded as a defining characteristic of Danish culture).
Latinx, n. (plural Latinxs or same) and adj.: a person of Latin American origin or descent (used as a gender-neutral or non-binary alternative to Latino or Latina); relating to people of Latin American origin or descent (used as a gender-neutral or non-binary alternative to Latino or Latina).
woke, adj. (woker, wokest) (U.S.) informal:alert to injustice in society, especially racism.