TAMPA, Fla. — A Florida man walking to church to feed the homeless is believed to have become the fourth victim of a serial killer shooting people at random in Tampa.
Ronald Felton, 60, was fatally shot just blocks from a memorial honoring three people who were killed within days of one another last month in the neighborhood of Seminole Heights in Tampa.
A spokesman for the Tampa Police Department, Officer Steve Hegarty, said it is not known if the shooting is connected to the three murders in October, but said it will be treated as such until authorities can rule it out.
As police scoured the area for a suspect, residents were told to lock their doors and stay in place.
"We need folks to think about everything they heard last night and everything they saw this morning," Tampa Mayor Bob Buckhorn said during a news conference Tuesday morning. "We need to catch this killer before we have to notify one more family that their loved one is dead."
Felton, a father of three adult children, was on his way to feed the homeless at New Seasons Apostolic Church when he was shot, his brother James Felton told NBC News. James Felton said when his brother wasn't at his construction job, he spent every Tuesday and Thursday morning at the church.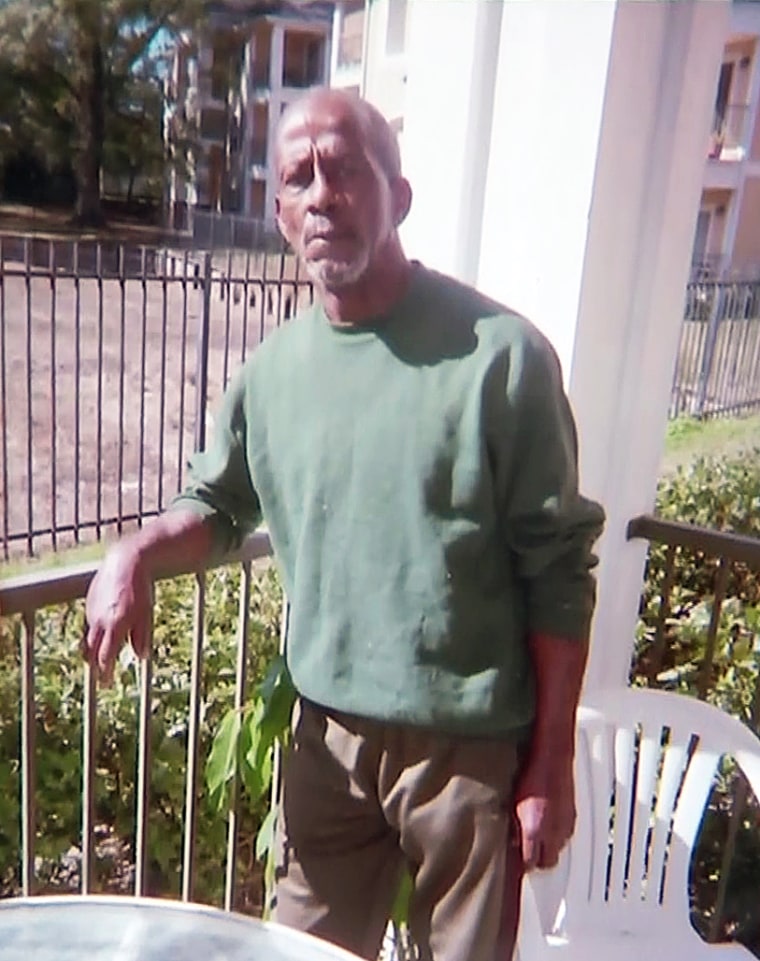 Ronald Felton spoke to his twin brother, Reggie, on the phone Tuesday morning about half an hour before the shooting took place.
James Felton, 59, said the people Ronald worked with at the church were already there, and "they heard four shots."
At approximately 5 a.m. Tuesday, police patrolling the area received a call of shots fired and were at the scene within a minute, police said.
"The neighborhood was already highly covered with police presence, so they were there in a matter of seconds," Stan Lassiter of the Seminole Heights Neighborhood Association said.
"They locked down the neighborhood immediately, and so they hope they have created a giant box around where shooter was and believe he is somewhere in there. They are hoping they have him boxed in and are going door to door combing the houses," Lassiter said.
Ronald Felton's sister, Linda Cunningham, 63, said she had been closely following the killings on the news and broke down after learning her brother was one of the victims.
"I've been watching the serial killer news — watching, listening, praying — and for that to happen to my brother, to be shot four times at close range, that's hard," Cunningham said.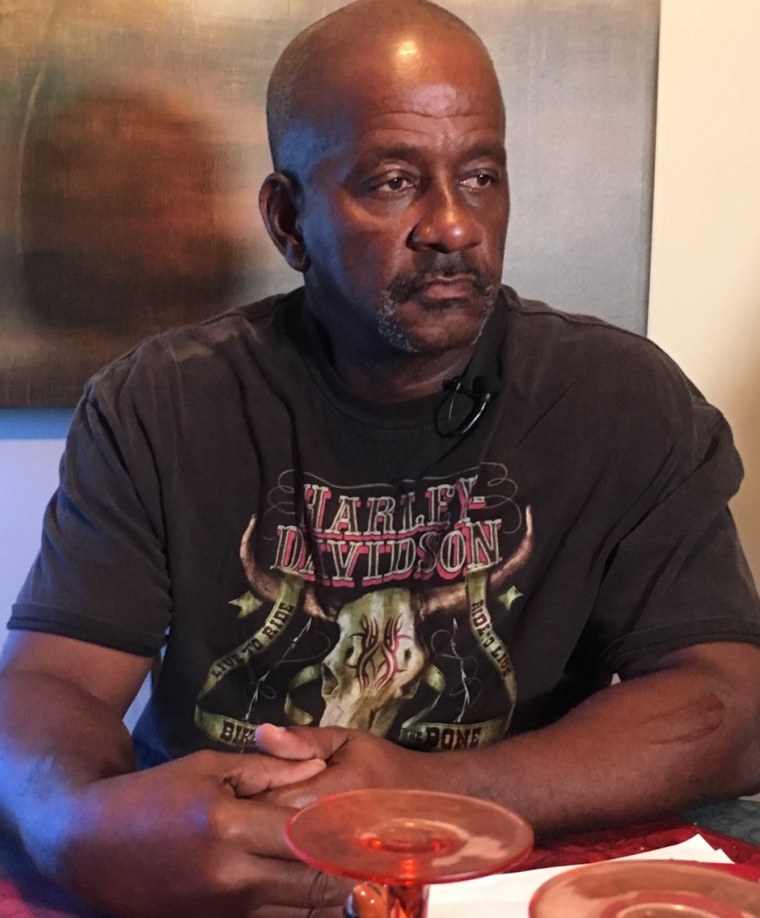 Related: Tampa Police Releases New Video in Hunt for Clues Related to Possible Serial Killings
Reggie Felton, 60, and Cunningham said they don't hate the person who shot their brother, but hope the person turns themselves in.
"I don't hate him. He just didn't have to take him like that," Reggie Felton said of the suspect.
The Tampa Police Department's interim chief, Brian Dugan, said that police believed the suspect was still in the neighborhood and that officers had knocked on approximately 1,900 doors in addition to deploying K-9 units and helicopter searches.
Dugan urged Tampa residents who own firearms to ensure they know where their guns are.
"If you own a firearm of any type, we need you to verify that it's where it needs to be," he said.
The first killing took place on Oct. 9 when Benjamin Mitchell, 22, was shot in Seminole Heights while waiting for a bus.
Monica Hoffa, 32, was found shot dead in a vacant lot on Oct. 13.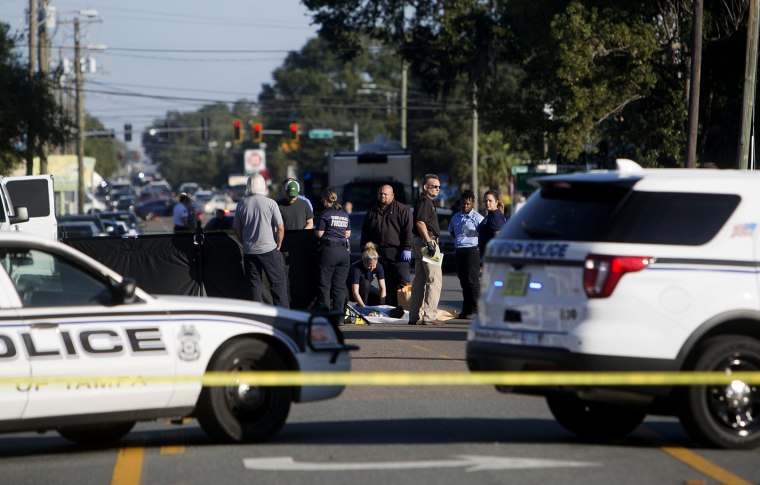 While walking on Oct. 19, Anthony Naiboa, 20, was shot and killed.
Investigators have not said what evidence ties the first three shootings together, or whether they have forensics that show the same weapon was used.
"My understanding from talking to one of the detectives is that they have 750 leads called in, and that's a mountain of information to go through one by one," Kenny Hoffa, Monica's father, said. "I'm just praying one of those leads ... pans out.
"I hope they bring him to justice today and I'll be on my way to Tampa — just to look him in his eyes. He's got some answering to do. We, and now it sounds like three other families, deserve answers," Hoffa said.
Maria Rodriguez, Naiboa's stepmother, said her family was speechless after learning about the latest killing.
"It fills me up with anger that someone else needs to go through this," Rodriguez said, adding that she spends her days and nights thinking of her stepson and hoping the suspect will be caught.
"It can't go on like this. I know it won't bring back Anthony but at least it would be closure of one part" if the killer is caught, she said.
Related: Grieving Dad: Find Shooter Stalking Tampa Residents
Police have released video of a person of interest running during the night of the first murder. Although he is not thought to be a suspect, officials believe the man might have been within range of the murder.
"We believe he may have seen something or heard something that could assist us in this investigation," Dugan said on Oct. 26.
Authorities are offering a $41,000 reward for anyone who has information leading to an arrest.
Kerry Sanders reported from Tampa, Florida, and Tracy Connor and Kalhan Rosenblatt reported from New York City