Parts of the Louisiana and Mississippi coasts were under a hurricane warning Tuesday after fast-developing Tropical Storm Gordon moved across South Florida on its way to the northern Gulf of Mexico.
Dozens of schools in Louisiana and Mississippi were closed as a precaution after Gordon became a tropical storm late Monday afternoon, NBC affiliate WDSU of New Orleans reported.
The National Weather Service issued a hurricane warning for the mouth of the Pearl River, which divides Louisiana and Mississippi.
Gov. John Bel Edwards said Tuesday that Louisiana would likely miss the worst of the storm, but he encouraged residents to remain vigilant and prepared. He earlier issued a state of emergency and authorized the activation of 200 National Guardsmen to be positioned in southeastern Louisiana.
"We still have some nasty weather headed our way," Edwards told reporters, adding that the state could expect winds of 40 mph to 70 mph. "We're not out of the woods," he added.
At 11 a.m. ET, Gordon's top sustained winds were at 65 mph. It was about 130 miles south-southeast of the Mobile, Alabama, and was moving northwest at 15 mph.
Tropical storm and storm surge warnings were also in effect along a long stretch of the central Gulf Coast from Morgan City, Louisiana, including Lake Pontchartrain, to the Alabama-Florida border. Mississippi Gov. Phil Bryant and Alabama Gov. Kay Ivey declared states of emergency as the storm moved closer.
Gordon is expected to strengthen into a hurricane when it makes landfall along the northern Gulf Coast, sometime late Tuesday or early Wednesday, but is then forecast to immediately weaken, according to the National Hurricane Center.
The center said tropical storm-force winds would hit parts of southeast Louisiana and the Mississippi coast by late Tuesday, with hurricane conditions also expected in the central Gulf Coast. The Mississippi coast can expect 4 to 7 inches of rain, with locally higher amounts, it said.
The Mississippi cities of Gulfport, Biloxi and Long Beach ordered mandatory evacuations of their harbors and marinas, and the U.S. Coast Guard temporarily closed the ports of New Orleans, Mobile and Pascagoula, Mississippi.
The storm was projected to become a depression as it moved farther north over Oklahoma and Arkansas.
All tropical storm warnings were canceled for South Florida and the Florida Keys as Gordon moved away, but not until after it had battered the region with heavy rain and winds.
Authorities in South Florida and across the Gulf Coast urged people to stay out of the water — warnings that beach lovers like Cameron Armstrong and Matthew Ewbanks ignored on their visit to Gulf Shores on the Alabama Gulf Coast.
"We got caught up in the undertow, and we almost died," Armstrong told NBC affiliate WPMI of Mobile on Monday.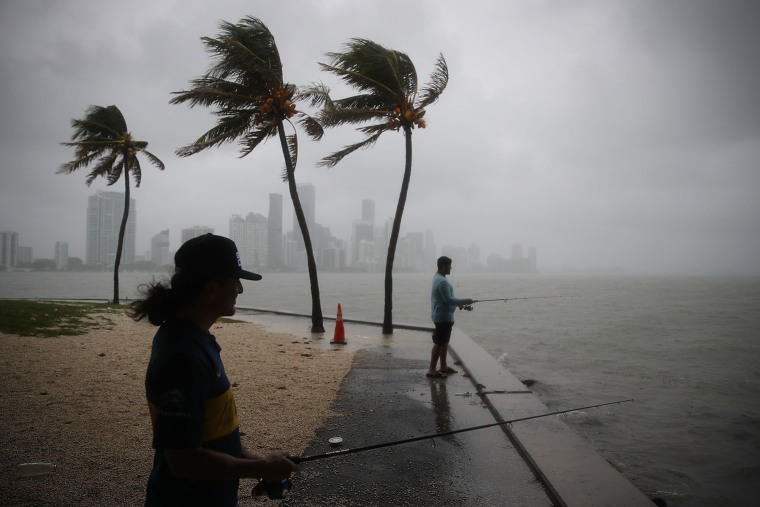 Ewbanks said: "It almost pulled us straight underneath. I literally had to grab his hand and help him. We got out of it barely alive."
Jeff Collier, mayor of Dauphin Island, Alabama, in the Gulf, said the storm was approaching just as the island was finishing up recovery from Hurricane Nate last year.
"We've just about got things cleaned up," Collier told WPMI. "It's been a good summer, and hopefully this won't do too much damage."
Ray Coleman, a spokesman for the Mississippi Emergency Management Agency, said residents should be on highest alert.
"My worry is that people might get hurricane amnesia, where they feel like, 'Oh, last year wasn't so bad,'" Coleman told NBC affiliate WLBT of Jackson. "My thing is, no two storms are alike. Just because you made it through Hurricane Nate last year doesn't mean that this one will be the same."
As those on the Gulf Coast prepared for Tropical Storm Gordon, another storm was brewing in the Atlantic: Hurricane Florence formed Tuesday and was about 1,240 miles west-northwest of the Cabo Verde Islands, according to the National Hurricane Center.
Early projections show Florence — the third hurricane of the 2018 Atlantic hurricane season — weakening into a storm before restrengthening as it heads northward.