While power has been restored for millions of Texans who had been without in the bitter cold, the nightmare of the devastating winter storm isn't over.
Millions don't have safe water at home, and residents looking for groceries or bottled water said they arrived to stores with bare shelves and long lines.
---
The latest on the storm:
President Joe Biden said Friday that he expects to sign federal disaster aid for Texas once the governor's request reaches his desk and that he planned to visit Texas next week if it was not "a burden."
The Electric Reliability Council of Texas, which oversees about 90 percent of the state's energy production, said that emergency conditions were expected to end later Friday after no more outages had been needed Thursday night.
By Friday morning, more than half a million people in the United States did not have electricity — Texas topped the list with less than 200,000 power outages, according to tracking website poweroutage.us.
In Texas, more than 14 million people were under boil water orders in the wake of a winter storm that froze and burst pipes, creating chaos for water treatment facilities.
Memphis International Airport was forced to temporarily close its passenger terminal and cancel all flights because of water pressure issues.
Since Thursday, at least 46 deaths from 10 states have been weather-related, the majority in Texas.
---
When firefighters arrived at a fire at a San Antonio-area apartment building Thursday, their efforts were hampered by frozen hydrants. Crews had to shuttle in water to try to control the blaze, which displaced dozens.
The Electric Reliability Council of Texas, or ERCOT — which oversees about 90 percent of the state's energy production — said Friday that emergency conditions are expected to end because no more outages had been needed Thursday night.
"There is enough generation on the electric system to allow us to begin to return to more normal operating conditions," director Dan Woodfin said in a statement.
More than 14 million people were under orders Friday to boil tap water in the wake of the punishing winter weather that began a week ago and has paralyzed the state, caused frozen and burst water mains and residential pipes, and created chaos for water treatment facilities, according to a spokesperson for the Texas Commission on Environmental Quality.
The state is working with the federal government to bring in mobile labs to help do the tests needed to lift those advisories.
President Joe Biden said Friday that he expects to sign federal disaster aid for Texas once the governor's request reaches his desk and that could visit Texas next week if it didn't create "a burden."
He previously offered support and resources for the state.
"Tonight, I called Governor Greg Abbott to discuss the ongoing situation in Texas and identify ways we can support the state's recovery from this storm. I made clear to the Governor that I'll work relentlessly to get his state what they need," Biden tweeted Thursday.
Abbott said he would ask Texas lawmakers to examine the state's energy pricing system as a possible culprit in widespread blackouts.
"We want to make sure that we have ongoing, adequate supplies of power at a price that makes sense," he said at a Friday news conference. "And that pricing model may have affected the ability to generate power. That's something that we need to get the to bottom of."
People in Texas have reported stripped-bare store shelves and long lines.
Princess Tensley of Houston had no water service and intermittent power. Her cousin's family is also living in the home because they had no power or water, and they tried to buy supplies at stores Thursday but had no luck.
"We only have like two cases of water left. ... So, we're trying to divide it between two families, and it's really hard," Tensley said. "We don't know what the next day is going to look like — and that's the scary part."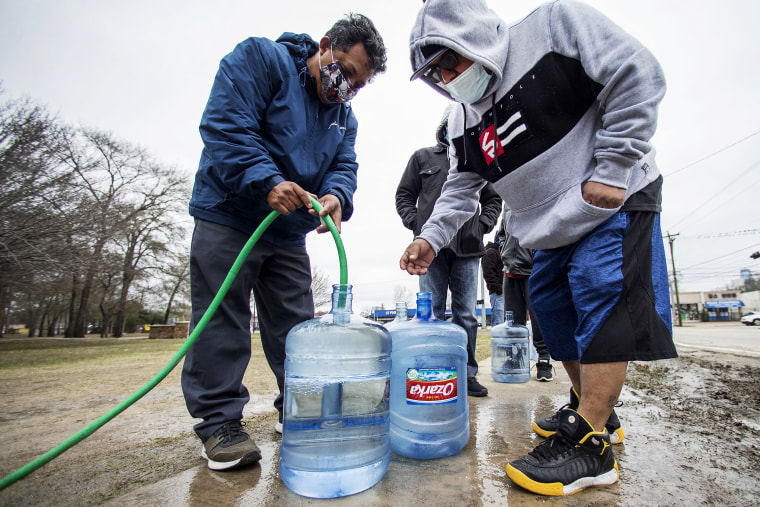 The city of Houston's office of emergency management tweeted early Friday that crews were working throughout the night to position pallets of water bottles for mass distribution at Delmar Stadium.
During an interview with MSNBC host Stephanie Ruhle on Friday, Houston Mayor Sylvester Turner said the number of people affected by power outages in the state's largest city had dropped from 1.4 million to just under 10,000.
For those without service, it is "still very real for them and very tough for them," he said.
Turner, a Democrat, added that he hasn't spoken to Abbott, a Republican, since the deadly winter storm hit the state earlier this week.
"I have not talked to the governor at any time during this crisis," Turner said. "This is an opportunity, the time for us to rally, to be supportive of one another, and we're gonna stay with it until we come through this crisis."
Texas congressional members complained in a news conference organized by the state Democratic Party that Abbott had not reached out to them for their help in getting resources to Texas, saying that added up to a failure to use all available resources to assist desperate residents.
"Every time there is a major disaster in Texas, Greg Abbott goes into hiding and he did it again this time," Castro said during a Texas Democratic Party news conference Friday.
"He had sent 1,000 National Guard folks down to the border and bragged about that all over his political pages and his website," Castro said referring to Abbott's use of guard troops on the Texas-Mexico border. "He sent 500 DPS (Department of Public Safety) troopers in the same way to the border, but hasn't shown the same effort to mobilize in this disaster."
Rep. Sheila Jackson Lee and Rep. Marc Veasey, both who are Black and Democrat, were on the virtual call.
"We gave water to really desperate people. They were lined up to the darkness of the night. Late in the night they were coming to get water," Jackson Lee said. "A call, a conference call by the chief of the state could have added much help to desperate cities and counties. I don't think one of us has spoken to the governor in this crisis."
Dallas Mayor Eric Johnson told NBC's "TODAY" show Friday that although the rolling blackouts are over, the city will still have to address water supply issues and property damage.
"We have a long way to go in getting out of this, and our problems are just sort of beginning," he said.
Johnson warned there would be "extensive water damage" when residents returned to their homes and called on the federal government to provide financial assistance.
Austin Mayor Steve Adler told the show earlier Friday that "it feels like it's just one thing after another after another."
"We were just not prepared for these cold temperatures," he said. "We have a deregulated power system in the state, and it doesn't work."
Adler said there had been some power issues and water pressure issues at some Austin hospitals.
"It is constant hands on crews working in order to keep the hospitals open and working," he added.
Austin cook Cesar Urías, 40, helped feed his community with ingredients from a restaurant that gave away food after losing power. Urías, who had not lost power, used the chicken and bread for sandwiches, which he then offered through a Facebook post and later delivered.
"I had 12 families yesterday that had three to seven children. Some were in their cars. It was very awful," Urías said. The cook said he had hoped to make more, but ended up joining other Austin residents scrounging for slim pickings on grocery and convenience store shelves.
At points this week, more than 4 million people were without power — some for days. On Friday, less than 155,000 customers in Texas were still without electricity, according to tracking website poweroutage.us.
"We are not yet out of this, but we're closer to this challenge being behind us," Abbott said Thursday.
No residences were without electricity Thursday because of a lack of power generation, and "every available repair truck in Texas" has been dispatched to repair the downed lines and other issues causing continuing outages, the governor said.
Winter storms have left part of other states powerless, as well: Mississippi had more than 91,000 customers out and Louisiana more than 58,000.
Mississippi Gov. Tate Reeves compared the damage to a hurricane.
"Unlike a hurricane or tornado, where the event comes furiously and then ends, this has been a slow-moving disaster. We have been in response mode, not recovery, constantly," Reeves tweeted Thursday.
In Tennessee, Memphis International Airport said it was forced to temporarily close its passenger terminal because of water pressure issues. Airlines have canceled all passenger flights for Friday, the airportsaid in a statement on its website.
"We will not open until at least noon tomorrow, but it could be later," airport spokesman Glen Thomas said by email Friday. "We are working on possible short-term portable restroom solutions that would help us to re-open the airport."
In Oregon, around 73,000 customers were without power Thursday night after last week's storms, utility Portland General Electric said. It expected all but 15,000 to be restored by Friday night.
Download the NBC News app for breaking news and politics
More than 245,000 people in Louisiana were affected by dozens of water outages, Gov. John Bel Edwards said. Boil water advisories affected around 1 million, he said.
In Vidalia in northeast Louisiana, Betsy Sawyer's water was cut off for part of Thursday, and she hadn't had electricity since Wednesday. She filled a bathtub with water to prepare.
"Lots of trees down," she told The Associated Press. "Everybody's scrambling, just doing their best."
Temperatures in Fort Worth, Texas, and Houston and other parts of the state are forecast to be freezing in the overnight hours until Saturday, according to the National Weather Service. That is expected to cause ice and snow that melts during the day to refreeze and create slick roads.
A warming trend was expected to bring Houston into the mid-60s by Sunday afternoon, the National Weather Service said Friday.
"We can see light at the end of the tunnel," the weather service office in Dickinson, Texas, tweeted. "One more night of below freezing temperatures at some areas, then a warm up is expected into the weekend.
The winter weather has played a role in at least 24 deaths in Texas, including six people who died in a massive pileup on a highway in Fort Worth last week. Two others died from carbon monoxide poisoning in a Houston home where people had been using a car for warmth because there was no heat.
In Arkansas, a 69-year-old man was found dead earlier this week after falling into a frozen pond while trying to rescue a calf.
In Louisiana, three people died, including a 50-year-old man who slipped on ice in Lafayette Parish and hit his head on Monday, according to the state health department. Three people died in crashes on ice- and snow-covered roads in Kentucky, officials said.
And in Kentucky, two women died from hypothermia after their residences lost power, according to Boyd County Coroner Mark Hammond. Mabel Webb's building was without power for two to three days before maintenance workers found the 77-year-old woman, he said. The other victim was described as an 86-year-old woman who had an arrhythmia and went into cardiac arrest, officials said.