LOS ANGELES — Power lines are suspected to have been involved in a major wildfire that led to evacuation orders for 100,000 people and was blamed for two deaths in Los Angeles County last week, authorities said Monday.
The Saddleridge Fire ignited in a 50- by 70-foot area beneath a high voltage transmission tower on Thursday, the Los Angeles Fire Department said late Monday afternoon. Other parts of Southern California were under rolling power blackouts to prevent fires sparked by power lines at the time.
The cause of the fire remained undetermined, fire investigators said, but the electric utility serving the area, Southern California Edison, or SCE, confirmed to NBC News that it filed a notice with state regulators on Friday reporting that "our system was impacted near the reported time of the fire."
The fire, in Sylmar, the northernmost neighborhood of Los Angeles, was still burning Monday night. Fire officials said it had grown to almost 8,400 acres and was at 44 percent containment.
Sylmar wasn't among the communities where power was pre-emptively shut off last week as strong Santa Ana winds and low humidity created what authorities called ideal wildfire conditions.
SCE said that some of the Sylmar area is covered by SCE but that another part is covered by the Los Angeles Department of Water and Power, which said it doesn't conduct so-called public safety power shutoffs before or during high wind events.
Download the NBC News app for breaking news
About 13,000 homes and businesses served by SCE were plunged into darkness last week as a precaution. SCE said Monday that power had been restored to all but a handful of customers but that it could still have to shut off electricity to about 15,000 customers, most of them in Mono County near the Nevada border.
Two people have died in the Saddleridge Fire after having suffered heart attacks, one of them a 40-year Los Angeles park ranger, authorities said. Two other people died in connection with a separate fire that swept through a mobile home for retirees last week in Riverside County, east of Los Angeles.
Capt. Albert Torres, the emergency preparedness coordinator for the Los Angeles City Park Rangers, collapsed from a massive heart attack on Friday after having patrolled San Fernando Valley parks affected by the fire, city officials said.
Torres died on Saturday morning, officials said, a day after "he was working on the fires, doing what he loved and keeping us all safe," City Council member Nury Martinez said.
City Attorney Mike Feuer said Torres, who created the department's unit dedicated to outreach to the homeless and had served as acting chief, "has left an everlasting impact on many."
All evacuation orders were lifted over the weekend, but not before about 17 homes and other structures were destroyed and 58 others were damaged in the northern San Fernando Valley, fire officials said Monday night.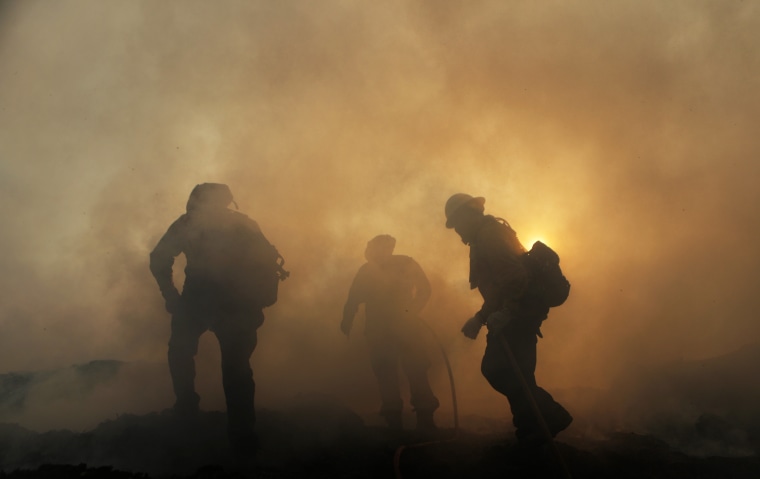 Jerry Demirci of the community of Porter Ranch said the flames swiftly consumed his home of 30 years.
Fire units arrived within minutes, but "it was too late," Demirci told NBC Los Angeles. "I saw flames all over, and I said, 'That's it. The home is gone.'"
CORRECTION (Tuesday, Oct. 15, 2019, 12:30 a.m. ET): A previous version of this article misstated the scope of Los Angeles-area evacuation orders during the Saddlebridge Fire. The evacuation orders covered about 100,000 people, not 100,000 homes.