ALTADENA, Calif. — A single ticket sold in California has won a world record $2.04 billion Powerball jackpot.
The winning ticket was sold at Joe's Service Center in Altadena, about 15 miles outside downtown Los Angeles, according to the California Lottery.
The owner of the gas station and convenience store, Joseph Chahayed, was presented Tuesday with a $1 million check for selling the ticket.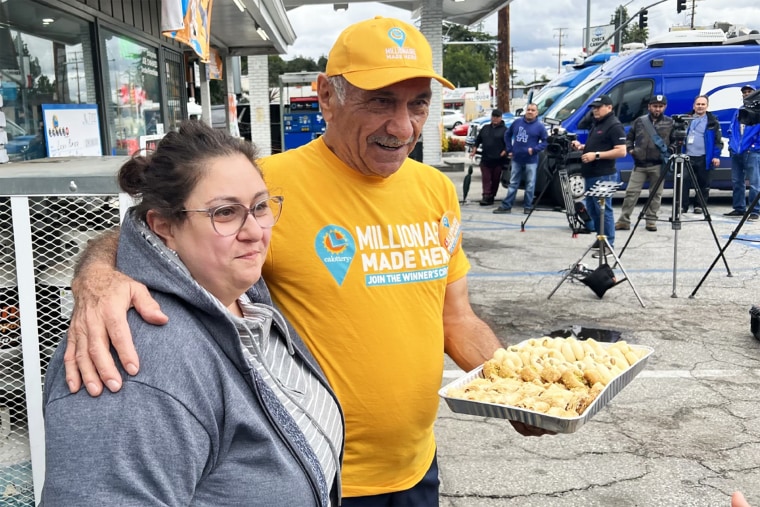 State lottery spokesperson Carolyn Becker, speaking at the Altadena retailer Tuesday, said officials won't know the winner's identity until he or she comes forward, at which time vetting will determine whether the ticket and the person's claim to it are legitimate.
After vetting concludes, the winner's identity can be released, she said. California is one of multiple states that require winners' identities to be made public.
Outside Joe's Service Center on Tuesday, posters and a banner promoting lottery games were modified to reflect what California Lottery officials described in a statement as "the largest jackpot in U.S. lottery history."
Signs with the slogan "Millionaire made here," which highlight retailers that have sold tickets to big winners, were edited with a red marker to "Billionaire made here."
Also hung outside the store was a mock-up of a check in the amount of the big jackpot made out to "Lucky Player."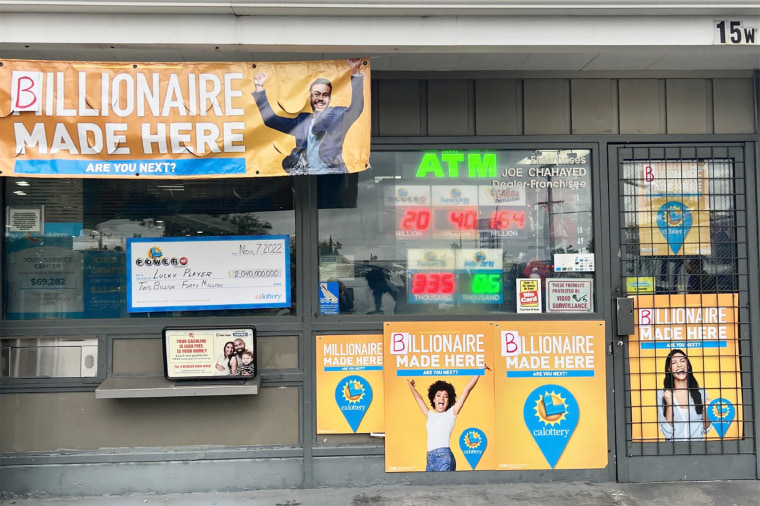 Store owner Chahayed, 74, said he came to the U.S. from Syria with his wife and two children and has already experienced the American dream.
"My kids are successful and healthy," he said.
The money is a bonus.
"I'm gonna share this money with my children and grandchildren," said Chahayed, who, along with this daughter, handed out baklava outside the store Tuesday. "Some need money to go to school. Some need to expand their businesses."
The store had previously sold a $77,000 Fantasy 5 ticket, he said.
The Powerball numbers were announced Tuesday morning after lottery officials said there was a delay Monday night.
Many had waited with bated breath for Monday's result, only to learn that the drawing would be delayed. The Multi-State Lottery Association said it was waiting on one participating lottery to process its sales.
Powerball requires all 48 participating lotteries to submit their sales and play data before the winning numbers can be selected.
"This has happened a few rare times before — just not when the jackpot was at a newsworthy amount," the association said as it announced the delay.
The winning numbers were 10, 33, 41, 47 and 56 and the Powerball was 10, with the drawing taking place just before 9 a.m. ET at the Florida Lottery draw studio in Tallahassee.
The last winning Powerball ticket was drawn Aug. 3 by a lucky Pennsylvanian.
A winner can choose between taking the prize in 30 payments over 29 years or as a lump-sum payment, with many winners opting for the one-time cash payment, which is estimated to be $929.1 million.
Only two previous jackpots have surpassed $1.5 billion.
Among them was a South Carolina player who had the winning ticket of a $1.53 billion Mega Millions game in 2018. Three winning tickets were sold in California, Florida and Tennessee in a $1.58 billion Powerball in 2016.
The chances of picking all six numbers correctly are 1 in 292.2 million.
Dua Anjum reported from Altadena, Chantal Da Silva from London and David K. Li from New York.