A powerful magnitude-7.7 earthquake struck south of Cuba and northwest of Jamaica on Tuesday, the U.S. Geological Survey said.
The quake was felt in Miami, and police said some buildings were being evacuated in the city.
The Miami Police Department said in a tweet that it was assisting firefighters with reports of vibrations in the Brickell and downtown areas. There were no reports of injuries.
The police department in Miami later said that the Brickell area, which had seen some buildings evacuated earlier, was secure and there were no mandatory evacuations. Traffic and public transportation were resuming as normal, police said.
The Pacific Tsunami Warning Center had issued a tsunami threat for Belize, Cuba, Honduras, Mexico, the Cayman Islands and Jamaica, with waves of up to 3 feet, but later said that the danger had passed.
In Santiago in eastern Cuba, Belkis Guerrero, who works in a Roman Catholic cultural center in the center of that city, told The Associated Press that "we were all sitting and we felt the chairs move" and that "we heard the noise of everything moving around."
Download the NBC News app for breaking news and politics
Tim Redell, who was visiting Jamaica on business, told NBC News that there were around 180 people there for a business conference in a giant ballroom and "the floor started shaking." They evacuated the building, Redell said.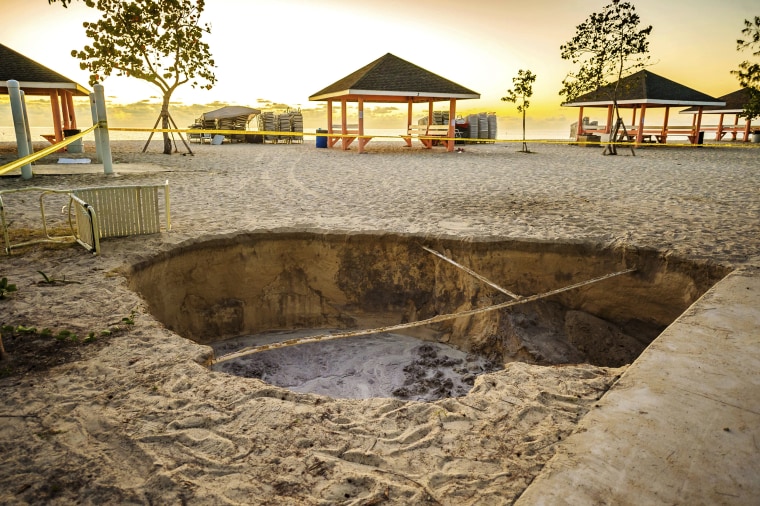 The Stephen P. Clark Center, which houses government offices for Miami-Dade County, was one of the buildings evacuated as a precaution.
The city had seen an influx of media and sports figures as it gears up for the Super Bowl on Sunday. The NFL said in a statement that the quake had not affected any of the sanctioned Super Bowl events at the Hard Rock Stadium and other venues around Miami.
The quake was centered about 86 miles northwest of Montego Bay, Jamaica, and 87 miles west-southwest of Niquero, Cuba. It hit at 2:10 p.m. and the epicenter was 6 miles beneath the surface.
The earthquake near Jamaica has been the strongest recorded by Cuban instruments and was felt across the country, Bladimir Moreno, of the National Center of Seismologic Investigations of Santiago de Cuba, told NBC News. Moreno said it was felt in some parts of Havana and Old Havana.