Rain continued to fall over parts of Louisiana on Tuesday, adding to the devastation of days of flooding in towns and parishes across the state.
The confirmed statewide death toll rose to 11, a levee was overtopped in one parish and more than three-quarters of the homes were lost in another parish, authorities said Tuesday.
Eight more parishes were added to the existing federal disaster zone, for a total of 20, and overnight curfews were in effect for more than a dozen cities and parishes.
Photos: Historic Louisiana Floods: More Than 40,000 Homes Affected
The Ascension Parish Homeland Security Office confirmed that floodwaters were slopping over the top of the Laurel Ridge levee, which protects the parish in the Baton Rouge metropolitan area, from the Amite River.
The levee was intact, but the water was simply too high to hold it, parish officials said.
Related: 'The Wire' Actor Wendell Pierce Loses Home in Louisiana Floods
Officials issued a voluntary evacuation advisory for parts of the parish, where the water is expected to continue rising after already having flooded a third of the parish's 45,000 homes.
"The next 24 to 48 hours is going to be a significant indication of just how much risk the parish remains in," said Rick Webre, director of the Homeland Security Office.
In nearby Livingston Parish, 76 percent of all homes were already "lost to floods," Lori Steele, a spokeswoman for the parish, told NBC News.
"I can't go home. I have no home," Sandra Wesley of Denham Springs in Livingston Parish told NBC station KPLC of Lake Charles. "I've been trying to stay positive, but you can stay positive just so long, and then you have to come back to reality — and the reality is I have nothing."
At a news conference, Sheriff Jason Ard said the parish had been "devastated."
"Pray for us and work with us," he urged. "Be patient. We're going to get through this."
Thousands of rescue operations continued. Gov. John Bel Edwards said at a news conference that as of Tuesday afternoon, more than 30,000 people had been plucked from the water across the state.
About 40,000 homes have been "impacted to varying degrees thus far," Edwards said. And "we've had right at 40,000 individuals register for disaster assistance."
Related: What Louisiana Flood Victims Need to Do Right Now
Ari Sarsalari, a meteorologist for The Weather Channel, said Louisianans are likely in shock.
"You've got people that are coming home after being evacuated, and they're coming home to absolute disaster," he said.
That was true for the Traylor family of the town of Robert in Tangipahoa Parish, who gathered Tuesday at the home of family matriarch Blanche Traylor Ryan, 86, to find her belongings soaked and covered in mud.
"I just start crying," a family cousin, Debbie Robertson, told NBC station WDSU of New Orleans. "It just kills me to pass by and see — I just start crying."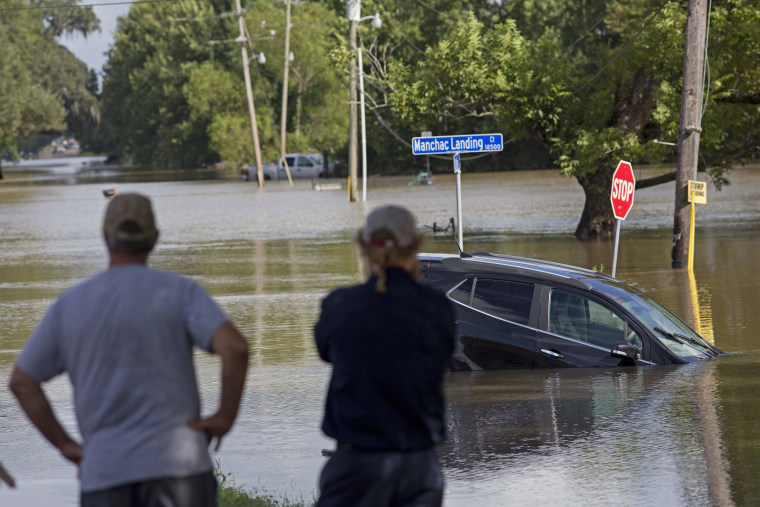 Ryan's great-granddaughter Cheyenne Hartman also showed up with tears streaming down her face.
"It's just hard. I grew up here," Hartman told the station. "I took my first bath in her sink."
But also arriving are volunteers from as far away as Pennsylvania, eager to help the state recover from what the American Red Cross said was "likely the worst natural disaster since Superstorm Sandy in 2012."
"This is an extraordinary event, and the state of Louisiana needs extraordinary support," Allen White Jr., disaster program specialist for the South Central Pennsylvania Red Cross chapter, told NBC station WHAG of Hagerstown, Md.
"You've got people that are coming home after being evacuated, and they're coming home to absolute disaster"
Ann Baughman of Charleston, S.C., a Red Cross volunteer for more than 50 years, said she was tired of watching as TV kept showing "what a terrible time they've been having."
"I thought, 'I can help,'" Baughman told NBC station WCBD of Charleston. "I was in [Hurricane] Katrina there for six weeks in Baton Rouge — same place I'm going now."
PHOTOS: Historic Louisiana Floods: More Than 40,000 Homes Affected
Most of the state has gotten more than a foot of rain since Friday, and some parts have been swamped with as much as 30 inches, according to the National Weather Service.
Forecasters said the worst of the rain is likely over — finally. But it's still the Gulf Coast.
The National Weather Service said a new summer weather pattern is expected to drop as much as 2 more inches of rain over the southern half of the state through Friday.