Aberdeen, Ohio— Jenessa Moman lives in a cozy, one-story house in this town of just 1,600, a five-minute drive from George Clooney's Kentucky hometown. Out back there is a trampoline and swingset. Moman's living room is full of toys, houseplants, and family photos beside slogans like "Live Love Laugh."
On a quiet weekday, her two daughters, aged two and nine, play word games on the iPad, chat about My Little Pony, and eat yogurt while her eight-month-old son kicks and coos in his pack 'n play. "C'mon, baby!" she says brightly as she picks him up.
Bouncing her chubby, bright-eyed baby in her arms, Moman, 29, is the picture of domesticity. And yet, until recently, the county's child welfare department was dropping in for semi-weekly, unannounced visits. Moman is one of an increasing number of American women who find themselves in trouble with child welfare authorities or law enforcement after giving birth to babies who test positive for legal drugs prescribed by their doctors.
Moman's saga began on a cold night in 2010, when her younger sister didn't come home. Afraid she'd been in a wreck, Moman went out searching for her, to no avail. By the time police found the car, her sister had frozen to death. Moman learned that she'd passed by her sister's car but hadn't seen it in the darkness.
"We were right there," Moman says. "I could have saved her life. I lost my best friend." Moman, then the mother of two young girls, fell into a deep depression. She started taking prescription painkillers, and then graduated to something cheaper and more readily available: heroin. She says she kept her drug use hidden. "I can't even believe that person was me," she says. "But I was very vulnerable."
When Moman found out she was pregnant, she confessed her drug use to her children's father, with whom she's lived for 12 years. They went to a doctor in Cincinnati, a licensed addiction specialist who told her that giving up opiates cold turkey while pregnant could result in a miscarriage. He put her on a maintenance program using the drug Subutex (another formulation is Suboxone), which contains buprenorphine hydrochloride and works to reduce the symptoms of opiate dependence.
The drug is not without risks, but according to a 2010 statement by the National Institute on Drug Abuse, "Babies born to women addicted to opioids fare better when their mothers are treated with either the addiction medication buprenorphine or methadone than babies whose mothers are not treated at all."
That is the course of action recommended by the World Health Organization, the National Institutes of Health, and the American College of Obstetricians and Gynecologists. Moman says the treatment has been a lifesaver, keeping her on an even keel and without cravings. In months when she has been without health insurance, she has paid hundreds of dollars a month for it.
According to new research, one in five pregnant women in this country take some form of opiate during pregnancy.
Moman had a normal pregnancy. When she delivered her baby on July 26, 2013, he appeared healthy. But 94 hours later, he started showing signs of withdrawal, including loose stools and crankiness. He was diagnosed with Neonatal Abstinence Syndrome (NAS), which can manifest itself in a range of symptoms, including diarrhea, fever, and seizures. "No one wants to hear they've done something to cause their baby suffering," she says, crying.
The baby was successfully treated with methadone and was home after 13 days. "He did awesome," Moman says. And his long-term prognosis is good. There is no clear evidence of NAS babies experiencing long-term damage, according to 40 doctors who co-signed a letter to that effect last year. "If you control for the economic situation of the family, education and all these things, the drug use as far as I know has never been associated with lasting problems for the baby," says Robert Newman, M.D., president emeritus of Beth Israel Medical Center in New York.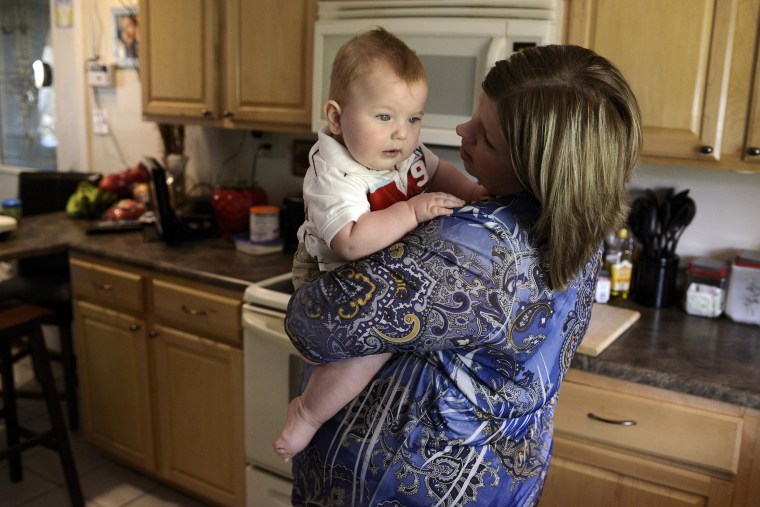 But because Moman's baby was experiencing withdrawal, the hospital contacted the Brown County child welfare agency.
"I understood that they might want to come out and see," Moman says. "But the next day, we got a phone call saying they were taking me to court for abuse."
For five months, Moman says, she received regular, unannounced visits from the department. "It put a lot of stress on our family," she says. "My nine-year-old said, 'Why are these people here? Are they going to take me away?' I'm a good mom. I just had that problem. But during my pregnancy, I was good. I turned my life completely around. Sometimes addicts have to have a reason to get help. What better reason is there than that? Your own children."
Pregnant opiate users and addicts say they sometimes hear one thing from health professionals, who may recommend they be put on a maintenance program like Subutex or Suboxone, and another thing from law enforcement or child welfare agents, who may say that mothers who use any drug, even Subutex or Suboxone, should be investigated. This puts many women in the Catch-22 of either trying to go off a drug completely while pregnant, knowing it could result in a miscarriage, or following their doctor's orders and fearing that their baby could be taken away at birth.
A representative of the Ohio state child welfare agency says that county directors have discretion in accepting referrals in cases where legal drugs have caused problems. "The impact of prenatal drug exposure on a newborn is not limited to illicit substances," he said. Moman's county is one of many around the country in which the child welfare agency considers NAS grounds for investigation, regardless of whether the source is heroin or Suboxone.
"Our position is that upon learning that the person is pregnant, that this would be a time that the person would take action to get themselves off of drugs, to keep themselves as clean as possible," says Mitch Sharp, Director of Brown County's Department of Job and Family Services, who could not speak about Moman's case specifically but confirmed that his agency has pursued "a couple" of cases in which women were in a maintenance program. "There are some doctors, some clinics, who feel that Suboxone is almost like a therapeutic drug to help them get off [heroin], but it is still a lower-level opiate. It will still cause the child to go through withdrawals."
Sharp says that Southwest Ohio has seen a heroin epidemic over the past four or five years, and that addiction has led to a surge in children being removed from their parents' care. "Very seldom do we ever leave a child in a home where we have positive tests and know that one or both [parents] are using drugs," says Sharp.
"[Maintenance] is the accepted standard of care," she said. "How can you then turn around and say she's committed child abuse?"
The Centers for Disease Control has proclaimed opiate addiction a national epidemic. And according to new research, one in five pregnant women in this country take some form of opiate during pregnancy. Some of their babies will experience NAS, which may entail a hospital stay that can cost somewhere around five times more than that of a non-NAS newborn and last an average of about 15 days. Rick Massatti, research administrator with the Ohio Department of Mental Health and Drug Addiction Services, says NAS has hit Ohio's healthcare system hard. "You have kids staying a really long time," says Massatti. "It's not like in a day you're gone."
Lawmakers have proposed various approaches to this problem, some punitive. Depending on where they live, women who give birth to babies showing NAS symptoms or testing positive for opiates, including Subutex, may be subject to child welfare involvement, mandatory drug treatment, or even prison. In 17 states, drug use during pregnancy is considered child abuse, and in three it is grounds for arrest, according to the Guttmacher Institute. Tennessee just passed an especially severe law holding women criminally liable for giving birth to babies who experience NAS.
Kylee Sunderlin, the Soros Justice Fellow at National Advocates for Pregnant Women, which provides legal advice and advocacy for pregnant women, says she's seen the number of cases like Moman's "ramp up" in the past year or so, and that there is no one broadly-accepted protocol for dealing with them.
"Some people assume [the protocol for opiate-maintenance NAS cases] is state-by-state," says Sunderlin. "It's really county-by-county. You can have counties right next to each other where one would not bat an eye at a baby diagnosed with NAS [and experiencing withdrawal from Subutex] and would allow parents and doctors to proceed as they wish. In the next county, the baby may be kept from going home from the hospital with the mother. There is such stigma that it's hard to separate what's fueled by CPS thinking there really is harm and what's just a gross misunderstanding of what medication-assisted treatment is."
The federal Child Abuse Prevention and Treatment Act requires CPS to have a system in place in cases where babies have been identified as affected by illicit drugs or withdrawal symptoms, although the law specifically states that such circumstances don't establish child abuse or neglect, says Nancy Young, Ph.D., Director of Children and Family Futures, a California-based consulting firm that works on these issues. "In the case that a mom is being maintained for an opiate addiction with medication and the baby experiences withdrawal, there would be a requirement that CPS has a plan to ensure the safe care of the baby if [the hospital] notifies child welfare," says Young. "If the mom has an opiate addiction, you want them on medication-assisted treatment. That's the standard medical protocol. Babies aren't born 'addicted.' They can be managed very effectively through NAS and do fine."
In New Jersey, a woman identified in court paperwork only as Y.N. was receiving methadone treatment for an opiate addiction when she gave birth to a baby boy, Paul, in 2011. When Paul showed signs of methadone withdrawal, child welfare authorities charged his mother with child abuse. The court's conclusion: "Where there is evidence of actual impairment, it is immaterial whether the drugs were from a legal or illicit source."
Susan Neshin, M.D., Medical Director of Jersey Shore Addiction Services, who has provided methadone treatment to pregnant women for 30 years, called the case "ludicrous."
"This [maintenance] is the accepted standard of care," she said. "How can you then turn around and say she's committed child abuse?"
National Advocates for Pregnant Women became involved in Moman's case in December 2013, and on January 27th, the abuse and neglect charges against her were dropped. But there's a twist: just months after her baby was born, she learned that she was unexpectedly pregnant again. (Her period hadn't resumed, and she hadn't yet received a planned IUD.) She is also, on doctors' orders, still taking Subutex.
As Moman waits for her fourth child, due in July, she wonders what will happen when this baby, a girl, is born with the drug in her system. "I even considered abortion, even though I'm totally against that," Moman says. She wants the baby, but feels guilty that she may need to be treated for NAS, and that any complications may lead to CPS involvement.
This time she is planning to deliver two hours away, at a hospital where there is a special program for women in her situation. And yet, Moman remains anxious. "I'm so scared to put my family through this again."