A pregnant woman who says she wasn't even protesting lost her left eye after police on Tuesday in St. Louis shot her in the face with a bean bag round, her family said Friday.
Dornella Conner, 24, is recovering after being blinded Tuesday and possibly losing some sight in her right eye as well, dad Donnell Conner told NBC News.
"This is definitely a long rehabilitation process," he said. "This is a baby's crawl from where she has to go."
He said his daughter and her boyfriend had driven to a gas station in St. Louis early Tuesday to fill up. The area remained on edge hours after a grand jury decided Monday night not to indict Ferguson police officer Darren Wilson in the shooting death of teenager Michael Brown. Police were reportedly responding to gunshots fired in the area when they encountered Conner and her boyfriend, De'Angelas Lee, who was driving.
Conner said that her boyfriend was trying to maneuver around police, while police say he was driving at them. St. Louis County police told NBC News on Friday that Lee was arrested and charged with second-degree assault on law enforcement.
Dornella Conner wrote on Facebook that she and her boyfriend weren't protesting that morning or trying to cause a disturbance.
Her father said she had no intention of being aggressive with police either and didn't deserve to get hit. The bean bag round broke through the windshield, shattering glass that also hit her in the face, he added. "If a vehicle is coming at you, wouldn't you take aim at the person who is driving the vehicle, not at the passenger's side?" Donnell Conner asked.
He said surgeons had to pull about 20 pellets from her face. Now, he's worried that she will no longer be able to work and support her two children — plus the third on the way. The family said they are focusing on her recovery for now, and not thinking about any possible legal recourse.
"She's just trying to stay strong," Donnell Conner said, adding that she has "no ill feelings" toward the officer who shot her.
But he said the officers could have "done so many other things" instead of fire directly at his daughter. "For my daughter to be shot in the face and lose her eye is uncalled for," he added.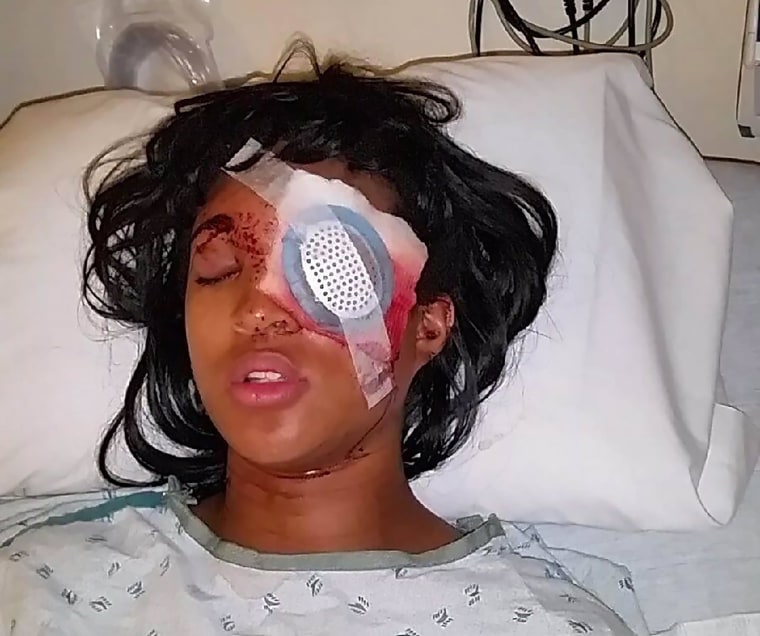 IN-DEPTH
— Erik Ortiz