A 6.5-magnitude earthquake struck a remote part of western Nevada early Friday morning, damaging the main highway between Las Vegas and Reno.
The temblor occurred around 4 a.m. near the California border, in an isolated part of Nevada near Tonopah, about 120 miles southeast of Carson City and midway between Reno and Las Vegas, the U.S. Geological Survey said.
The initial quake struck about 4.7 miles deep, the USGS said, causing at least six aftershocks, including two with a magnitude of around 5.4.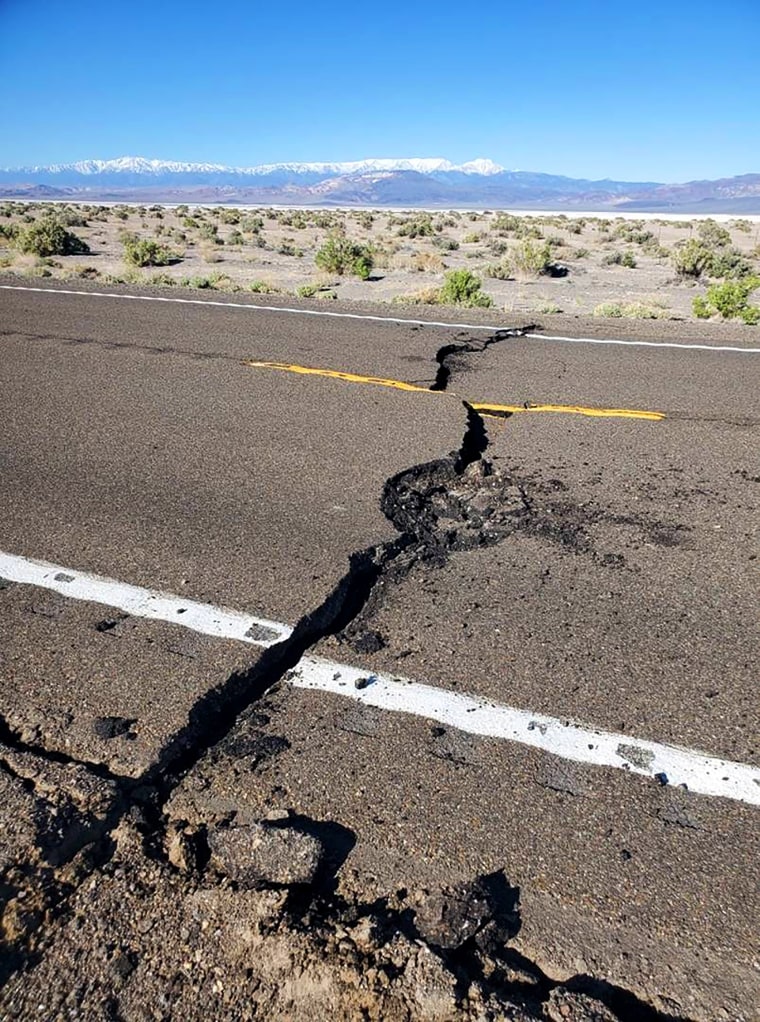 "It's a pretty good-sized quake," USGS geophysicist Randy Baldwin told NBC News on Friday morning. "It's a pretty remote area, but it's an active area. There are faults criss-crossing this entire area."
No injuries were reported, but Nevada Highway Patrol photos revealed cracks on U.S. 95 that Trooper Hannah DeGoey said were caused by the earthquake. DeGoey said crews are working to reopen the highway.
The quake was felt by people from Salt Lake City to California's Central Valley.
Lance Cardoza, of Fresno, California, said he felt the quake 12 floors up, and posted a video online of his chandelier swinging from the shaking.
"It shook, but it wasn't that much," Nye County Sheriff's Capt. David Boruchowitz said. He reported no damage at the Mizpah Hotel and Clown Motel, two landmark businesses in Tonopah, a historic mining town.
In Sparks, Nevada, a resident posted a video of pots and pans swaying in the quake.