DETROIT — The top legislative body of the Presbyterian Church (U.S.A.) voted by large margins Thursday to recognize same-sex marriage as Christian in the church constitution, adding language that marriage can be the union of "two people," not just "a man and a woman."
The amendment approved by the Presbyterian General Assembly requires approval from a majority of the 172 regional presbyteries, which will vote on the change over the next year. But in a separate policy change that takes effect at the end of this week's meeting, delegates voted to allow ministers to preside at gay weddings in states where the unions are legal and local congregational leaders approve. Nineteen states and the District of Columbia recognize same-sex marriage.
Sign up for breaking news alerts from NBC News
The votes, during a national meeting in Detroit, were a sweeping victory for Presbyterian gay-rights advocates. The denomination in 2011 eliminated barriers to ordaining clergy with same-sex partners, but ministers were still barred from celebrating gay marriages and risked church penalties for doing so. Alex McNeill, executive director of More Light Presbyterians, a gay advocacy group, said the decisions Thursday were "an answer to many prayers."
The Rev. Krystin Granberg of the New York Presbytery, where the state recognizes gay marriage, said she receives requests "all the time" from friends and parishioners to preside at their weddings.
"They want to be married in the church they love and they want me to do it," Granberg said during the debate. "I want pastoral relief."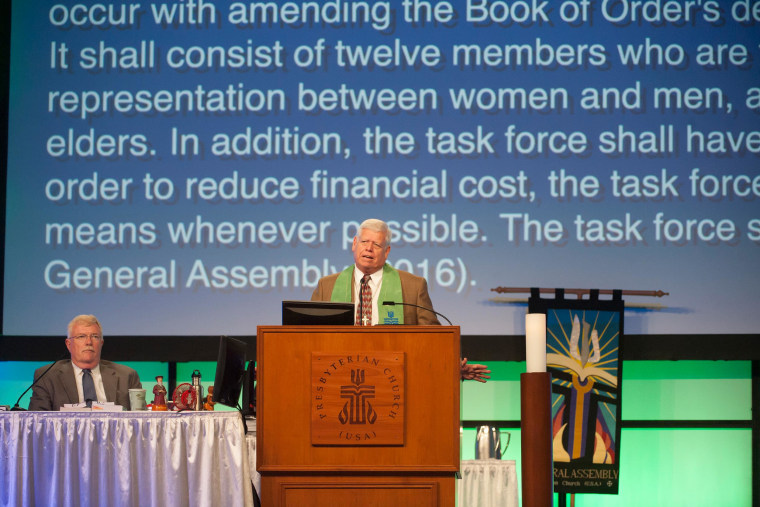 But Bill Norton, of the Presbytery de Cristo, which covers parts of Arizona and New Mexico, urged the assembly to delay any changes. "We are laying hands on something that is holy, that God has given us, so we need to be sure any changes we make are in accord with God's will revealed in Scripture," Norton said.
Since the 2011 gay ordination vote, 428 of the denomination's more than 10,000 churches have left for other more conservative denominations or have dissolved, though some theological conservatives have remained within the denomination as they decide how to move forward. The church now has about 1.8 million members.
The conservative Presbyterian Lay Committee decried the votes in Detroit as an "abomination."
The assembly voted 371-238 to allow ministers to celebrate same-sex marriages, and 429-175 in favor of amending the definition of marriage in the constitution.
— The Associated Press