The 1.75 million-member Presbyterian Church (U.S.A.) has updated its constitution to recognize same-sex marriage, bringing the laws of the nation's eighth-largest Protestant denomination in line with its already accepted practice. Individual churches will still be able to decline to perform such marriages if they believe them inappropriate, the church said Tuesday.
The General Assembly of the PC (U.S.A.), the largest of several U.S. Presbyterian denominations, approved the amendment to its Book of Order last year, but the change had to win the approval of a majority of the 171 local governing bodies, or presbyteries, to become official. The church said Tuesday that the Palisades Presbytery, based in Rochelle Park, New Jersey, had become the 86th local body to approve the amendment.
The Book of Order currently defines marriage as "a civil contract between a woman and a man." The new wording reads: "Marriage involves a unique commitment between two people, traditionally a man and a woman, to love and support each other for the rest of their lives."
Pastors — traditionally known as "teaching elders" — have already been allowed to perform same-sex marriages in states where they're legal since last June. The new amendment leaves the discretion of whether to conduct such ceremonies with individual ministers.
"There is nothing in the amendment to compel any teaching elder to conduct a wedding against his or her judgment," the Rev. Gradye Parsons, the church's stated clerk, or top ecclesiastical official, said Tuesday.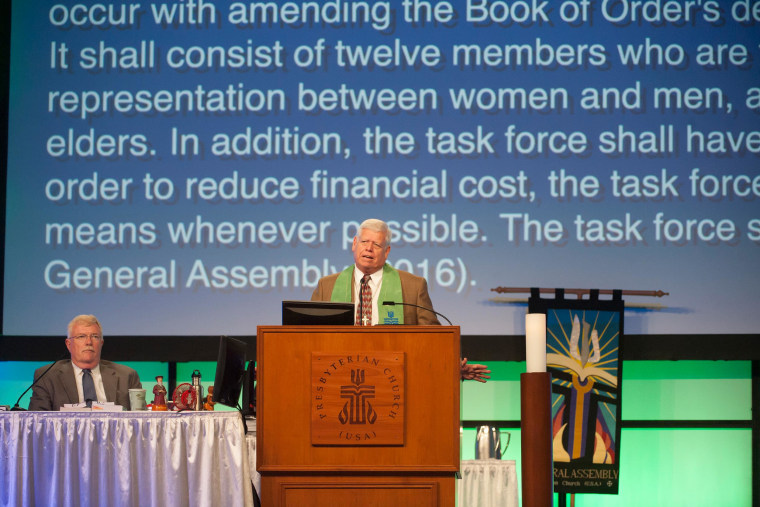 IN-DEPTH