President Joe Biden declared a major disaster for much of Texas as the state reels from a severe winter storm that left millions of people without power amid freezing temperatures.
Biden's action makes federal funding available to communities across 77 counties, including hard-hit Harris County, where Houston is located. Additional disaster designations may be made after further damage assessments, the White House said Saturday morning in a statement.
"I thank President Biden for his assistance as we respond to impacts of winter weather across our state," Texas Gov. Greg Abbott said in a statement. "While this partial approval is an important first step, Texas will continue to work with our federal partners to ensure all eligible Texans have access to the relief they need."
Chief Nim Kidd of the Texas Division of Emergency Management said Saturday afternoon that the state's goal is to eventually add all 254 counties under the major disaster declaration.
"Most Texans do not winterize their homes. It would be counterproductive in the hot months that we have, so we know there are a lot of broken pipes out there," Kidd said during a press conference, adding that bottled water distribution is currently a key priority.
Out of more than 295,000 outages in the United States on Saturday, Texas accounted for more than 20 percent of them with 60,074 outages, according to the tracking site poweroutage.us.
At least two lawsuits have already been filed against the Electric Reliability Council of Texas, which oversees 90 percent of the state's electricity, in an attempt to hold the power grid operator accountable for catastrophic outages this week.
The latest lawsuit, which was filed Friday in Nueces County, blames ERCOT for ignoring decades-old safety warnings, among other failures, the Dallas Morning News reported. It's likely that the case will test ERCOT's claim to sovereign immunity, a legal shield that guards government entities from claims. The protection is currently under review by the Texas Supreme Court.
---
The latest on the storm:
Boil water notices remain in effect across 189 counties after more than 1,300 public water systems have reported disruptions in service due to the weather, affecting more than 15.1 million people, the Texas Commission on Environmental Quality said in a statement Saturday.
At least 22 people in Texas have died in connection to the winter storm, 11 of them in weather-related car accidents and at least five others died due to cold exposure. About 1,000 roads are still affected by the severe weather, Kidd said.
The Texas National Guard has been deployed across the state to conduct welfare checks and assist local authorities in helping those in need find a local warming station, according to Abbott. On Friday night, guardsmen delivered 28,000 water bottles to Austin for Texans still without access to drinking water.
Texas has received a total of 5.5 million bottles of water and 2.1 million of those have already been distributed, Kidd said. Officials expected to deliver 1 million bottles of water Saturday.
Rep. Alexandria Ocasio-Cortez, D-N.Y., has helped raise $4 million for relief efforts as of Saturday night for Texans in need, she said in a tweet after a day of distributing aid alongside Rep. Sylvia Garcia and Rep. Sheila Jackson Lee, Democrats who represent Houston.
---
More than 15 million people were under orders Saturday to boil tap water in the wake of the punishing winter weather that began a week ago and has paralyzed the state, caused frozen and burst water mains and residential pipes, and created chaos for water treatment facilities, according to a spokesperson for the Texas Commission on Environmental Quality.
Frozen pipes hampered the Killeen Fire Department's efforts to get an overnight blaze at the Hilton Garden Inn under control, officials said. All of the hotel's 102 rooms were occupied when the Hilton's automatic sprinkler system failed, the department said. Seven agencies assisted in bringing the fire under control just after midnight, and authorities only reported minor injuries.
Biden said Friday he plans to visit Texas next week if it doesn't create "a burden."
On Saturday, Biden tweeted that the federal government has already "sent generators, blankets, water, and other critical supplies to Texas."
His major disaster declaration unlocks grants for temporary housing and home repairs, low-cost loans to cover uninsured property losses, and other programs to help individuals and business owners recover from the effects of the disaster, the White House said in Saturday's statement.
It also includes federal aid for eligible local government offices and certain private nonprofit organizations on a cost-sharing basis for emergency protective measures and hazard mitigation measures statewide.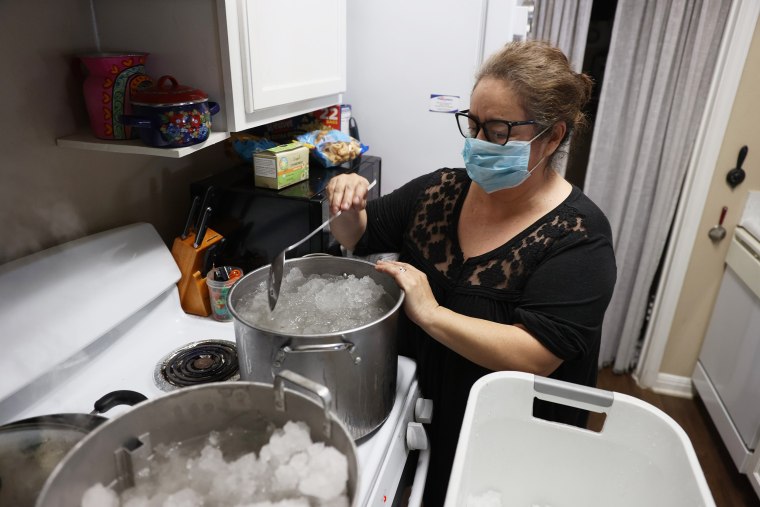 "The funds provided under the Major Disaster Declaration may provide crucial assistance to Texans as they begin to repair their homes and address property damage," Abbott said.
Acting FEMA Administrator Robert Fenton named Jerry Thomas as the federal coordinating officer for federal recovery operations in the affected areas.
Kidd said about 700 Texans have already registered to receive federal aid. Harris County Judge Lina Hidalgo said winter storm survivors can apply for assistance online and encouraged those who can to file claims with their insurance.
Rep. Alexandria Ocasio-Cortez, D-N.Y., has helped raise $4 million for relief efforts as of Saturday night for Texans in need, she said in a tweet after a day of distributing aid alongside Rep. Sylvia Garcia and Rep. Sheila Jackson Lee, Democrats who represent Houston.
"I think this shows that New York stands with you, but the whole country stands with you," Ocasio-Cortez said during a press conference Saturday morning.
The three lawmakers distributed supplies to help the millions of Texans lacking basic necessities in the wake of the record-breaking winter storm that has left at least 46 dead in 10 states, the majority in Texas.
"Texans do not want to go through this again. They want accountability. They want to know why the system failed and quite frankly, almost broke," Garcia said Saturday morning.
The winter storm has also left parts of other states without power: Mississippi reported more than 55,000 outages Saturday afternoon while Louisiana is grappling more than 36,000 outages, according to poweroutage.us.
In Tennessee, the Memphis International Airport reopened its passenger terminal at 3 p.m. local time after officials were forced to temporarily close it and cancel all flights because of water pressure issues on Friday.