The U.S. justice system works too slowly, President Donald Trump said in an interview that aired Thursday night, urging swift punishment for the man charged with killing eight people with a rented truck in New York.
In an interview with Fox News' Laura Ingraham, which the network said was taped ahead of time, Trump called Sayfullo Habibullaevic Saipov an "animal." In a promotional clip that Fox released earlier in the day, Trump complained that Saipov would be "tied up forever in the court system."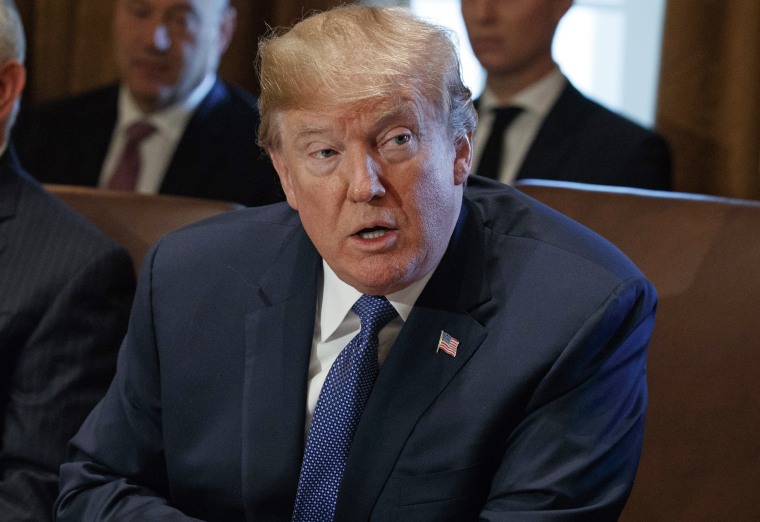 Saipov, 29, has been charged with but not convicted of providing material support to a terrorist organization and using a vehicle in a destructive, violent act in Tuesday's deadly attack in lower Manhattan.
As president, Trump oversees the Justice Department, which would be responsible for bringing Saipov to trial. The remarks echoed the president's statements and tweets since Tuesday making it clear that he believes that Saipov is guilty and should be executed.
"You look at some of the cases that are going on forever, and you have them dead to rights," Trump told Fox News in the clip that was published earlier. "No, the justice system has to go quicker. And it has to be, really, stronger and fairer."
Trump told reporters Wednesday that he would "certainly consider" sending Saipov to the U.S. detention facility at Guantánamo Bay, Cuba, a decision that an administration official told NBC News that Trump likely has no legal authority to make.
Trump is scheduled to depart on Friday on a five-country, 10-day tour of Asia designed to strengthen diplomatic and economic partnerships while contending with North Korea's nuclear threat.
"I must tell you, North Korea's a thing that I think we will solve, and if we don't solve it, it's not going to be very pleasant for them. It's not going to be very pleasant for anybody."
On other topics, the president:
Compared the so-called Steele dossier alleging collusion between the Trump campaign and Russia to a fictitious "novel," saying it "should not have been allowed to be used." The allegations in the dossier haven't been substantiated.
Reiterated that development of a wall along the U.S.-Mexican border was "coming along really well," calling it a "tremendous tool" to stop the flow of drugs into the United States.
Said he's the final authority on his administration's policies, not members of his Cabinet. "I'm the only one that matters," he said repeatedly.
Said he enjoys being president, denying reports that he's angry and unhappy. He said it's his wife, Melania Trump, who's the real victim of unfair criticism, while "I'm having fun."
Again claimed to be the most productive president in history, saying: "I'm not saying this in a braggadocious way — I don't think there's been any president in the first nine or 10 months that has done as much" as he has.