George H.W. Bush, who in one term as president reasserted the U.S. as the world's lone superpower, rallying an international coalition against Iraq's Saddam Hussein in the first Gulf War and presiding over the fall of the Berlin Wall and subsequent collapse of the Soviet Union, died on Friday. He was 94.
The announcement of his passing was made in a statement by his son, former President George W. Bush.
"Jeb, Neil, Marvin, Doro and I are saddened to announce that after 94 remarkable years, our dear Dad has died," his son said in a statement released Friday night.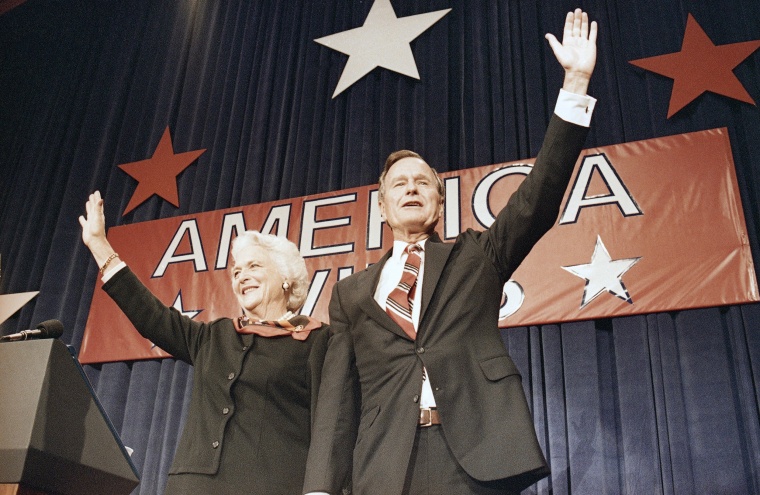 "George H.W. Bush was a man of the highest character and the best dad a son or daughter could ask for. The entire Bush family is deeply grateful for 41's life and love, for the compassion of those who have cared and prayed for Dad, and for the condolences of our friends and fellow citizens," the statement read.
Grandson George P. Bush said on Twitter Friday night, "He was more than a great man; he was a good man. His courage was matched by his compassion; and his dedication to country was equaled only by his devotion to his family."
One of the most experienced public servants in U.S. history, Bush served two terms as vice president under Ronald Reagan before becoming president in 1989, capping off a career that included stints as director of the CIA and U.S. ambassador to China and the U.N. in the 1970s.
A longtime pillar of the moderate wing of the Republican Party — he was national chairman after the Watergate scandal left the GOP in disarray — Bush lent establishment credentials to Reagan's conservative insurgency, becoming his running mate in 1980 after losing the presidential nomination to him.
But for all of the foreign policy successes of Bush's lone term in the White House, it was a basic domestic issue that effectively undercut his shot at a second: his decision to raise taxes to address a deficit that had exploded under Reagan. Conservatives cried heresy, and repercussions still ripple through the GOP today.
Serving as president from 1989 to 1993, Bush and his wife, Barbara, who died in April, remained prominent public figures long afterward. They stood apart as a genial reminders of a political era that many Americans preferred to recall as more bipartisan and cooperative than perhaps it really was.
President Donald Trump and first lady Melania Trump said Bush led the nation with sound judgement, common sense and unflappable leadership.
"Through his essential authenticity, disarming wit, and unwavering commitment to faith, family, and country, President Bush inspired generations of his fellow Americans to public service—to be, in his words, 'a thousand points of light' illuminating the greatness, hope, and opportunity of America to the world," they said in a statement.
President Trump reiterated praise for Bush's legacy on Saturday, tweeting, "He was a truly wonderful man."
With the election of George W. Bush as the 43rd president in 2000, the Bushes became the second father-son set to serve as commander in chief — John Adams and John Quincy Adams being the first.
The Bush political dynasty began decades before, with the elder Bush's father, Prescott Bush, a Wall Street banker, representing Connecticut in the U.S. Senate from 1952 to 1963.
An accomplished athlete throughout his life — Bush played first base for Yale University teams that twice made the College World Series — Bush celebrated his 90th birthday by taking a tandem skydive, even though by then he was using a wheelchair because of a disease similar to Parkinson's.
He had been in and out of hospitals several times in recent years, including a stay in the intensive care unit for shortness of breath and pneumonia in January 2017, when Trump was inaugurated.
At his wife's funeral on April 21, the gregarious and polite former president shook the hands of hundreds of mourners. He went into the hospital days later with what doctors said was an infection.
Although born into privilege, George Herbert Walker Bush looked for opportunities to serve early in life. At 18, he defied his parents and joined the military after the attack on Pearl Harbor in December 1941. He was among the youngest pilots in the Navy and was shot down over the Pacific and was rescued by a passing submarine.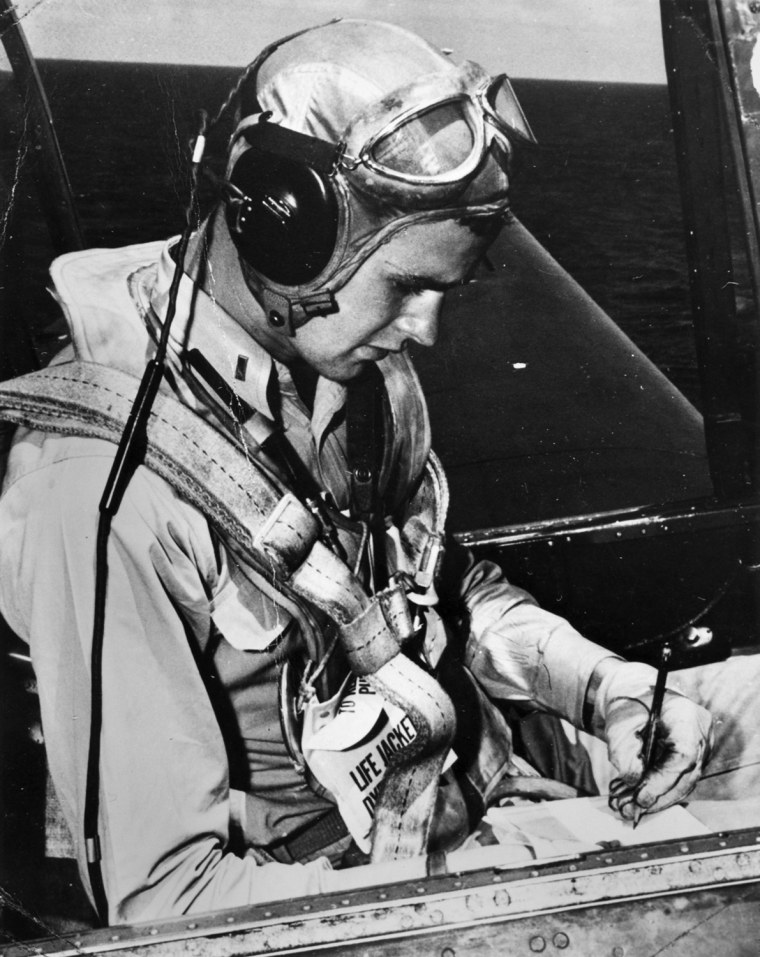 He returned home to marry his sweetheart, Barbara Pierce, and the couple settled in Texas, where he worked in the oil business. They had six children.
Bush made his first bid for office in 1964, running for the U.S. Senate in Texas as a Republican, like his father. He didn't win, but went on to secure a House seat two years later and ran again for Senate in 1970 at the urging of President Richard M. Nixon. Again, he was unsuccessful — but Nixon rewarded Bush by appointing him ambassador to the United Nations.
It would be the first in a series of positions at the pinnacle of American power. He was appointed in 1973 as chairman of the Republican National Committee, tasked with cleaning up the party's mess from the Watergate scandal, and President Gerald Ford rewarded Bush by appointing him U.S. envoy to China and then director of the Central Intelligence Agency.
That résumé would prove crucial to Bush's 1980 Republican presidential campaign, when he ran as the experienced establishment alternative to Reagan.
Reagan, the former governor of California, still easily won the presidential nomination, and after he made Bush his running mate, the GOP ticket swept to victory, ousting President Jimmy Carter, an idealistic Democrat hobbled by a weak economy and the Iranian hostage crisis.
After two terms as vice president, Bush became the presidential nominee in 1988, and went on to defeat Gov. Michael Dukakis of Massachusetts, a Democrat, in a nasty campaign characterized by the blunt-force "Southern strategy" of his campaign manager, Lee Atwater.
At Atwater's urging, Bush frequently fired up Republican audiences by citing the case of Willie Horton, an African-American prisoner who raped a white woman while he was free on furlough from his life sentence for murder in Massachusetts.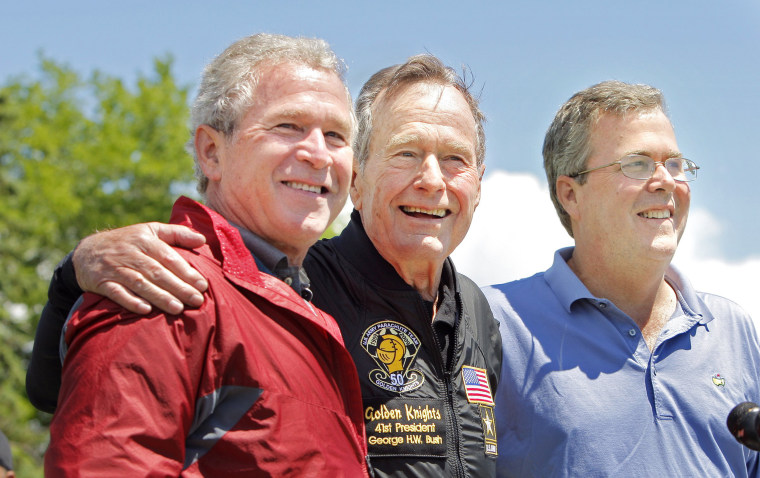 As if to soothe the raw feelings of the racially charged campaign, Bush promised a "kinder, gentler" administration inspired by the benevolence of the American people. The phrase he used to describe the philosophy — "a thousand points of light" — inspired the name of his post-presidential nonprofit Points of Light Foundation.
In his first year in office, 1989, the Berlin Wall fell, prompting the end of the Soviet Union, and in 1991 he organized an allied coalition of nearly 40 countries to oust Iraqi forces from Kuwait after Saddam Hussein had invaded the Persian Gulf nation the year before.
In his one term, Bush appointed two justices to the Supreme Court, David Souter and Clarence Thomas. Thomas has proved to be a reliable conservative vote on the court, as Bush intended, while Souter staked out moderate to liberal positions before he retired in 2009.
The first Gulf War temporarily boosted Bush's approval ratings to record numbers, but the economy was faltering, compelling him in 1990 to agree to tax hikes, breaking a well-known campaign pledge: "Read my lips — no new taxes."
The decision may have cost him re-election, as he lost in 1992 to Democratic Gov. Bill Clinton of Arkansas in a three-way race that included the Texas billionaire H. Ross Perot running as an independent. Perot drew nearly 19 percent of the vote.
The loss ended Bush's political career, but his family kept its political dynasty alive. George Walker Bush won the presidency himself just eight years after his father's defeat, serving two terms defined by the 9/11 attacks, the costly wars in Iraq and Afghanistan, and the 2008-09 financial crisis.
Another son, Jeb, was elected governor of Florida in 1998 and ran for the White House in 2016, losing the nomination in a bitter primary fight with Trump.
After he left the White House, Bush focused on charity. Through the Points of Light Foundation, which promotes community service through about 250 affiliates in 22 countries, and his other efforts, he raised more than $100 million for cancer research and literacy, and he paired with his former rival Clinton to champion relief work around the globe.
In October 2017, following a string of devastating hurricanes that battered the Southeast, Puerto Rico and the U.S. Virgin Islands, Bush joined Clinton and former Presidents Barack Obama, Jimmy Carter and George W. Bush at a concert to raise money for victims.
It was the first time since 2013 that the five had appeared together. All except the elder Bush made brief remarks, and none mentioned Trump.
A couple months earlier, as white nationalist rallies rocked Charlottesville, Virginia, the two former President Bushes issued a joint statement condemning racism. While it didn't specifically name Trump, the statement followed controversial remarks from him that implied that counter-protesters were equally as responsible for the violence as white nationalists.
"America must always reject racial bigotry, anti-Semitism, and hatred in all forms," the statement said.