MEMPHIS, Tenn. — Jimmy Carter resumed his role as Habitat for Humanity's most prominent booster on Monday, donning a white hard hat and a worn leather belt stocked with his own tools to hammer and saw with other volunteers building a home in Memphis, Tennessee.
"We haven't cut back on my schedule yet," Carter told The Associated Press, seeming invigorated during an interview at the build site. "I know it's going to come, particularly if my cancer progresses, but we don't yet know what the result will be from the treatments."
The former president celebrated his 91st birthday in October, and is undergoing treatment on cancer found in his liver and brain. But he was sure-footed on the construction site as he moved from one task to another.
Carter arrived at the site ahead of schedule, removing a blue windbreaker and installing a hammer, measuring tape and thick pencil on his tool belt. His wife, Rosalynn Carter, 88, hammered brackets to secure the walls, pulling the nails from her own leather tool belt.
"Hard work," she said with a soft laugh.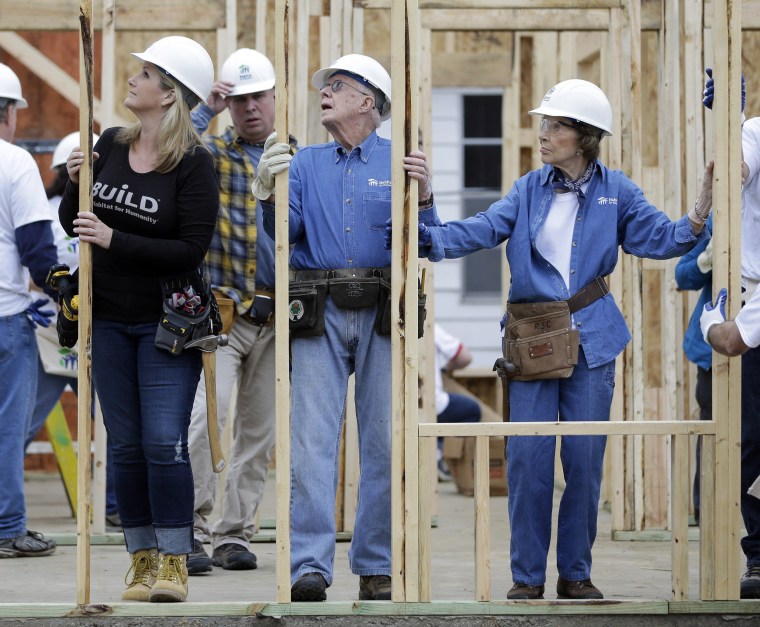 Carter and the Atlanta-based charity have been practically synonymous for more than 30 years. Since leaving the White House, the Carters have personally been involved with 3,943 projects in 14 countries for the group, which has helped five million people with home construction and repairs.
The couple has volunteered a week of their time each year since 1984 to "Carter work projects," drawing thousands of volunteers.
Related: Former President Jimmy Carter Teaches Sunday School in Hometown Following Cancer Diagnosis
Carter's work ethic on these sites has become part of Habitat lore.
"While I'm working, I don't want anybody to bother me," he said on Sunday, smiling. "I don't want other volunteers to be coming and taking photographs because they're not working and I'm not working when they're taking my photograph."
Habitat's CEO Jonathan Reckford said Carter's jump-right-in attitude hasn't changed since his cancer diagnosis.
"He, to me, looks great, sounds great," Reckford said. "And he's very focused. You can tell when he's building; he's working on getting the job done."
Carter got a single dose of radiation, targeted at four tumors on his brain, in August, and four treatments since then of Keytruda, a newly approved drug that helps his immune system seek out cancer cells. He said he'll keep receiving the drug, and that it's still too early for doctors to determine the impact.
"I've reacted well to the treatments," he said. "I haven't been uncomfortable or ill after the treatments were over. So that part of it has been a relief to me and I think to the doctors. But the final result of how well the treatments are combating or controlling the cancer, we don't know yet."
Next August, volunteers plan to build 21 homes in a Memphis neighborhood.
As for Carter, his favorite moment remains handing the keys and a Bible to residents of the new home. They're often moved to tears.
"As a matter of fact," he said, "I get maybe a little more emotional the older I get."