President Barack Obama suggested that had he been able to campaign for a third term he could have rallied many Americans — even those who disagreed with him — behind his vision of a more tolerant and diverse nation during a candid sit-down for his former adviser David Axelrod's podcast "The Axe Files".
Although he complimented Democratic presidential nominee Hillary Clinton, saying she "performed wonderfully under really tough circumstances," he also expressed confidence that his progressive vision for the country still has broad appeal in the wake of her stunning defeat of in the general election this November.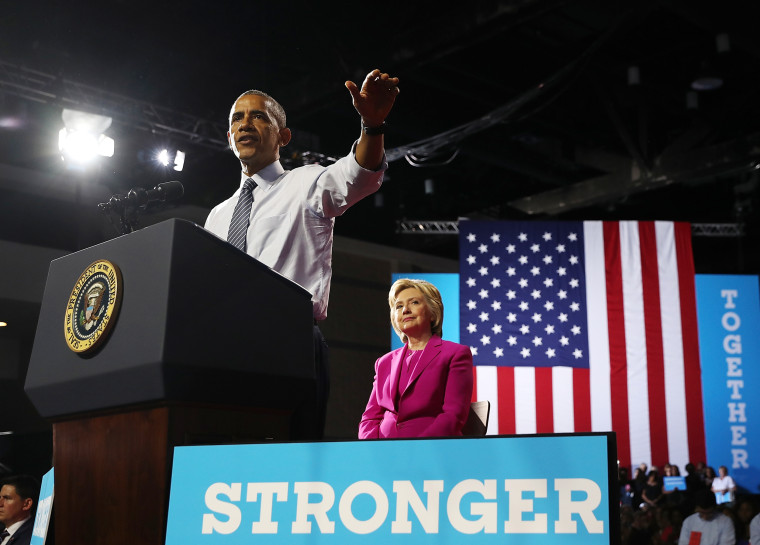 "I am confident in this vision because I'm confident that if I — if I had run again and articulated it, I think I could've mobilized a majority of the American people to rally behind it," Obama told Axelrod in an interview published on Monday.
Obama, as he has in other public comments following Clinton's defeat, insisted that the loss was neither a rebuke of his policies nor does it mean his party left middle America behind. Instead, Democrats failed to communicate how much "we care about these communities."
"If you think you're winning, then you have a tendency, just like in sports, maybe to play it safer. And the economy has been improving," he added in reference to the Clinton campaign. "There is a sense, obviously, that some communities have been left behind from the recovery and people feeling anxious about that. But if she was looking at the campaign and saying 'OK, I'm winning right now' — and her economic agenda was in fact very progressive."
Related: Obama Says He'll Give Trump a Chance, Even If He Attacks Legacy
President-elect Donald Trump won several districts in crucial Rust Belt states that the president had triumphed in previously, a fact Obama and Axelrod discussed during the show.
The numbers may back up the president's argument. For months now, Obama has enjoyed approval ratings north of 50 percent, with even a decent portion of Trump voters still holding a favorable view of him.
In the November election, Clinton was not able to outperform the president in key demographic groups (women, minorities, young people) which have come to be known as "the Obama coalition," but that doesn't mean the president believes all is lost.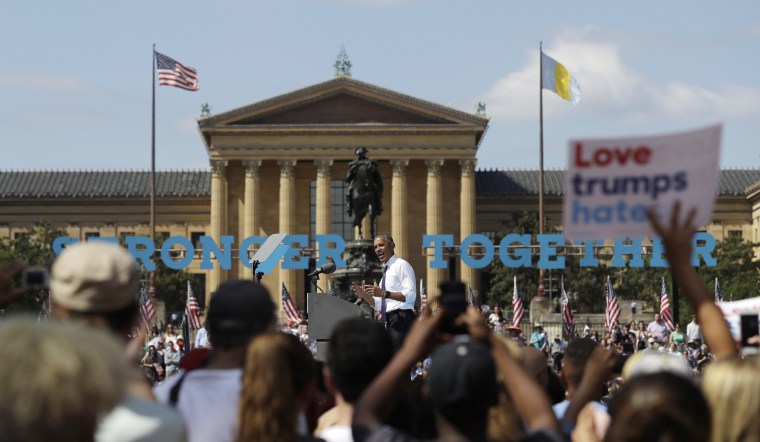 "In the wake of the election and Trump winning, a lot of people have suggested that somehow, it really was a fantasy," Obama said of his historic 2008 White House run and eventual victory. "What I would argue is, is that the culture actually did shift, that the majority does buy into the notion of a one America that is tolerant and diverse and open and full of energy and dynamism."
In order for Democrats to avoid being permanently marginalized, Obama made the case that the party must embrace its roots as a party of average Americans.
"We're not there on the ground communicating not only the dry policy aspects of this, but that we care about these communities, that we're bleeding for these communities," he said. "It means caring about local races, state boards or school boards and city councils and state legislative races and not thinking that somehow, just a great set of progressive policies that we present to the New York Times editorial board will win the day."
Trump on Monday afternoon tweeted his response to Obama's claims saying "no way."
About two hours later, the president-to-be fired off another tweet, saying that "the world" was better for him having won the election, posting, in almost messianic terms: "The world was gloomy before I won — there was no hope."