President Barack Obama is facing backlash for continuing his vacation in Martha's Vineyard while Louisiana is reeling from its worst natural disaster since Hurricane Katrina.
So far, last week's heavy rainfall has affected some 40,000 homes. According to the Governor's Office of Homeland Security and Emergency Preparedness, about 30,000 have been rescued from homes and cars. Thirteen people have died so far.
President Obama declared the floods a natural disaster on Sunday and redirected federal aid to help the state recover. Homeland Secretary Jeh Johnson is set to visit Baton Rouge on Thursday to review the ongoing response and recovery efforts in the area.
"Since last weekend's historic storms, the president has received regular updates on the situation in Louisiana, including from Governor (John Bel) Edwards on Sunday, from FEMA administrator Craig Fugate who traveled there Tuesday, and from his Homeland Security Advisor Lisa Monaco," deputy White House Press Secretary, Jennifer Friedman, said in an emailed statement to NBC News.
Louisiana Lt. Gov. William Nungesser lauded FEMA's response during a recent interview with NPR.
But some are questioning why the president is not showing up himself.
Baton Rouge's local newspaper, The Advocate, wrote an op-ed with one message to President Obama, a "hurting Louisiana needs you now."
Previous presidents have bypassed Louisiana after natural disasters. President George W. Bush was widely criticized after he flew over a flooded New Orleans in 2005. Democrats were especially critical.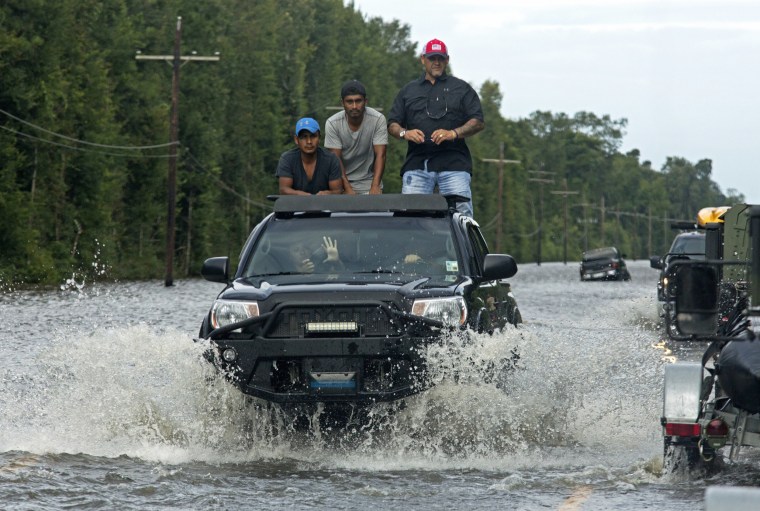 President Obama's frequent golf trips and yearly vacations have come under scrutiny by Republicans who point to his trips as evidence of inaction.
And some Republicans are criticizing him now for participating in a fundraiser for Hillary Clinton on Monday instead of visiting Louisiana.
"President Barack Obama has yet to even address the situation, never mind lead the effort to respond. Bush got ridiculed in the media for his action, there has been media silence on Obama's inaction," Robert Eno wrote for the Conservative Review.
Obama did travel to New Jersey after Superstorm Sandy and hugged Republican Gov. Chris Christie in a sign of administration support just weeks before the 2012 presidential election.
Related: 'It Turns Your Heart Upside Down': Flooding Crisis in Louisiana Far From Over
According to Larry Sabato, director of the University of Virginia's Center of Politics, Obama may be waiting for the water to recede, since his visit could affect rescue efforts.
"In Obama's defense, he may be waiting for the water to recede and first responders to do their jobs. A presidential visit brings rescue efforts to a halt and complicates the overall effort logistically. Timing is critical" Sabato said.
But the longer Obama waits, the worse his reputation will look as more images of displaced families come to light, Sabato said.
"It will be a serious public relations mistake if the president doesn't break off for a day and visit."