President Donald Trump defended Fox News anchor Bill O'Reilly amid revelations that O'Reilly and the network paid out millions to settle sexual harassment claims by five women.
"I think he shouldn't have settled; personally I think he shouldn't have settled," Trump told the New York Times on Wednesday. "Because you should have taken it all the way. I don't think Bill did anything wrong," he said.
"I think he's a person I know well — he is a good person," he said.
The comments came days after the president proclaimed this month as "National Sexual Assault Awareness and Prevention Month" where he said "we must develop meaningful strategies to eliminate these crimes" and "protect vulnerable groups."
O'Reilly and the network settled several claims with women working at Fox who accused the news anchor of inappropriate sexual behavior. The settlements totaled about $13 million, according to the New York Times.
O'Reilly denied the claims have any merit. Fox News parent company, 21st Century Fox, said the company "takes matters of workplace behavior very seriously."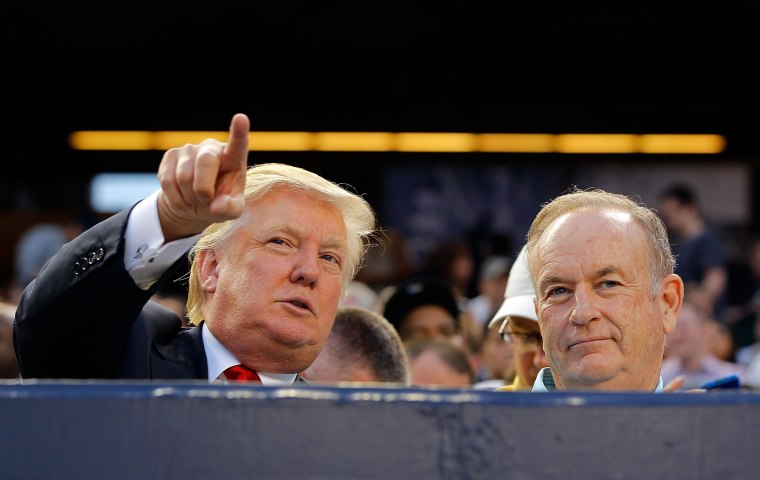 While campaigning, Trump himself became embroiled in a similar controversy when over a dozen women came forward alleging he sexually assaulted them.
He hit back, vowing to sue them. "Every woman lied when they came forward to hurt my campaign," he said.
The president also came under fire amid the infamous "Access Hollywood" tape, where he's heard boasting about assaulting women. "I just start kissing them. It's like a magnet. Just kiss. I don't even wait," he told then-"Access Hollywood" host Billy Bush. (Access Hollywood is owned and distributed by NBCUniversal, the parent company of NBC News and MSNBC.)
In the tape, Trump brags about how being a star means "you can do anything," including "grab them by the pussy."
The president's comments sparked sharp rebuke by several women's advocacy groups.
"The problem of sexual harassment is huge and impacts women in a variety of settings across the country," said Lenora Lapidus, director of the Women's Rights Project at the American Civil Liberties Union. "[Trump's] comments were dismissive of a real problem women face" and "reinforces the typical response of not taking sexual harassment seriously," she said.
"When other people, who don't know the facts, belittle these accusations, it makes it more difficult for other women to come forward," she said.
"A man who bragged about committing sexual assault and grabbing women by the pussy is defending Bill O'Reilly. Enough said," said Kaylie Hanson Long of NARAL, a national pro-choice advocacy group.
Attorney Lisa Bloom, who represents Wendy Walsh, one of the women who has gone public with her sexual harassment claims against O'Reilly, called Trump's comments "disgusting."
"He's an overt misogynist, he has been his entire life, and how dare he defend Bill O'Reilly, who was accused ... of ruining women's careers who complained about it," she said.