As Alabama began to take stock of the devastation from a cluster of tornadoes that claimed at least 23 lives Sunday, residents rallied to help their communities and neighbors.
President Donald Trump will visit the state Friday to tour the destruction.
Several twisters hit parts of eastern Alabama on Sunday afternoon, including a "monster tornado," which reached an estimated wind speed of 170 mph — an EF4, according to Chris Darden of the National Weather Service.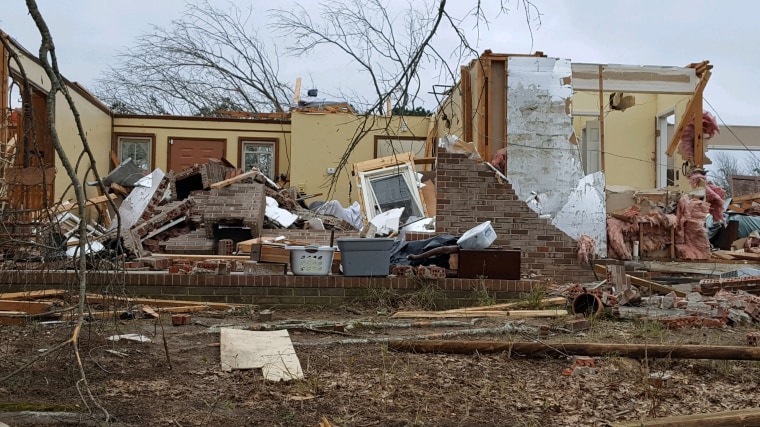 At least four children, ages 6, 8, 9 and 10, were among the dead.
Seven of the people killed were part of one family who lived in different homes on the same road in the community of Beauregard, according to the Lee County Coroner.
Lee County Sheriff Jay Jones said Tuesday that seven or eight people were still unaccounted for. "Hopefully, that number will continue to decrease as the day goes on," Jones said.
One couple said their decision to huddle in a bathtub in their ranch-style home likely saved their lives.
"We were standing actually in the tub. As soon as we got in and closed the door, the roof came off," said Kara Mattocks, 46, who, alongside her husband, Louie, 66, survived unscathed in their home in Salem, Alabama.
"I could see the debris flying around and immediately put my head in his chest," she said. "The bathroom was the only firewalls standing — everything else has been demolished."
Two days after the destruction, locals were rallying to help their communities.
Gary Hunt, 64, a veterinarian at Opelika Animal Hospital, said the facility had take in at least two pets that belonged to some of the deceased and were holding several others.
"We don't know their owners yet," he said. "We're going to keep them until we find out who they belong to."
Chef David Bancroft and his colleague Caleb Fischer of Auburn-based Bow & Arrow and Acre planned a "Burger Night Benefit" Tuesday, with 100 percent of the proceeds dedicated to recovery efforts organized by the Dream Center, which is operated through the Alabama-based Church of the Highlands.
"My wife and I live about four or five miles where the tornado touched down," Bancroft, 36, said. "Honestly, most of us were shocked when we heard of the devastation, and I don't think any of us were prepared."
Alabama Gov. Kay Ivey declared a state of emergency Monday, and the Federal Emergency Management Agency also responded.
"FEMA has been told directly by me to give the A Plus treatment to the Great State of Alabama and the wonderful people who have been so devastated by the Tornadoes," Trump tweeted Monday.
Experts estimated that the tornado with an EF-4 designation was about a mile wide and spanned about 70 miles across Alabama and Georgia, according to the National Weather Service. The agency confirmed at least 20 tornadoes struck across the Southeast during a deadly weekend outbreak.
The Lee County Emergency Management Agency said the worst of the damage was near Beauregard. Jones said a trail of intense destruction spanned about a mile and a half wide and a mile long.