The University of Missouri's governing board scheduled an emergency meeting amid mounting calls for beleaguered President Tim Wolfe to quit over his handling of racial issues on campus.
The top state lawmaker overseeing the college added his voice to the movement to oust Wolfe, which got a boost over the weekend when a group of black Missouri football players said they won't play until the president resigns or is removed.
Wolfe, though, gave no indication that he would step aside — even as the university's football team canceled practice Sunday and the team's coach expressed his support for the protesters.
"It is clear to all of us that change is needed, and we appreciate the thoughtfulness and passion which have gone into the sharing of concerns," Wolfe said in a statement. The university is working on a "systemwide diversity and inclusion strategy" that is due to be rolled out in April, he said.
Wolfe has apologized for his reaction to members of the group Concerned Student 1950 — named for the year the university accepted its first black student — who tried to approach him during the school's October homecoming parade to address "Mizzou's history of racial violence and exclusivity."
Wolfe's car drove away, which Wolfe acknowledged made it seem "like I did not care."
However Steve Cookson — the Republican chairman of the state House Higher Education Committee — said Sunday the protests were just the latest in a string of incidents that made it clear that Wolfe "can no longer effectively lead."
"All of these problems stem from the University of Missouri system slipping behind over the last few years in everything from faculty productivity, to fiscal health of several of the colleges, to national rankings," culminating in Wolfe's "callous reaction to racial sensitivity issues," Cookson said in a statement on the Missouri political site The Missouri Times calling for Wolfe to step down.
Later in the day, the university system's Board of Curators called a special meeting for Monday morning on campus in Columbia, Missouri.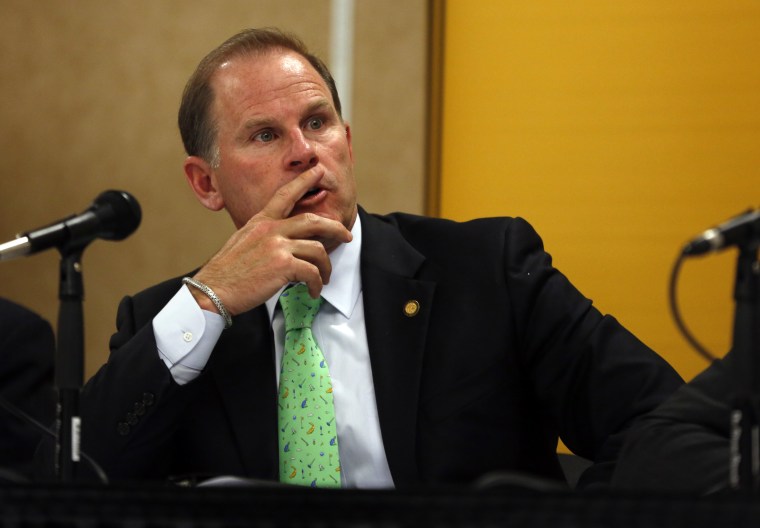 John Fougere, a spokesman for the statewide college system, said the board would be meeting in closed executive session — which under state law means it would be discussing confidential matters involving contracts, personnel matters or records protected by privacy regulations.
Chancellor R. Loftin Bowen, meanwhile, traveled to campus Sunday to talk with protesters.
Missouri Gov. Jay Nixon said in a statement Sunday that the "concerns must be addressed" because "our colleges and universities must be havens of trust and understanding."
And Democratic Sen. Claire McCaskill, who graduated from the university, agreed Sunday that the school's administration needs to act.
"At this point I think it is essential that the University of Missouri Board of Curators send a clear message to the students at Mizzou that there is an unqualified commitment to address racism on campus," she said in a statement.
Students say their semester has been plagued with incidents of racial harassment on campus. They say they've been repeatedly taunted by groups of white students hurling racial slurs, most recently on Oct. 24, when a swastika was scrawled in human feces on a dormitory wall.
Payton Head, the university's homecoming king, said even he was the target of a slur after he was crowned.
"This isn't just me who was going through this," Head said. "These are students coming from all different backgrounds who endure this."
Last week, graduate student Jonathan Butler began a hunger strike "in opposition to having Tim Wolfe as the University of Missouri system president."
"Since Mr. Wolfe joined the UM system as president in 2012, there have been a slew of racist, sexist, homophobic, etc., incidents," Butler wrote in a letter when he started the strike last Monday.
The movement got a boost on Saturday when the school's Legion of Black Collegians said athletes of color on the football team wouldn't participate in any "football-related" activities" until Wolfe resigns or is removed.
Many of the at least 32 black men in a photo accompanying the tweet were wearing Missouri Tigers attire — and the message was retweeted by several members of the football team.
Related: Missouri Football Players Boycott in Protest of President
The university's athletic department said it supported the right of student-athletes to "come together with leaders from across our campus to tackle these challenging issues."
And Gary Pinkel, the football team's head coach — who is widely respected in college sports both for his team's winning record and its high graduation rate — quickly expressed solidarity.
Pinkel and Missouri's athletic director, Mack Rhoades, said the football team didn't plan to return to practice until Butler starts eating.
According to the school, 7 percent of the student population of more than 35,000 is black, and 3 percent is Latino. About 3 percent of the university's full-time faculty is black, and about 3 percent is Latino.