A Virgin America flight en route to Los Angeles from Newark was diverted to Denver Saturday night after a man on board started acting bizarrely — spreading wired devices out in the aisle and waving his fingers in fellow passengers' faces.
Upon landing, the "unruly" man was escorted off of flight VX169 by police, according to statements from Virgin America and Denver International Airport.
Denver International Airport's statement said that there was no threat to passengers and crew on the plane, and the man was not arrested.
"Ultimately there was no criminal or sinister element," the statement said.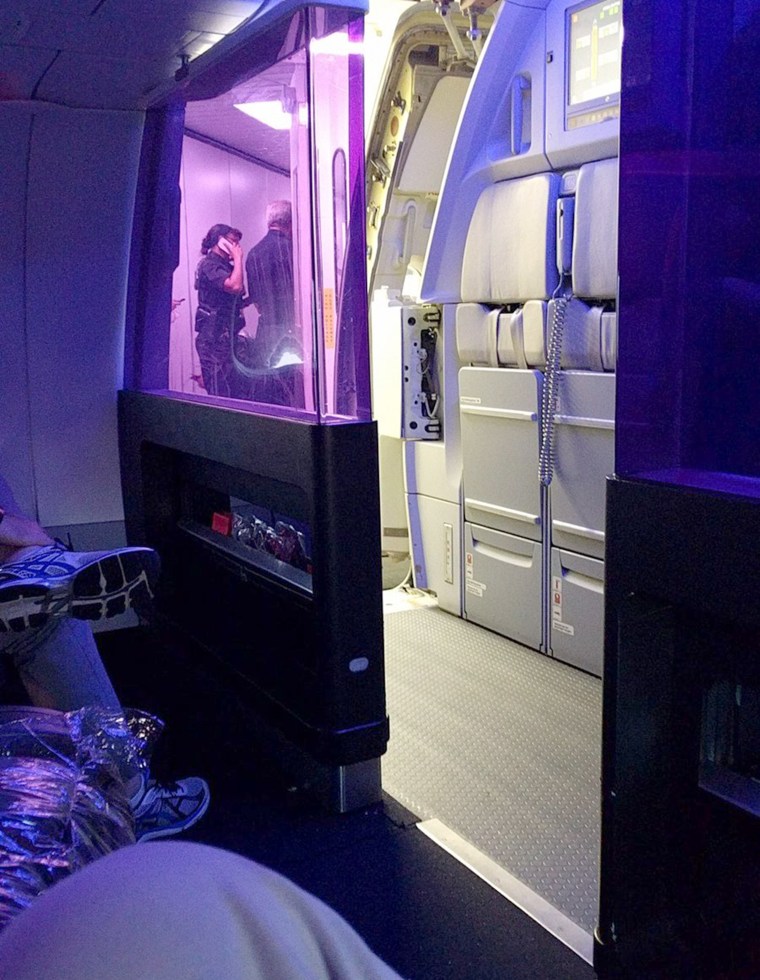 But passengers described a nerve-wracking scene.
Hilery Kipnis, Nick Longo, and Ellen Kilpatrick were sitting near the man and said he was playing around with electronics with errant wires. He then got agitated when he was asked to put them away for takeoff, and took them out later to spread them out on the floor, they said. In the midst of the strange behavior, he was also sticking his fingers in people's faces, they said.
When the man was eventually escorted off the plane, he seemed excited, the shaken bystanders said.
"It was pretty scary," said Kipnis. The three passengers added that the plane crew handled the situation well.
Passenger Michael Stocks told NBC News that passengers remained in "good spirits" during and after the incident.
A short video obtained by NBC News of the pilot making an announcement once the plane was set to take off again showed people clapping after he vaguely described the situation.
"Unfortunately, there were just too many issues, we had to stop and ask the gentleman to get off," the pilot says.