Thieves pulled a prehistoric pinch this week in the Utah wilderness, prying up and making off with a set of dinosaur footprints believed to be 190 million years old.
A tour guide last saw the block of pilfered sandstone Monday along the Hell's Revenge trail in Moab, according to the federal Bureau of Land Management. The next day, the prints were gone.
"The rock was already somewhat separating, and someone could have found a way to break it off and back up a truck to haul it away," BLM archaeologist Aron King told NBC News on Friday.
The prints, impressed in Navajo sandstone, of the unspecified dinosaur date back to the Jurassic Age, officials said.
"You can't assign a monetary value to it — they are priceless, they are one-of-a-kind," BLM district paleontologist ReBecca Hunt-Foster told NBC affiliate KSL-TV.
King said it's not rare for bones, dinosaur tracks and other natural resources to be stolen from public lands in the Colorado Plateau, which covers the four corners of Utah, Colorado, Arizona and New Mexico.
He added that there's a lucrative black market online, and some people might claim they obtain such items from private lands in an attempt to fool buyers.
Last fall, a legitimate auction in New York City of twin fossilized dinosaur skeletons — dated 67 million years old — was expected to fetch between $7 million and $9 million. (The bones didn't sell.)
The BLM currently has no leads in its investigation. Anyone found guilty of stealing the artifacts face a fine and jail time up to five years.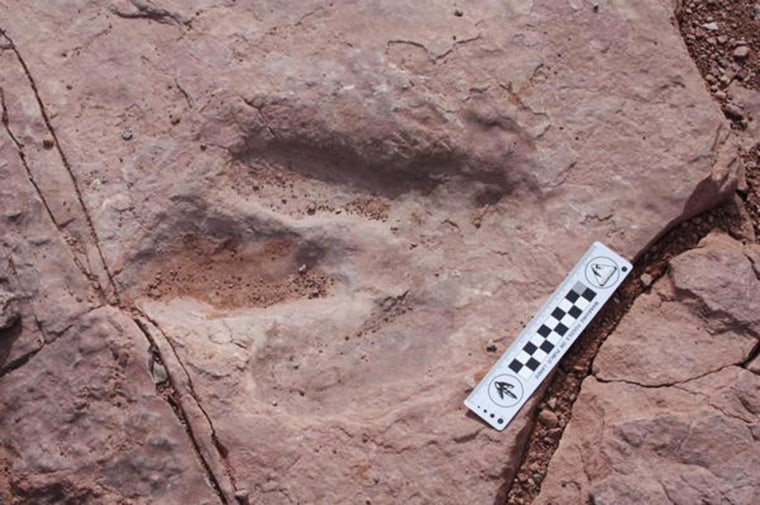 — Erik Ortiz