Prince Harry will attend his father's coronation next month while his wife, Meghan, the Duchess of Sussex, plans to remain in California with the couple's two children, officials said Wednesday.
Any participation by the couple in King Charles' coronation was far from a given after their controversial announcement three years ago that they would "step back as 'senior' members of the Royal Family."
Buckingham Palace and representatives of the Duke and Duchess of Sussex made separate statements, confirming their roles in the May 6 coronation at Westminster Abbey.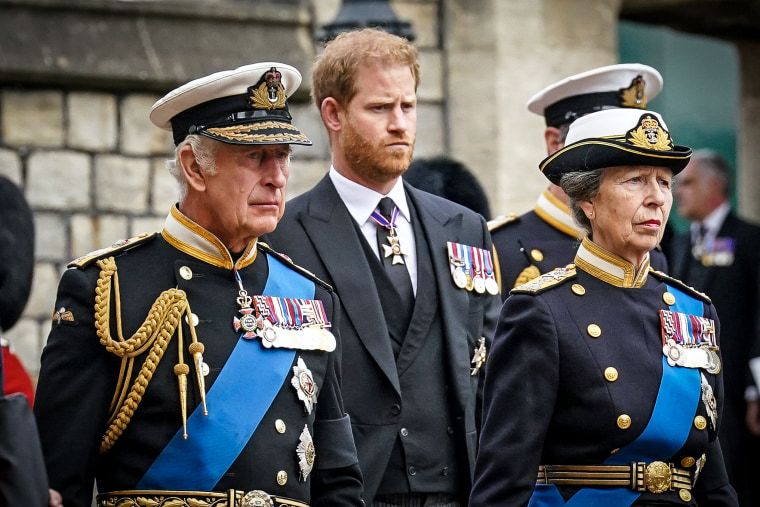 "Buckingham Palace is pleased to confirm that The Duke of Sussex will attend the Coronation Service at Westminster Abbey on 6th May," Buckingham Palace said in a statement. "The Duchess of Sussex will remain in California with Prince Archie and Princess Lilibet."
A spokesperson for the Duke and Duchess of Sussex issued a nearly identical statement.
"The Duke of Sussex will attend the Coronation service at Westminster Abbey on May 6th," the couple's representative said. "The Duchess of Sussex will remain in California with Prince Archie and Princess Lilibet."
The couple's son, Archie, will turn 4 on the day his grandfather is celebrated as king 5,500 miles away.
Harry and his wife make their home in Santa Barbara County, California, a world away from the Buckingham Palace fishbowl. Lingering animosity between the sides was on full display recently in the Netflix series "Harry & Meghan."
Harry's father, King Charles III, ascended to the throne after Queen Elizabeth II died on Sept. 8.
"There have been controversies in the past concerning guest lists at royal occasions," said University of Toronto history instructor Carolyn Harris, a royals historian who off the top of her head ticked of a number of sticky family quarrels that have complicated high-profile palace events.
Then-Spanish King Juan Carlos, a relative of Queen Victoria, and Queen Sofia, who was related to Prince Philip, declined their invitations to the wedding of Prince Charles and Diana in 1981. The newlyweds' honeymoon included a cruise on the yacht Britannia from Gibraltar, a British territory that Spain has long disputed.
King Edward VIII, who was later known as the Duke of Windsor, did not attend the coronations of his brother or his niece Queen Elizabeth. Edward VIII famously gave up the throne to marry Wallis Simpson, a divorced American socialite.
Prince Philip had three surviving sisters when he married Princess Elizabeth in 1947, but the trio had all married into German royalty. Those ties to Germany and the Nazi movement, with World War II so fresh on the minds of British subjects, made Philip's sisters personae non gratae at the nuptials of the future queen.