Prince Harry and his wife, Meghan, the Duchess of Sussex were "shaken up" after they were pursued by paparazzi through New York City earlier this week, the head of the security firm responsible for their transportation told NBC News. 
Tom Buda said the "chase was frightening" for the couple and Meghan's mother, Doria Ragland, and "putting them in danger." He added that he "felt bad they were shaken up." Meghan's mom had been particularly affected, he said.     
Buda, the president of Buda Security Inc, spoke out after it emerged that the trio had taken refuge at a New York City police station following what law enforcement sources said was a "chaotic pursuit" by photographers when they left a charity event in midtown Manhattan on Tuesday night.  
A spokesman for the couple said Wednesday that the "near catastrophic car chase" came "at the hands of a ring of highly aggressive paparazzi." They added that it lasted more than two hours, and that it "resulted in multiple near collisions involving other drivers on the road, pedestrians and two NYPD officers." 
Law enforcement sources pushed back against any characterization of the incident as "near catastrophic" but conceded that the incident was "a bit chaotic."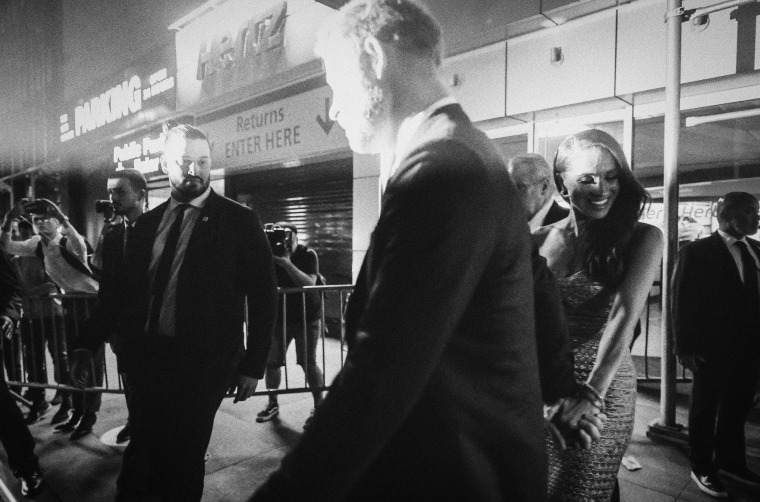 Police officials said the couple had attended the Women of Vision Awards and left New York's Ziegfeld Ballroom at about 10 p.m.
It was the first public event that Harry and Meghan had attended since King Charles III's coronation, which the duchess didn't attend.
Julian Phillips, the police department's deputy commissioner of public information, said officers "assisted the private security team protecting the Duke and Duchess of Sussex."
Buda, who was hired by the TorchStone global security company, said the photographers pursuing them were "driving aggressively and badly." He added that they were "following us to find out where we were staying." He added that some cars were trying to leapfrog them and two cars ahead were working to slow traffic down. 
Although it "was not a high speed pursuit," Buda said "it was reckless by them." He added that they went to the NYPD's 19th Precinct station. 
The couple's claims were disputed by one of the picture agencies, Backgrid USA Inc., which said in a statement that it had "received photos and videos of last night's events from four freelance photographers, three of whom were in cars and one of whom was riding a bicycle."   
"They had no intention of causing any distress or harm, as their only tool was their cameras. A few of the photos even show Meghan Markle smiling inside a cab," the statement said. 
"The photographers report that one of the four SUVs from Prince Harry's security escort was driving in a manner that could be perceived as reckless," it said, adding that it wanted "to point out that according to the photographers present, there were no near-collisions or near-crashes during this incident. The photographers have reported feeling that the couple was not in immediate danger at any point."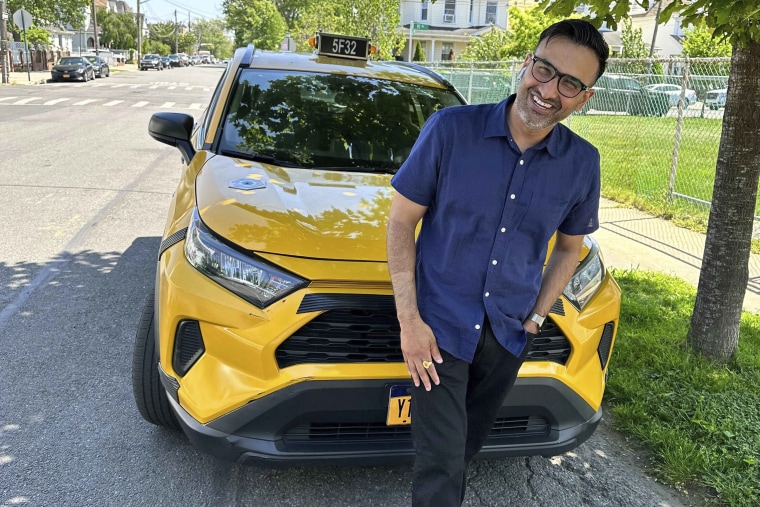 At the police station, the couple's team flagged down a taxi driven by Sonny Singh, 37, of the Queens borough. Singh said Wednesday they were about to take off when a garbage truck pulled in front of them, blocking their departure and giving pursuing photographers enough time to converge around the party. 
Instead of going to their ultimate destination, they simply drove around the neighborhood and ran up a $17.80 fare before Harry and Meghan got out of the cab back at the police station and back into their car, he added. They paid the fare and left a $50 tip, said Singh.
For Harry the incident was "clearly going to be incredibly triggering for him" because of what happened to his mother Princess Diana, who died in a Paris car crash while being pursued by paparazzi in 1997, according to NBC News royal contributor Katie Nicholl.     
"He's spoken before about the intrusion of the cameras, how the clicking of the cameras has a triggering effect on him," she said Wednesday, adding, "One can imagine that he was feeling quite frightened and certainly threatened in that moment."