Princeton University is moving to fire a tenured professor for allegedly failing to fully cooperate with a sexual misconduct investigation into a relationship he had with a student.
The university's president recommended that the school's board of trustees terminate classics professor Joshua Katz over the probe in a letter last week, according to The Wall Street Journal, which reviewed the document.
Katz's attorney, Samantha Harris, confirmed to NBC News on Friday that Princeton's president, dean and a faculty appellate committee had all recommended that her client be dismissed.
Katz's fate is now in the hands of "an ad hoc committee of the board of trustees which, as far as we know, has not met yet," Harris added.
Princeton spokesman Michael Hotchkiss declined to discuss Katz's employment status on Friday: "We do not generally comment on personnel matters."
The May 10 letter from Princeton President Christopher Eisgruber is based on a 10-page report written last November and signed by faculty dean Gene Jarrett, the Wall Street Journal reported.
The report found that Katz in 2018 failed to fully cooperate with investigators looking into a consensual sexual relationship he had with an undergraduate student starting in 2006 after her junior year, according to the Journal.
The relationship reportedly continued until her graduation.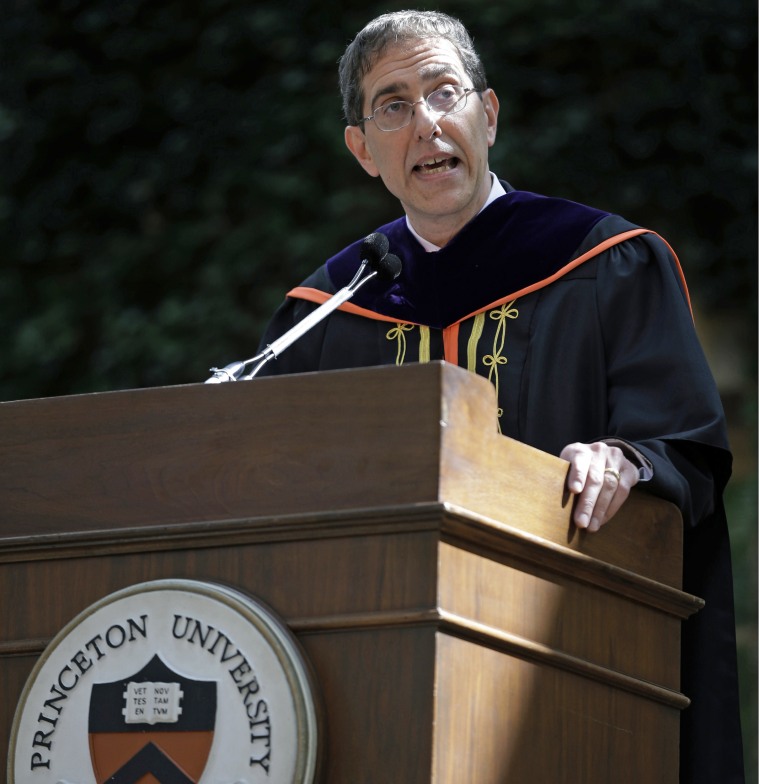 Harris said she's not optimistic about her client's future at Princeton.
"From the beginning, he's had a very good argument not to be terminated," Harris told NBC News on Friday.
"I do not expect the board of trustees to change what seems to be the course of this because he has made those good arguments previously, as well."
The 2018 investigation found that Katz violated school policy by having a sexual relationship with a student and Princeton suspended him for a year without pay.
Last year, the school's student newspaper investigated that relationship, leading to a new probe by Princeton that led to the report saying he had misled investigators in 2018. 
The 2021 inquiry also reportedly found that Katz had discouraged the former student from seeking psychiatric help after she threatened self-harm.
In his letter, Eisgruber cited those findings in his decision to recommend Katz's dismissal. Katz has been on paid administrative leave since July, according to the Journal.
Harris accused the school of targeting her client twice and compared this potential action against Katz to be akin to a double-jeopardy violation.
"This new investigation was hair-splitting by the administration that was done under pressure 'to do something,'" Harris said.
Supporters of Katz have branded the push for the professor's firing a political move, the New York Times reported, accusing Princeton of penalizing the professor for criticizing the school's efforts to address its racist history in the aftermath of the police killing of George Floyd.
Katz had penned an online essay in July 2020 saying an open letter signed by students and staff calling for an examination of racism at Princeton risked imperiling free speech. He said he was "embarrassed" for colleagues who chose to sign the letter.
The professor further called the student Black Justice League at Princeton a "small terrorist organization" in the missive.
The comments were condemned by Eisgruber in an editorial days later, with the president branding them "irresponsible and offensive."
"Our policies, however, protect Katz's freedom to say what he did, just as they protected the Black Justice League's," he said. "He can be answered but not censored or sanctioned."
Katz was already punished by the school for having a relationship with a student and he's now being targeted again for his unpopular political comments, his lawyer argued.
"A number of other faculty I represent are also facing investigations of various types following an expression of a controversial viewpoint," Harris said.
"There's this kind of 'show me the man and I'll find you the crime' treatment of people on campus who are expressing unpopular views."